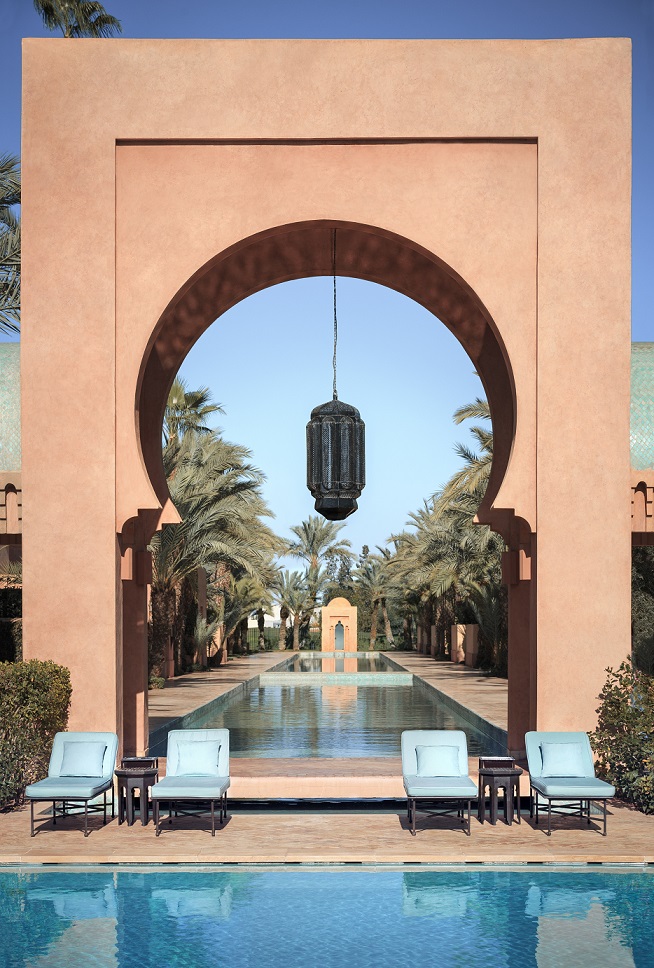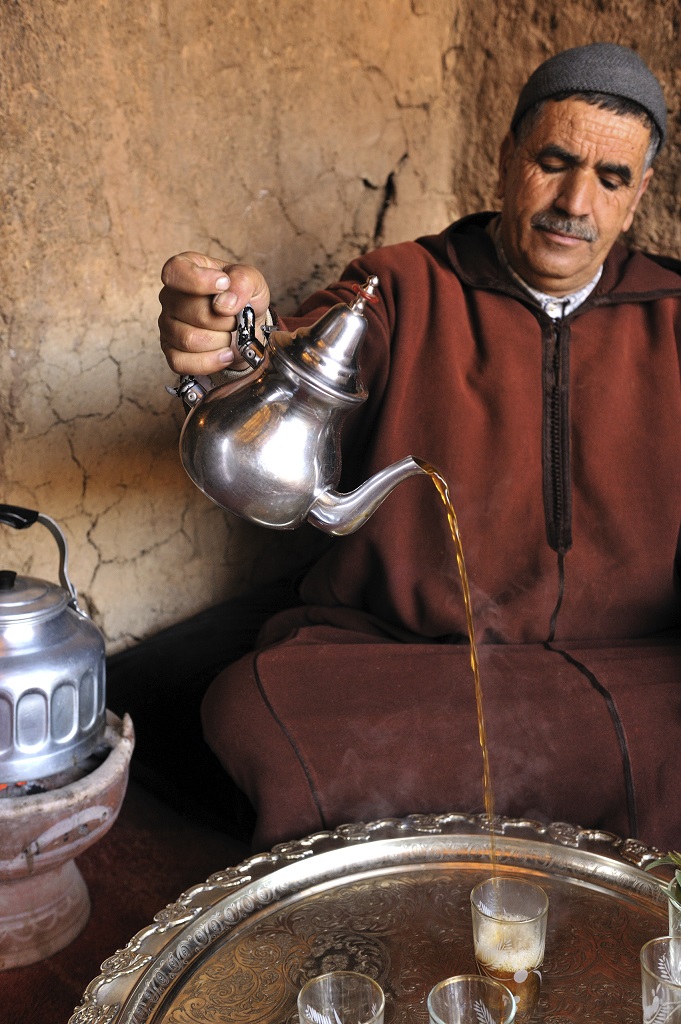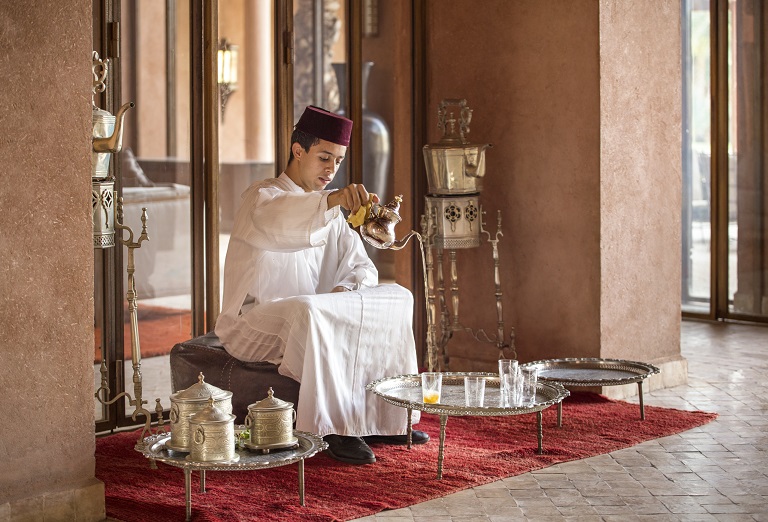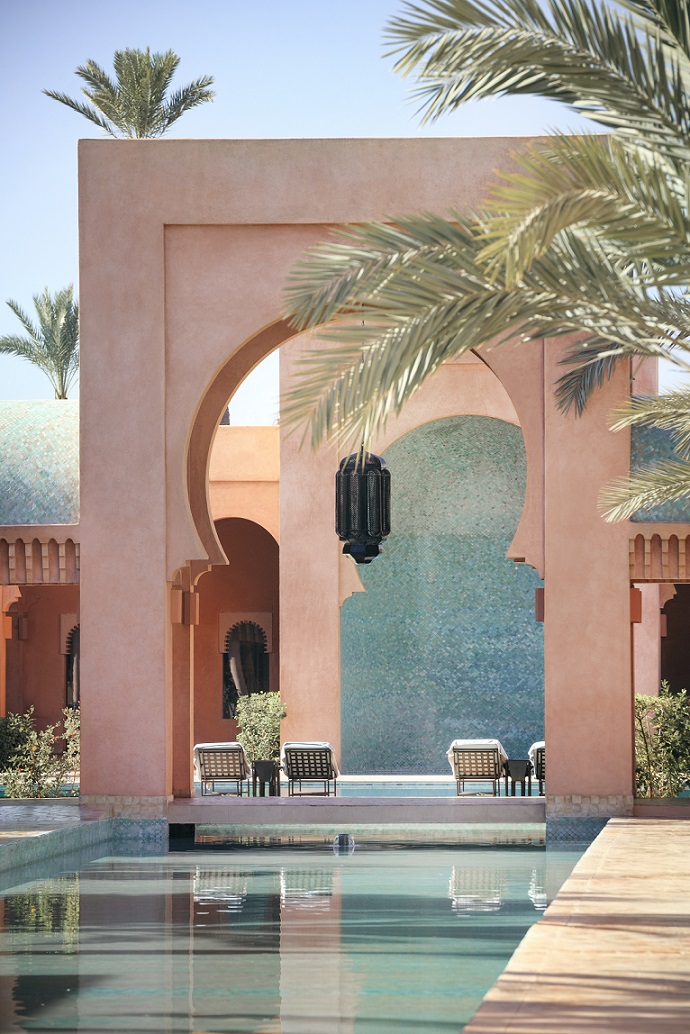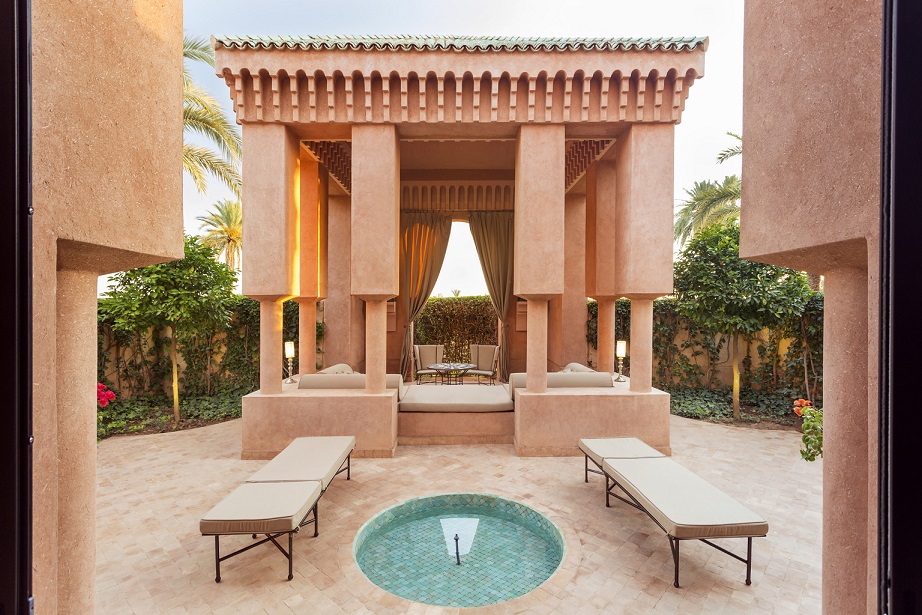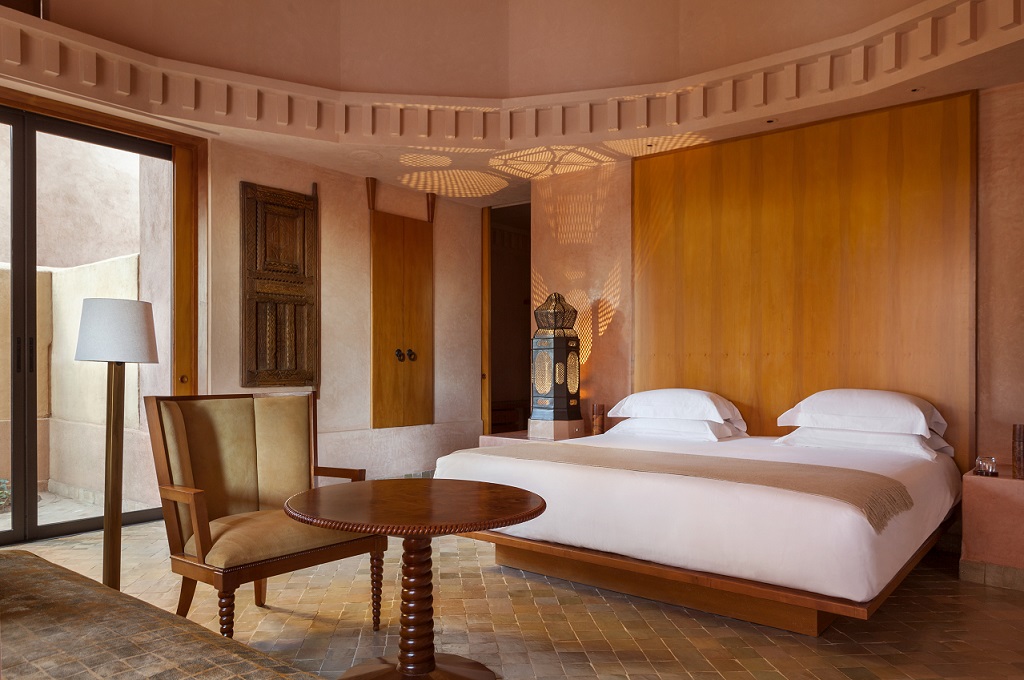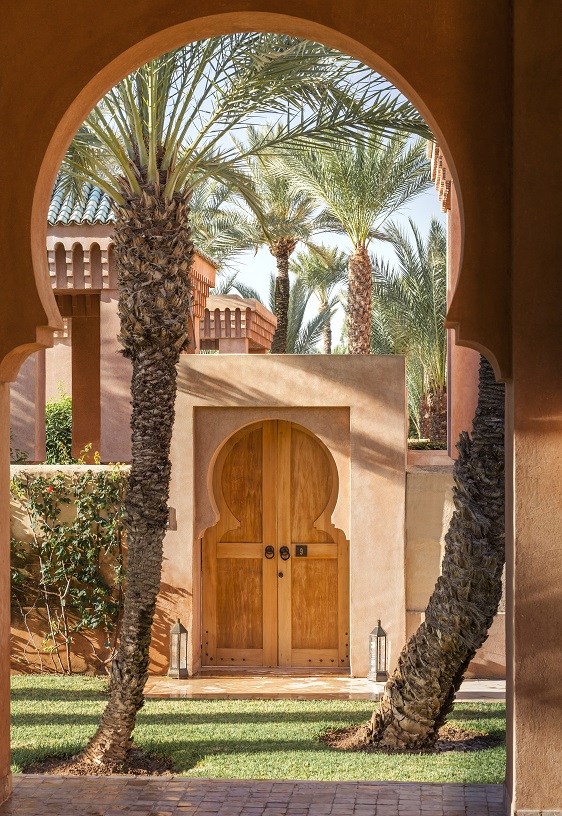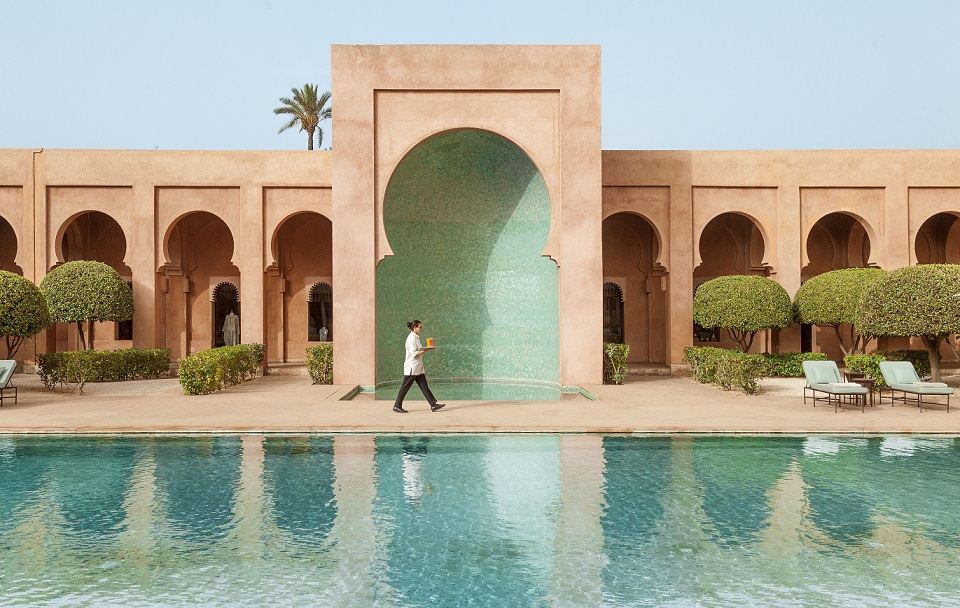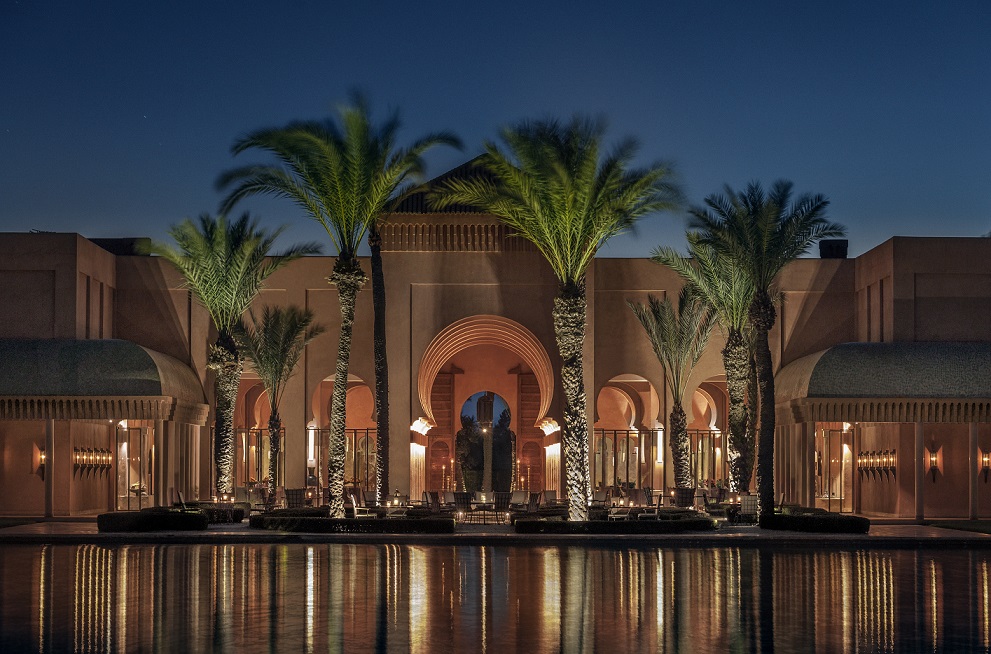 摩洛哥马拉喀什安缦杰纳
Amanjena,Morocco
安缦杰纳 静谧天堂里的第一千零一夜
玫瑰色梦幻般的古老城墙繁茂的枝头果实累累薄荷茶散发着氤氲香气……在北非花园摩洛哥的古城马拉喀什城边,静静矗立着非洲大陆上第一家安縵酒店马拉喀什安缦度假村 AMANJENA。以遗世独立的绝世美态,诠释着天方夜谭里皇家花园的梦幻和静谧。
安缦杰纳度假村就坐落在摩洛哥古城马拉喀什外一片满是棕榈树和橄榄树的绿洲之中。酒店的设计灵感来自古老的马拉喀什,玫瑰色的墙壁与红城Al Medina al Hamra的城墙以及大阿特拉斯山柏柏尔人的村庄交相辉映。
度假村有32间亭阁(Pavilions),有6间建在水池边,可以看见中心水池;而8间带泳池亭阁则配有25平米的温泉泳池和延伸的私人花园。6所两层楼的洋房(Maisons)约7米高,天花板的设计采用摩洛哥传统民居结构,包含两间卧室,一个弧形壁炉,一个大的minzah,一名私人男管家。装饰着柏柏尔地毯和黄铜灯笼的豪华大床采用摩纳哥皮革做表面的写字台,粉刷过的柏柏尔门温暖的拱形壁炉,躺椅和麦雷乔铜镍合金蜡烛灯……各种细节都在静静传递着摩洛哥式的奢华与情怀。
餐厅主要供应纯正的摩洛哥食物和欧式菜肴,扇形的黑玛瑙石喷泉,深绿色的橄榄树柔和的灯光,营造出难以忘怀的氛围。
度假村还提供丰富的游览活动,带领客人一同探寻古城及其融合非洲地中海和中东三地的文化。从古老的清真寺到旧城区再到悬岩边柏柏尔人的村庄,古老的时光仿佛在这些片段中复活。
Amanjena – The Heaven of A Thousand and One Night
Rosy color ancient walls, lush trees, aromas of mint tea...... In North Africa, by the walls of ancient city Marrakech in Morocco, stands the first Amanresort on the African continent AMANJENA. The peerless beauty is telling her dreams of the Royal Garden from the stories of the Arabian Nights.
Amanjena resort is located in Morocco city Marrakech, an oasis between palm trees and olive trees. Design inspiration came from the ancient Marrakech, where rosecolored walls, the walls of red city Al Medina al Hamra and the Berber village in Atlas mountain stood.
Six of the 32 pavilions, the pavilions bassin, enjoy sweeping views to the central irrigation pool while eight pavilions piscine have their own 25sqm heated pool and an extended private garden. Amanjena's six, twostorey maisons rise seven metres from floor to ceiling in a variation of the Moroccan town house. The living area features two bedrooms, an arccut fireplace, a minzah, and a personal butler. A luxury bed decorated with brass lanterns and Berber carpet, writing table with a Monaco leather surface, painted Berber door, warm arched fireplace, Chaise longues and maillechort candle lanterns, lend a mood of pure Moroccan indulgence…
The restaurant is specialized in authentic local Moroccan cuisine, as well as Continental dishes. The environ is graced by fan shaped black agate fountain, dark green olive trees and soft lighting, creating an unforgettable atmosphere.
The resort also offers a variety of tours, leading guests to explore the ancient city and its culture integrating three places of Africa, the Mediterranean and the Middle East. From the ancient mosque to the old city zone and to the Berber village, broad experience of this ancient culture has come to life.