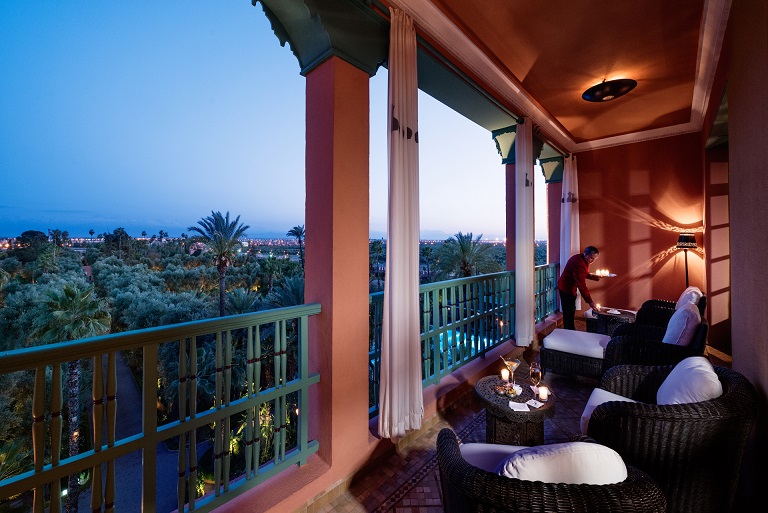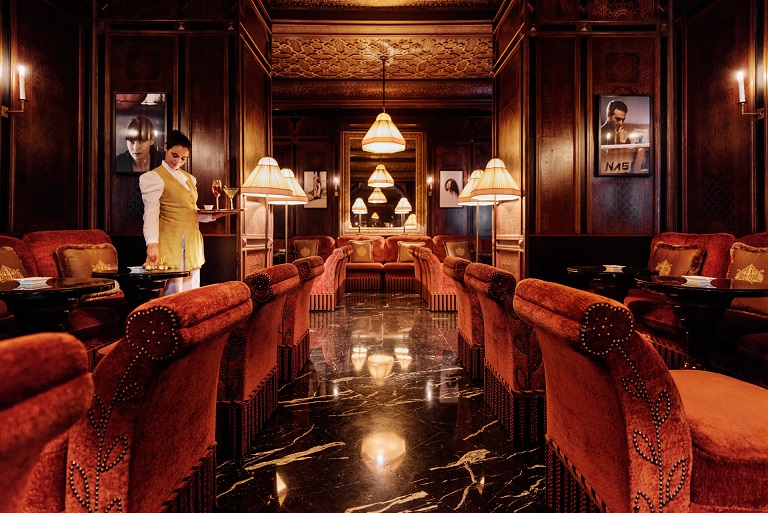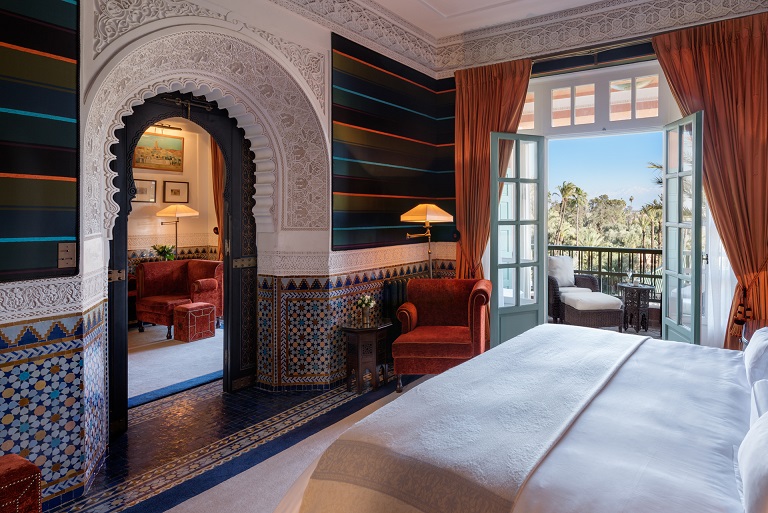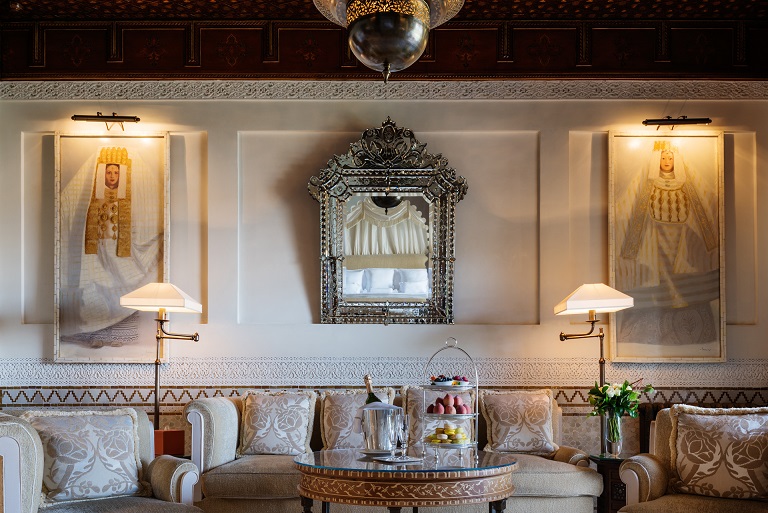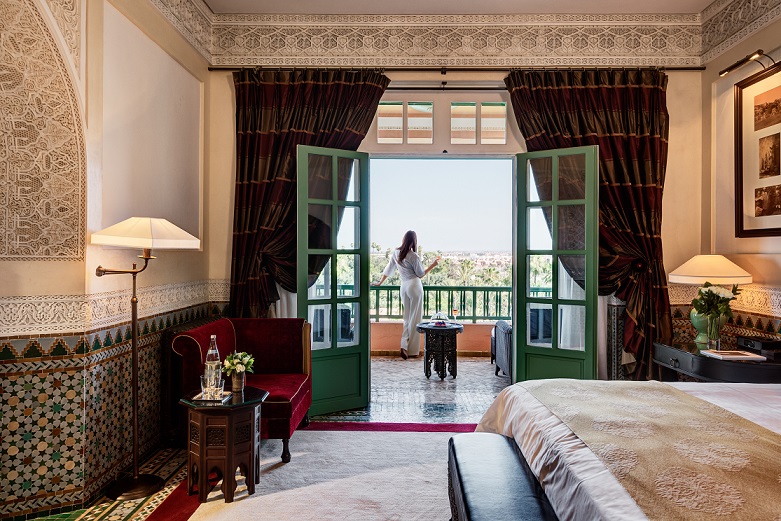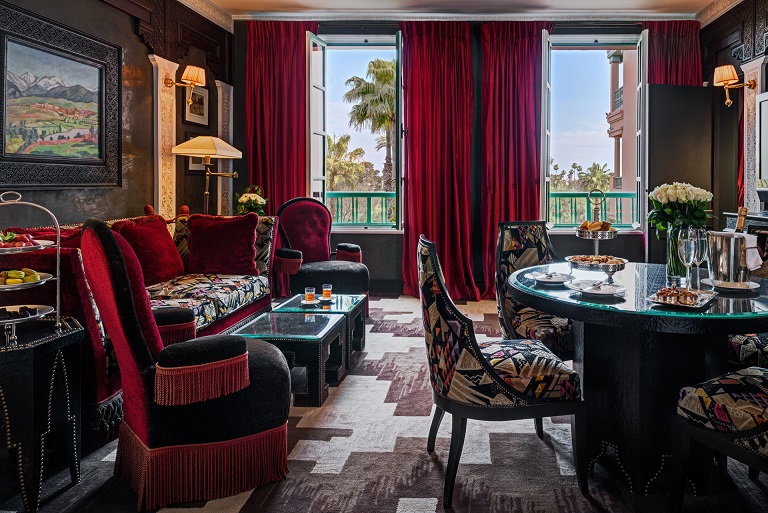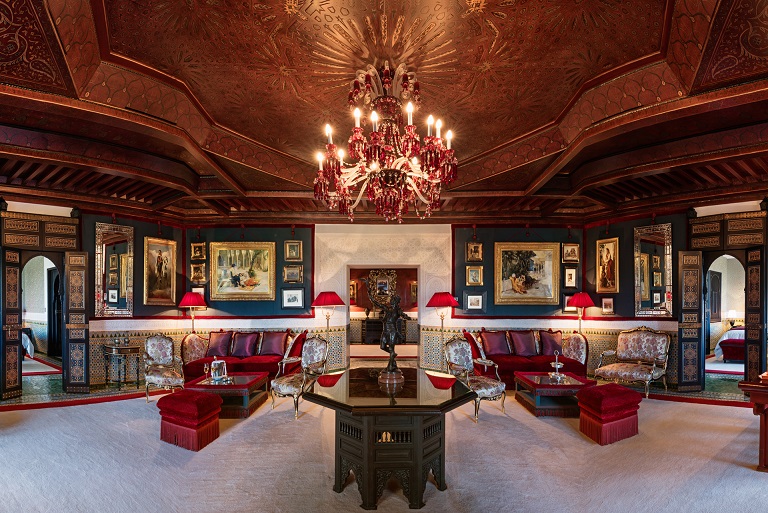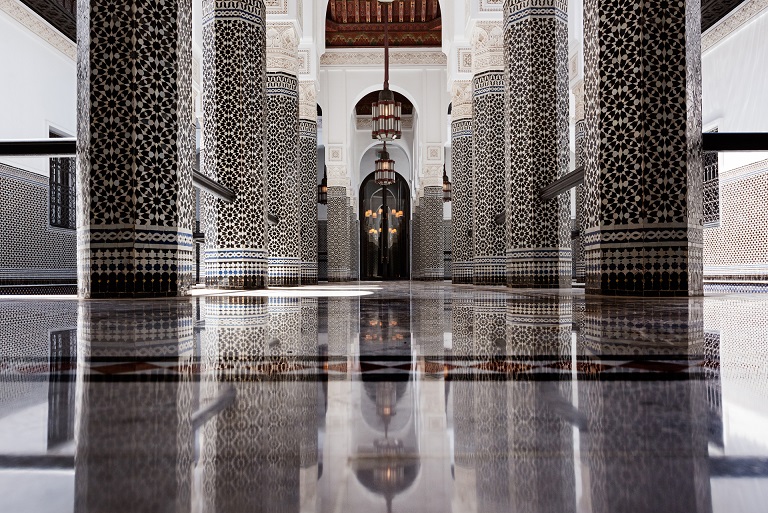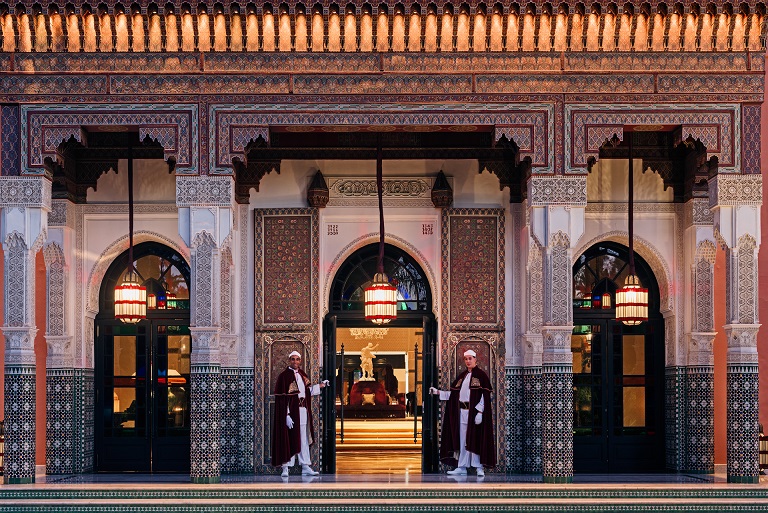 摩洛哥马拉喀什马穆尼亚酒店
La Mamounia Marrakech,Morocco
马拉喀什马穆尼亚酒店 北非花园的珍珠
Le Mamounia的名字可以追溯到18世纪,而马拉喀什马穆尼亚酒店开业于1923年,曾被温斯顿丘吉尔称为"世界上最美的地方"。酒店本身是一个传统的摩洛哥王宫建筑,融合了华丽的摩洛哥风格和装饰艺术风格,骨子里沾满了历史气质与王室奢华,延续了摩洛哥式的贵族奢华,糅合了伊斯兰风格和西方建筑的独特设计,散发出一种现代化豪华酒店所无法媲美的美感。时至今日,这里还处处遗留着昔日贵族的遗风。
马穆尼亚酒店是马拉喀什乃至于摩洛哥的标志性建筑,坐落于马拉喀什魅力四射的宫城中心,酒店广阔的花园,清新的柑橘树,馥郁的玫瑰花,葱茂的橄榄树,都勾起了人们对东方宫殿如痴如醉的向往。
酒店毗邻一个17英亩的公园,步行五分钟就可以看到马拉喀什最著名的"不夜广场"德吉玛广场,去那里体验当地的风土人情,品尝摩洛哥的特色小吃。德吉玛艾尔法纳广场,被视为这座城市的灵魂。1985年被联合国教科文组织列入了世界非物质文化遗产名录。
Le Mamounia于1923年首次开业,可是直到30年代末酒店只有50间客房。 直至1946年,酒店扩大至100间客房,并先后于195019531986及2006年扩建翻新,于2009年9月29日重新面世。目前酒店共设有209间客/套房,其中包括135间30至45平米的普通客房71间55至212平米的套房以及3间占地700平米拥有独立沙龙私人泳池和露台的利雅得套房。
与此同时,马穆尼亚酒店共有4间餐厅,由米其林二星厨师坐镇为客人提供美食的饕餮盛宴,最特别的是酒店还拥有占地1500平米的蔬菜园,您可能会在菜园里看到 La Mamounia 的厨师们正在寻找新鲜的食材,为客人准备精致的晚餐;酒店5间各具特色的酒吧也为您提供五种不同的体验。
Le Mamounia被誉为非洲的七星级酒店,在2015年世界旅游大赏中荣获为2015年非洲酒店领导者,以及世界豪华旅游指南2015年度奢华经典酒店奖。近一个世纪以来,马穆尼亚酒店一直以亲切的服务奢华低调的传统风格闻名于世,经久不衰。
Le Mamounia Marrakech – The Pearl of the North African Garden
Le Mamounia's name can be traced back to eighteenth Century. Opened in 1923, La Mamounia, Marrakech was called "the most lovely spot in the whole world" by Winston Churchill. The hotel itself is a traditional Morocco palace building, integrating the gorgeous Moroccan and Art Deco style. Its historical temperament and royal luxury shows the continuation of the Morocco aristocratic luxury blended with Islamic and unique Western design. The building exudes a beauty unmatched by modern luxury hotel. Today, the legacy of the old aristocracy can be seen everywhere.
Located in the charming city center, Le Mamounia is a landmark building of Marrakech and Morocco. There are spacious garden, fresh citrus trees, fragrant rose, luxuriant olive trees, alluding to the great yearning people have of the Eastern palace.
The hotel is adjacent to a 17 acre park, and within five minutes walking distance to Marrakech's most famous "Night Market" Djemaa elFna Square. This is the place to experience the local customs and Morocco's special snacks and is regarded as the soul of the city. In 1985, it was listed as Masterpieces of the Oral and Intangible Heritage of Humanity by UNESCO.
Since its opening in 1923, La Mamounia has never been large enough to satisfy all the guests who wanted to be accommodated. Until the end of thirties, the hotel had only fifty rooms. But it was expanded in 1946 to include 100 rooms, then refurbished successively in 1950, 1953, 1986 and finally in 2006 for a reopening with 209 keys on September 29th 2009. The rooms includes 135 rooms sized 30 to 45 square meters, 71 suites sized 71 to 212 square meters, and 3 Riads Suites with an area of 700 square meters, equipped with an independent salon, a private swimming pool and a terrace.
At the same time, La Mamounia has a total of 4 restaurants managed by the Michelin two star chefs. Most notably, the hotel has a vegetable garden with an area of 1500 square meters, where you may see chefs looking for fresh ingredients. The 5 distinctive bars also offer five different experiences for you.
Le Mamounia is known as Africa's Seven Star Hotel. It was awarded "Africa Leading's Hotel 2015" in the 2015 World Tourism Awards, and then "Best Hotel Middle East and Africa Readers' Choice Award 2015" by the highly respected Conde Nast Traveller Magazine. For nearly a century, the hotel continues to charm the world with its friendly service, lowkey luxury and traditional style.