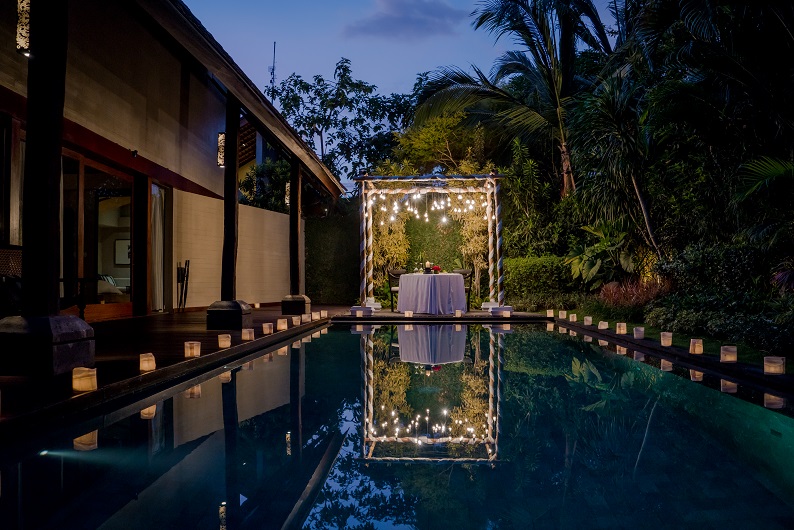 印尼巴厘岛纯蓝别墅
Ametis Villa Bali,Indonesia
巴厘岛纯蓝别墅 - 印度尼西亚海岸线上的热带雨林
巴厘岛纯蓝别墅于2011年3月9日开幕,坐落于峇里长谷的海边村落內,环境清幽恬静,为品味旅客在繁华热闹的水明漾以外提供另一个度假选择。
巴厘岛纯蓝别墅度假酒店风格时尚,将热带度假体验提升到全新层次。如家写意的设计概念,让人远离繁嚣,全情投入大自然的怀抱。
巴厘岛纯蓝别墅融入了巴厘岛的精髓,它的淳朴与未经破坏的原生态吸引了越来越多的旅行者拜访,也成为可懂得享受奢华度假生活人士的首选。酒店被大自然环抱,艺术及文化色彩浓厚,缔造眼前一亮的住宿体验。步行5分钟即可到达迷人的印度洋海滩。
Ametis Villa Bali以珍贵的紫水晶(Amethyst)命名,7,500平方米的别墅区内设有14间私人别墅,揉合富热带风情的园林设计,幽静宁谧。度假酒店亦结合峇里传统与现代设施,在奢华的住宿及公共社交空间呈现峇里的特色。酒店无处不在的精致摆件质朴而充满年代感,更是凸显了主人的细致与用心,随处可见的石雕、入目可及之处的小物件都展现了酒店特色,酒店每间别墅的钥匙都是被禁止带出酒店区域的哦,因为酒店所有的钥匙扣都是独一无二的。
酒店为每个客人都安排了一位私人管家,从衣食住行各个方面为客人提供全方位的照顾与服务。
别墅设有半露天的客厅、豪华私人游泳池连太阳椅,以及看似与户外相连的水疗浴室,洋溢自然气息。别墅还设有一应俱全的厨房、每日补充的迷你酒吧、咖啡/茶冲泡设备连自制曲奇、家庭娱乐系统连卫星电视频道、国际直拨电话及Wi-Fi网络。
24小时的客房服务让人安全感十足,酒店每天还免费供应报纸、热带鲜果、下午茶及黄昏鸡尾酒,缔造无比惬写的住宿体验。
有人说在海神庙看日出日落,潮起潮落是人生最为美妙的事情之一,而这般曼妙的景色就在距离巴厘岛纯蓝别墅约20分钟车程的不远处。海神庙供奉着巴厘岛诸神,是巴厘岛三大神庙之一,也是七座濒临海岸的庙宇中最著名的,海神庙拥有巴厘岛最美的夕阳,日落时分是观赏海神庙的最佳时间。每逢潮涨之时,岩石被海水包围,整座寺庙与陆地隔绝。提前与你的管家打好招呼,他会准时提醒你出发去看磅礴迷人的日落景象。
Ametis Villa Bali - Tropical Rain Forests By The Indonesian Coastline
Opened on 9 March 2011 Ametis Villa Bali is located in the sleepy coastal village of Canggu. The resort promises a degree of escapism with a tropical experience that doesn't involve young children for travelers seeking to break free from a cycle of routine and to be at one with the nature.
Ametis Villa Bali has raised the tropical resort experience to a new level with its fashionable style. It has a "home away from home" design concept that allows people to embrace the nature.
Ametis Villa Bali embodies the essence of Bali, its simple and unspoiled original ecology has attracted more and more travelers and those who know how to enjoy luxurious life. The hotel is surrounded by nature and has a strong artistic and cultural atmosphere to create an amazing stay experience. It takes only 5 minutes to walk to the charming Indian Ocean beaches.
Ametis Villa Bali is named after the precious Amethyst. It has 14 private villas in a 7,500 sqm villa area, a mix of tropical and tranquil landscapes. The resort combines the traditional and modern facilities of Bali, showing the characteristics of Bali in luxurious accommodation and public social spaces. The hotel boasts an ubiquitous display of exquisite artistic decorations and stone carvings, highlighting the owner's meticulous intentions. No villa keys can be taken outside of the hotel, because every key is unique.
The hotel arranges a private butler for each guest, providing a full range of care and services to satisfy all their necessities.
The villa features a semi-open-air living room, a luxurious private pool with sun loungers, and a seemingly outdoor spa bath. The villa also has a fully equipped kitchen, mini bar with daily refill, coffee/tea making facilities with homemade cookies, home entertainment system with satellite TV channels, international direct dial telephone and Wi-Fi network.
The 24-hour room service offers a sense of security. The hotel also offers free newspaper, tropical fruit, afternoon tea and evening cocktails every day to create an enjoyable stay.
Some say that to see the sunrise and sunset in the Taman Ayun temple is one of the most wonderful things in life, and this graceful scenery is only 20 minutes by car from Ametis Villa Bali. The temple is dedicated to the gods of Bali and is one of the three major temples in Bali, but also the most famous of seven coastal temples. The temple has the most beautiful sunset in Bali, and sunset is also the best time to see the temple. When the tide rises, the rocks are surrounded by seawater, and the whole temple is isolated from the land. Ask your butler in advance to remind you to go out for the sunset scene.
媒体及广告合作:
请注册本站成为会员了解详情:
咨询电话:010-64706107
邮箱:info@hotelelitemag.com
Press & Advertising:
Register for more information:
Tel:010-64706107
Email:info@hotelelitemag.com