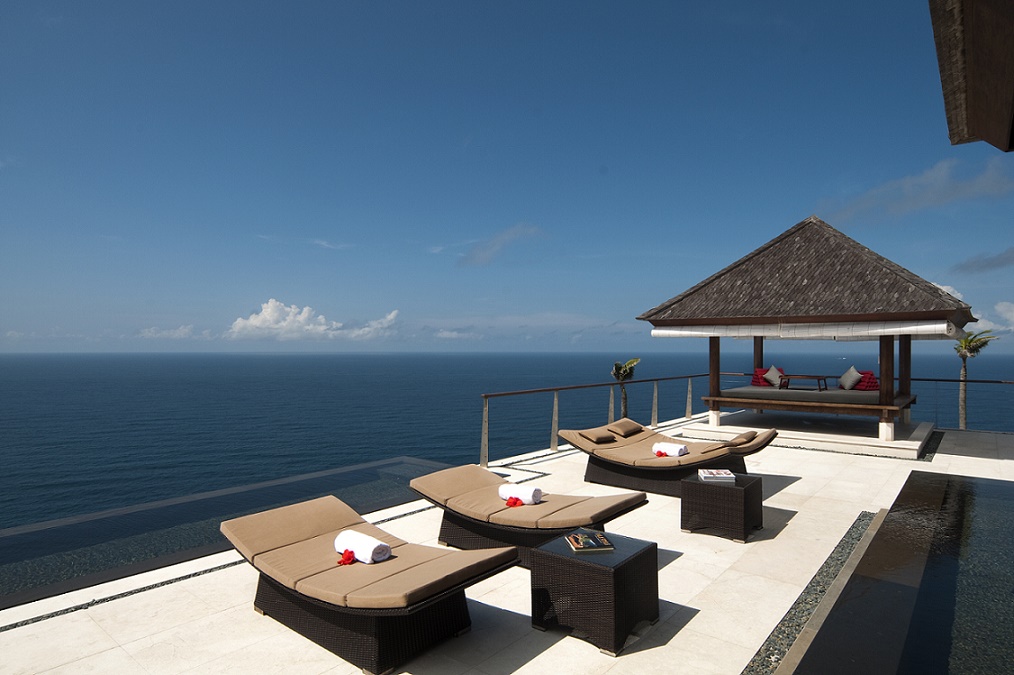 印尼巴厘岛艾吉酒店
The Edge Bali,Indonesia
巴厘岛艾吉酒店情人崖边的娇艳之花
Bali,印尼巴厘岛,在印尼语中Bali是kembali的简写,表示"回来"的意思,意思是巴厘岛是个来了就走不了的地方。艾吉酒店(The Edge Bali)是位于巴厘岛南端最美悬崖——情人崖乌鲁瓦图的顶级别墅酒店,可谓占据了巴厘岛的最佳海景地理位置。整个酒店和餐厅都依山而建,很多明星的婚礼都在这里举办。
酒店目前共有14间别墅,分为4种类型,The villa单卧室度假别墅,以天然石材的泳池为特色,配有大型户外甲板平台、用餐区和小歇亭。房间内可以欣赏到印度洋海景。
艾吉酒店的24小时私人管家服务也是他们的特色之一。私人管家都是受过专业培训的巴厘岛本地人,他们会负责你在酒店内以及酒店外的所有行程,24小时随叫随到。
The mood双卧室度假别墅,配有娱乐设备、宽敞舒适的起居室,典雅的餐厅,天然石材的泳池、小歇亭、和甲板露台。双卧室海景别墅,可以看到绝美的海景。提供私人泳池和宽敞的甲板。室内装修风格典雅奢华,拥有用餐区和起居空间。双卧室都能拥有泳池景观、淋浴设施和浴缸,并提供高质量的洗护用品。
The View大型豪华别墅,酒店最大最豪华的度假别墅位于酒店的中心。配有五间卧室,能够眺望印度洋,私人的餐厅、两座天然石材的私人泳池和两个小歇亭。房间内配有最新科技的娱乐设备,包括苹果电视。配有私人酒窖、雪茄休息室、儿童游乐室以及8张影院式躺椅和一块超大屏幕的私人家庭电影院。
The Edge Bali, Flower By The Lover's Cliff
This is Bali in Indonesia. In Indonesian, Bali is shorthand for kembali, meaning both "come back" and that Bali is a place you can't leave once you visited. The Edge Bali is the premier villa hotel located at the most beautiful cliff -Uluwatu, in the southernmost part of Bali, occupying the best location in Bali. The whole hotel and restaurant are built on the mountain, and a lot of the celebrity weddings are held here.
The Edge Bali's 24-hour private butler service is also one of their characteristics. The private stewards are professionally trained local Balinese who will be 24 hours on call and responsible for all your trips within and outside the hotel.
The hotel currently has 14 villas, divided into four types: the villa, the one-bedroom holiday villa, features natural stone plunge pool, large outdoor terrace, dining area and private bale. The rooms have view of the Indian Ocean.
The mood, the two-bedroom resort villa features entertainment facilities, spacious and comfortable living room, elegant restaurant, natural stone plunge pool, private bale, and deck terrace. Two-bedroom sea view villa has beautiful sea view. It offers a private pool and spacious deck terrace. The interior is elegant and luxurious with a dining area and a living space. Both bedrooms have pool views, shower facilities and a bathtub, and high quality toiletries.
The View luxury villa, is the largest and most luxurious holiday villa located in the centre of the hotel. It has five bedrooms, a view of the Indian Ocean, a private dining room, two natural stone private pools and two small bales. The rooms are equipped with state-of-the-art entertainment equipment, including Apple TV. There is also a private wine cellar, a cigar lounge, a children's playroom and 8 cinemas chairs and a private home cinema with a large screen.
媒体及广告合作:
请注册本站成为会员了解详情:
咨询电话:010-64706107
邮箱:info@hotelelitemag.com
Press & Advertising:
Register for more information:
Tel:010-64706107
Email:info@hotelelitemag.com