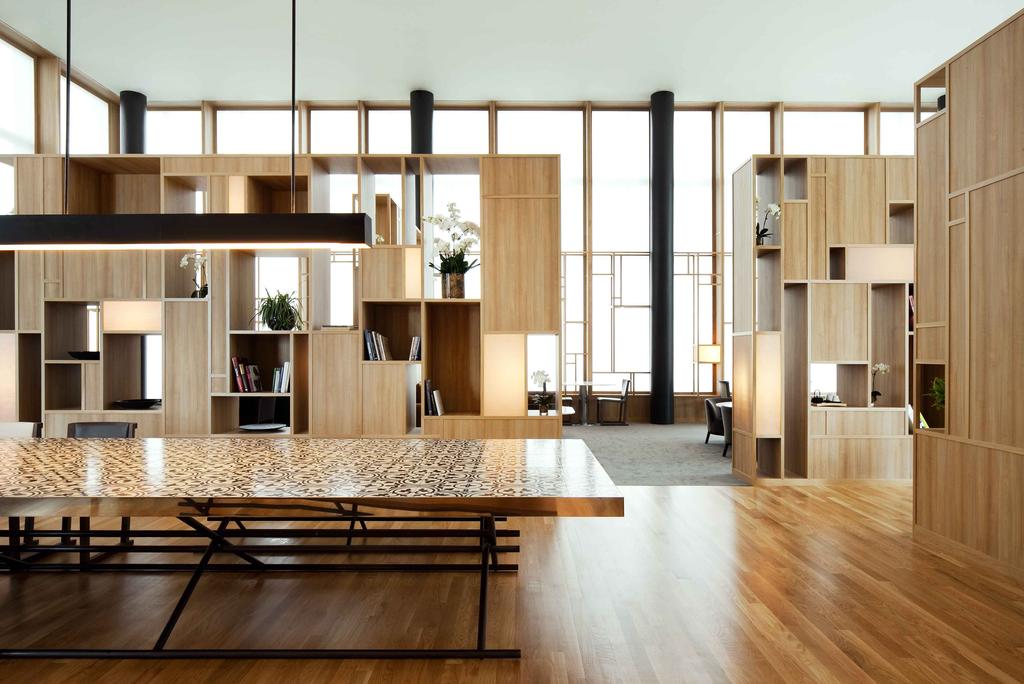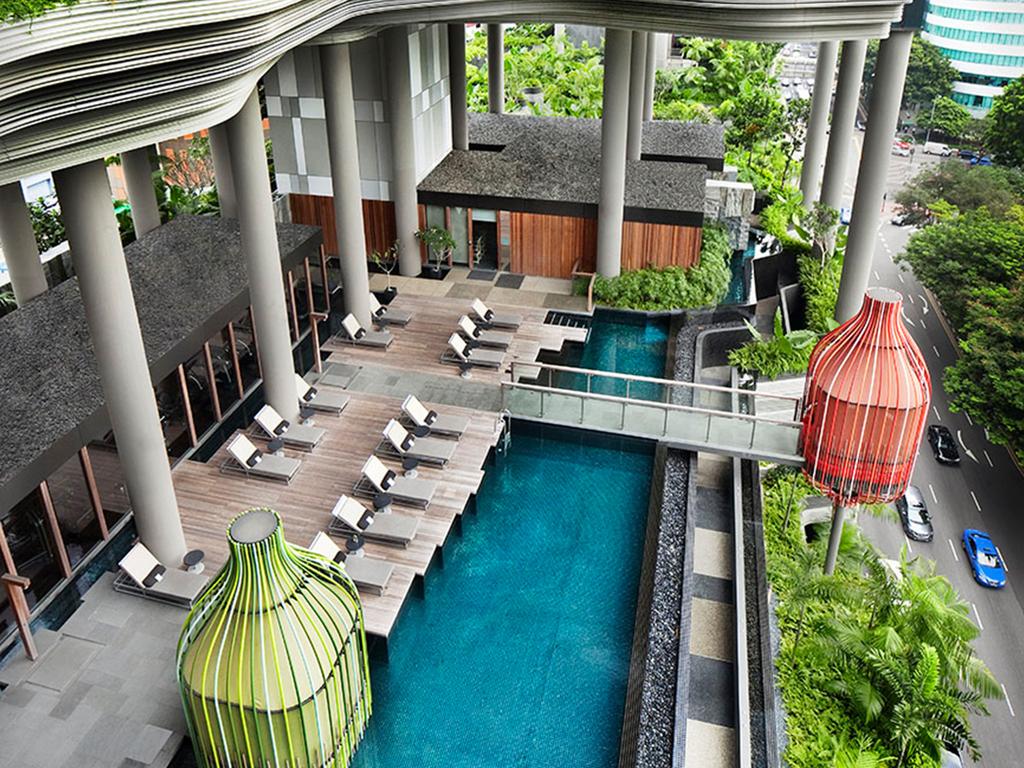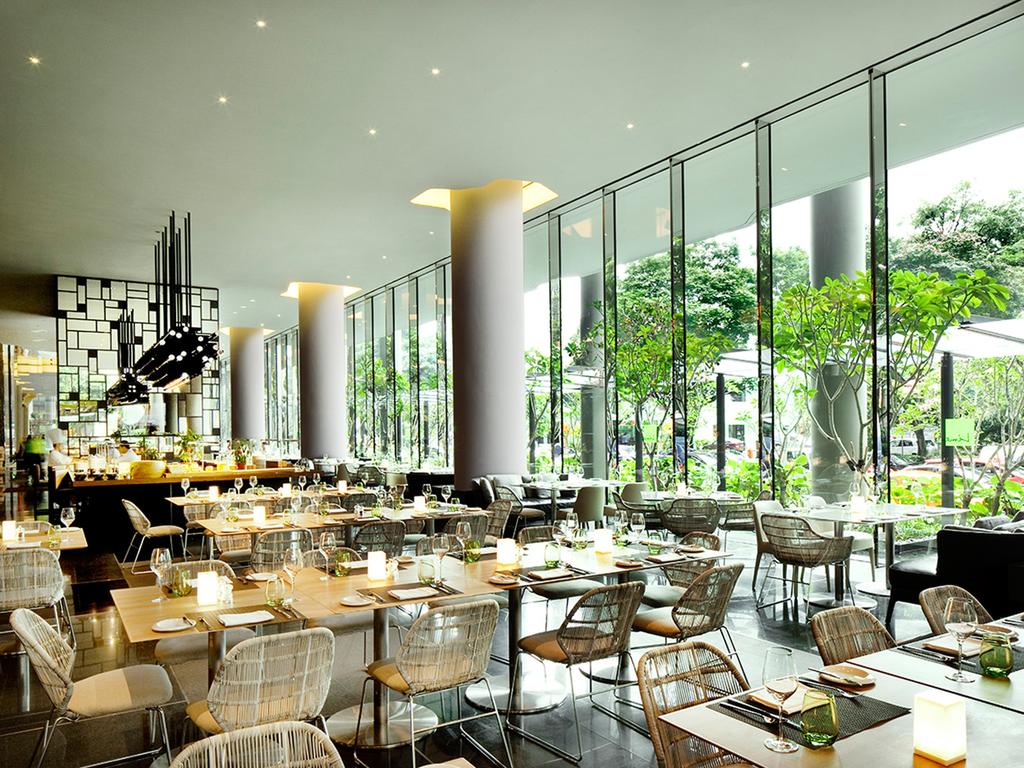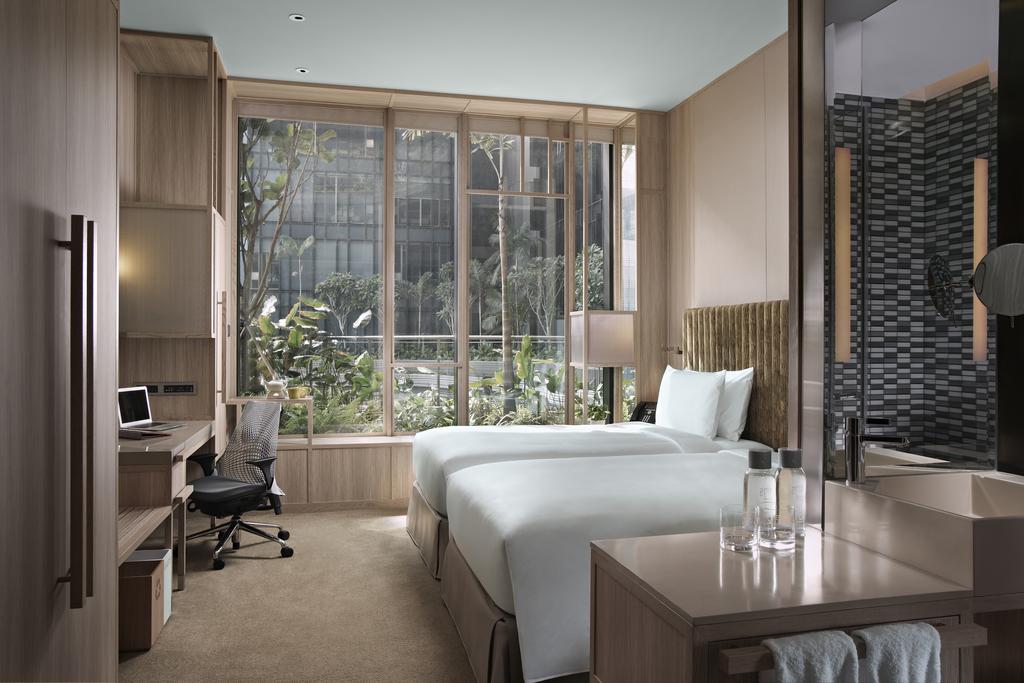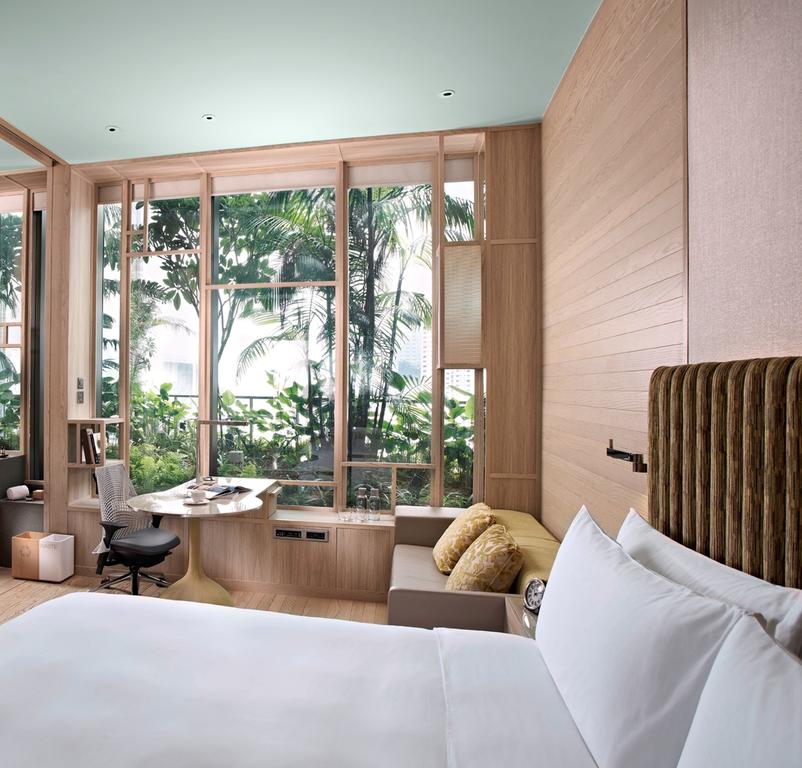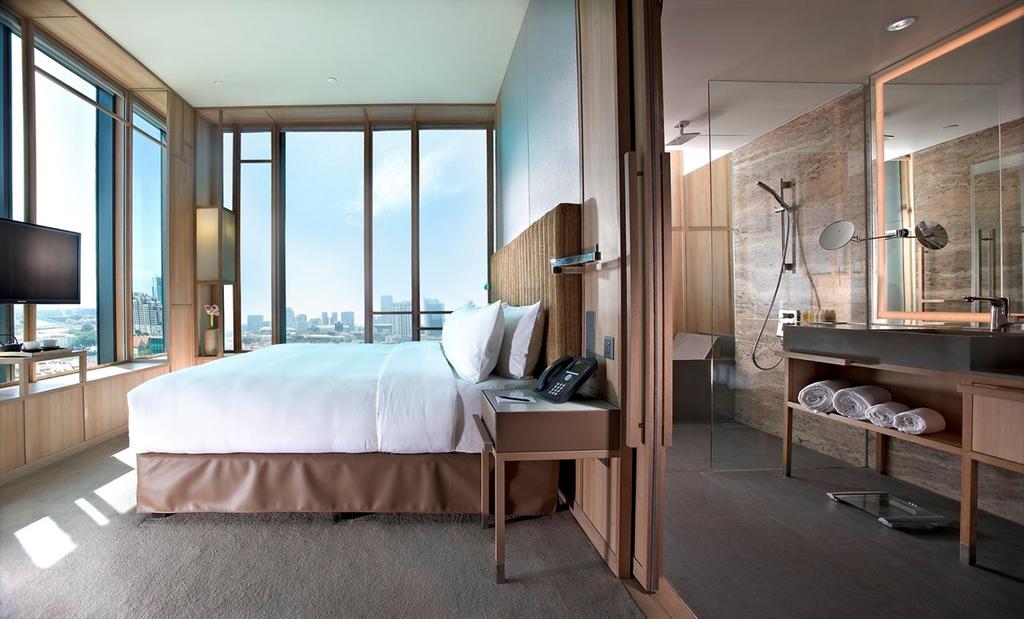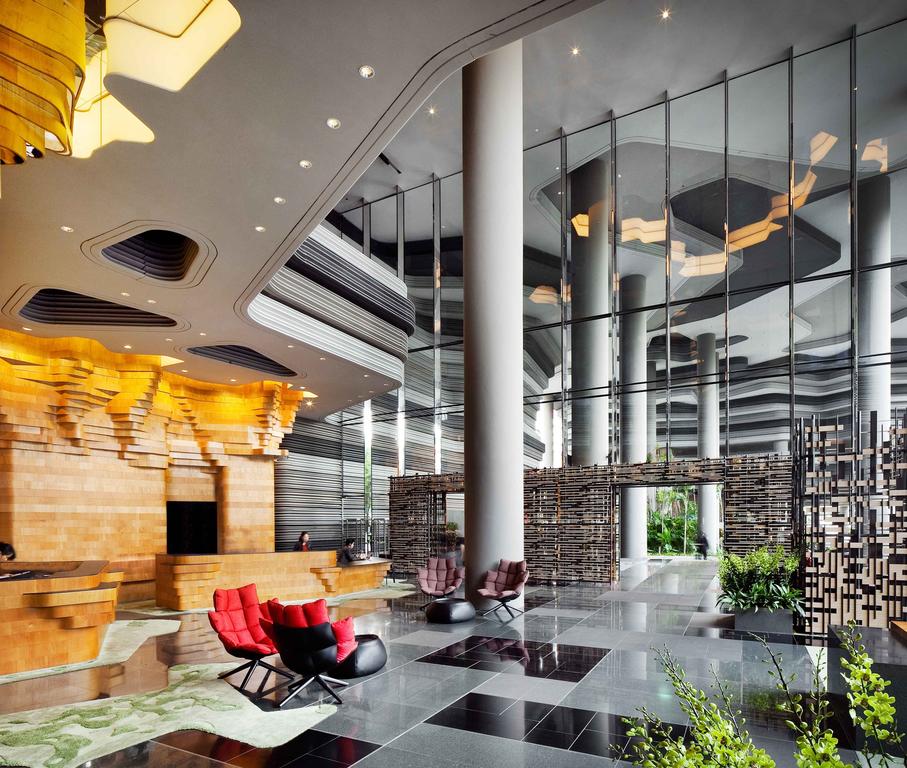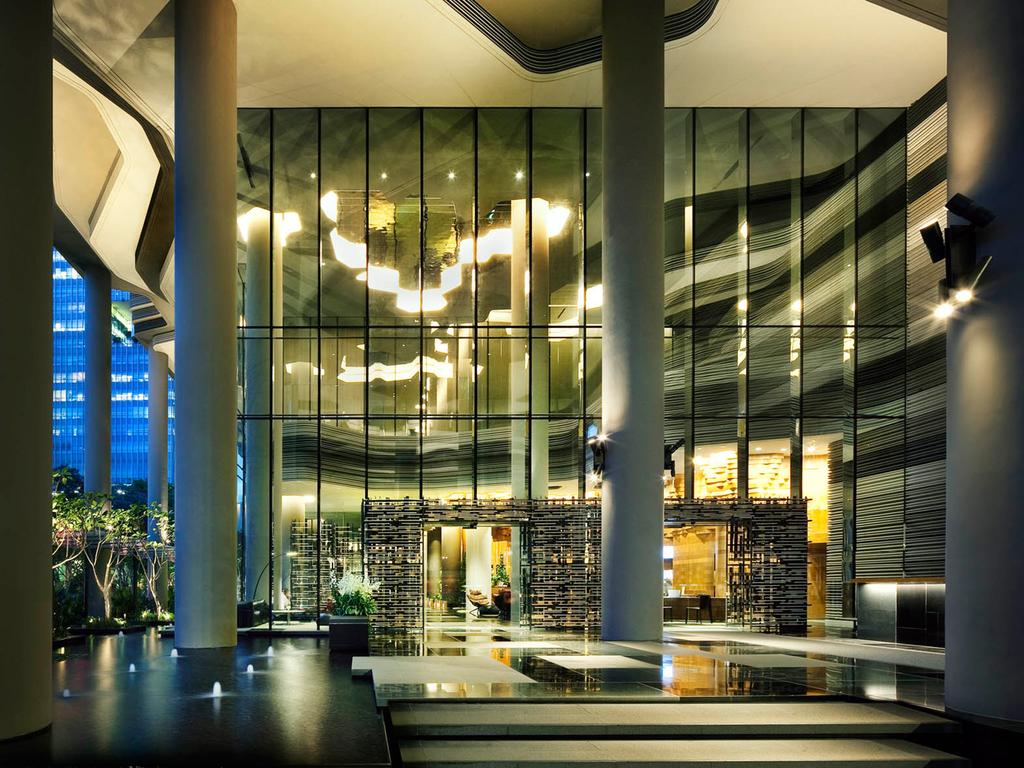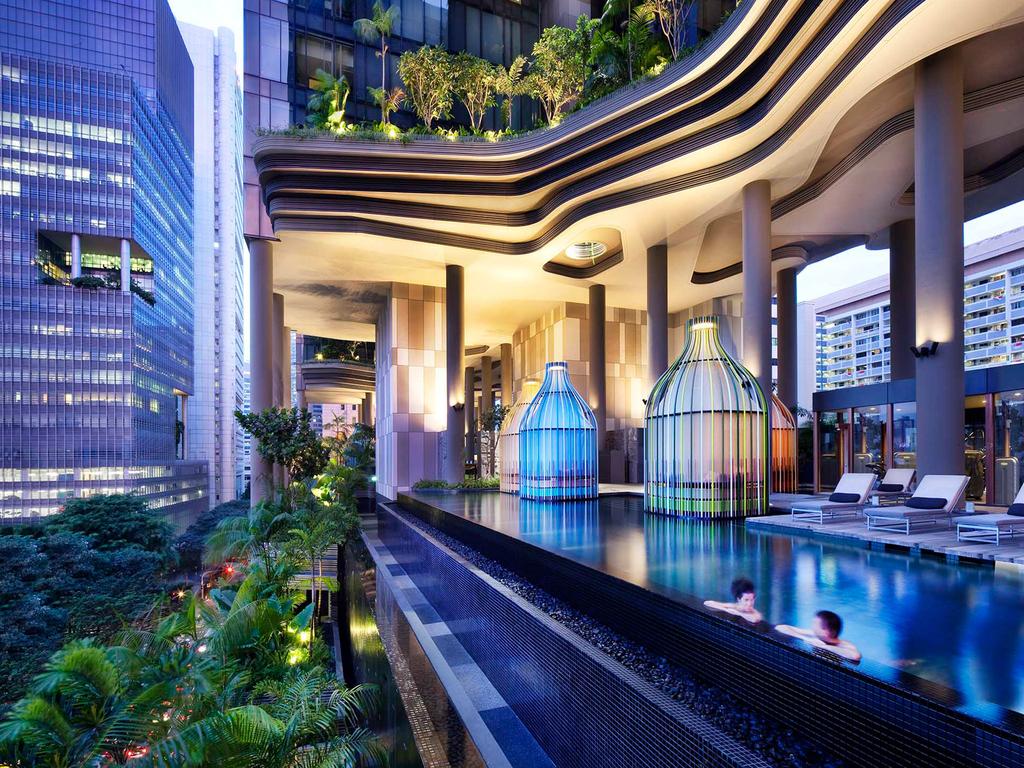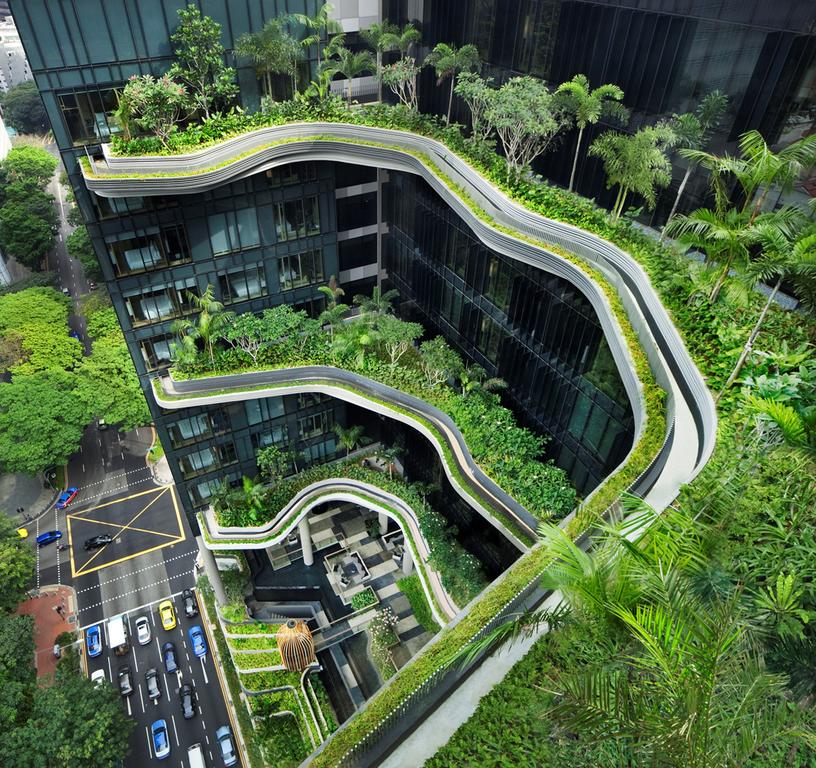 新加坡皮克林宾乐雅酒店
PARKROYAL on Pickering hotel
创新的"花园酒店"
刚开业的皮克林宾乐雅已成为新加坡现代建筑的典范,反映市内文化特色。由来自WOHA的设计师操刀,皮克林宾乐雅采用花园酒店理念,与毗连的新加坡地标呼应,成为当地首家贯彻环保概念的"花园酒店"。酒店面积约 15,000 平米拥有楼高四层的繁茂园林瀑布和花墙,为当地绿化锦上添花。
以新加坡河为设计灵感,外墙以流线形的蓝绿色玻璃设计,酒店从远处看来彷如一家水族馆。墙身种植姿态各异的植物群,如棕榈灌木藤蔓等,绿树成荫,与万木繁盛的芳林公园相应。位于地层及五楼的水帘瀑布,清新怡人,营造出大自然的和谐感。酒店下层以啡木为主色调,以稻田式设计向上伸延,更富活力,如此巧妙的设计使酒店宛若闹市中的绿洲。
客房内采用特大玻璃窗,并用敞门分隔出不同区域,引日光于室内,除了增强空间感外,更令房间倍感宽阔。家具以原木石材为主,并以不同配搭的绿色点带出朝气,营造出简约自然的环境。浴室设置亦采用循环再用的玻璃,酒店于绿色设计上所花的心思可见一斑。
皮克林宾乐雅遍布园林景致,大楼与大楼间以空中花园相连。宾客在回房休息前,不单能感受新加坡的清新空气,亦可醉心于群花昼夜盛放的不同美态。
除了多种姿态各异的植物群将酒店院落装点得格外美丽,皮克林宾乐雅是新加坡首家使用太阳能电池供电的零耗能酒店,更采用综合性节能节水措施,例如使用光线雨水和动作感应器,以及集雨和NEWater(循环系再用水)。酒店多以天然素材如黑木材石砾玻璃等配搭为设计概念,并用上从外透射的日光营造大自然的和谐感,确乎是一座名副其实的花园酒店。
Innovative Garden Hotel
Designed by awardwinning architectural firm WOHA, PARKROYAL on Pickering is Singapore's first hotelinagarden, a groundbreaking iconic structure inspired by its surroundings. A unique urban resort that is environmentally responsible, the hotel features over 15,000m2 of lush skygardens, reflecting pools, waterfalls, planter terraces, and cascading vertical greenery and is already hailed as an architectural stunner.
Tall towers of greenblue floortoceiling windows create a streamlined upper exterior. Standing out amidst the Singapore skyline the towers appear as an aquamarine mosaic, inspired by the nearby Singapore River. The design is softened by over ten species of shaded trees, tall palm flowering plants, leafy shrubs and overhanging creepers that mirror the green areas of Hong Lim Park opposite. The gardeninspired design continues with stunning water features at the ground level and fifth floor, to instil a sense of calm and relaxation. Undulating tiers in earthy tones, inspired by inverted rice paddy terraces, rise from the ground floor upwards creating a tactile shape. The carefully designed combination strikes the balance for a resortstyle property in an urban location.
The tropical setting and extensive landscaping spreads throughout the property. As much of the public spaces are externalised, guests walk through outdoor corridors lined with plants or walkways set within the four skygardens en route to their rooms.
The hotel breaks new ground by introducing the state's first solarpowered skygardens. Amongst its other energy conservation features are the use of automatic light, rain and motion sensors, rain harvesting and NEWater (recycled water). Natureinspired materials and textures such as light and dark wood, pebbles, water, and glass are used throughout the design of the hotel.
The guestrooms and suites are configured to allow as much natural light in as possible. Rooms are also equipped with sliding walls in order to maximise the sense of space. Every room features allnatural products with recycled composite granite used for bathtubs, sinks and vanity tops. Elemental wood and stone finishes lend an organic feel, while soft colour hues a palette of muted greens combined with large windows, creates a light and airy ambience.