酒吧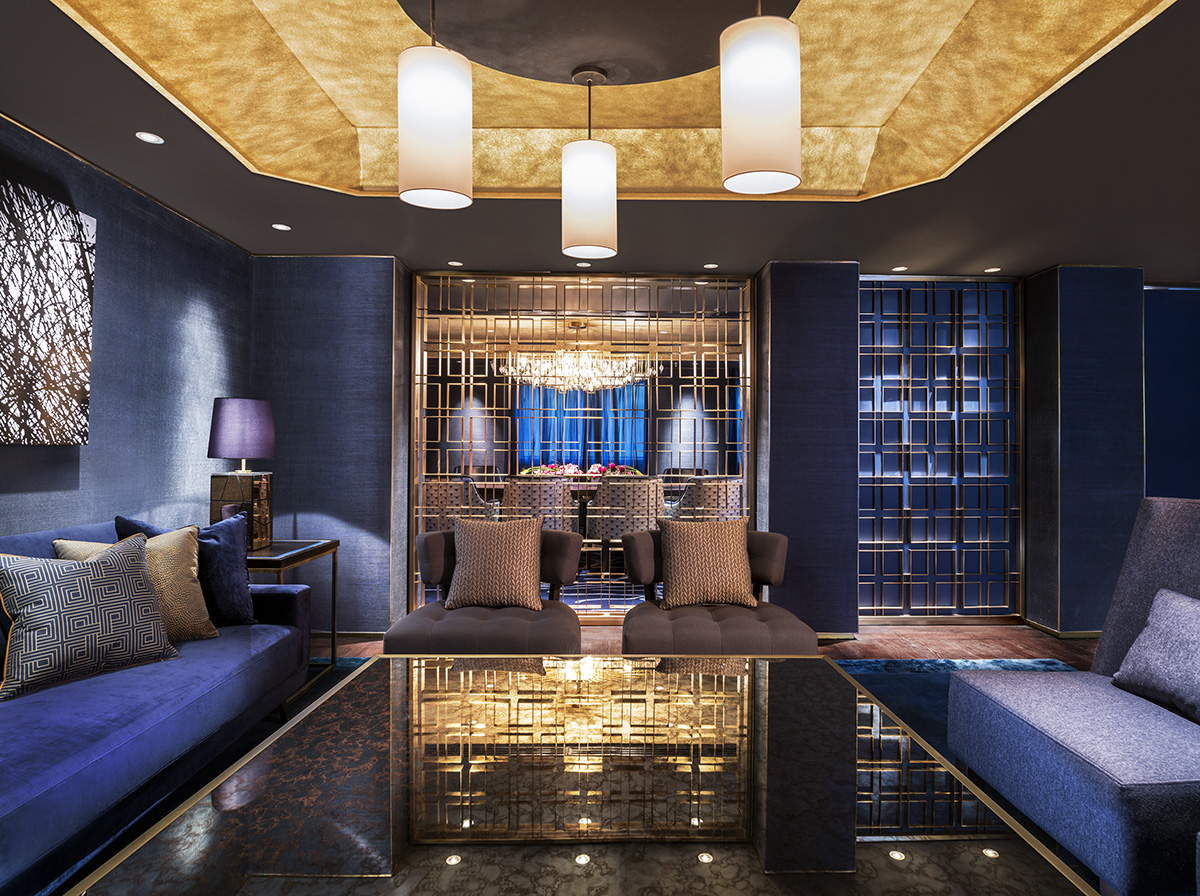 餐厅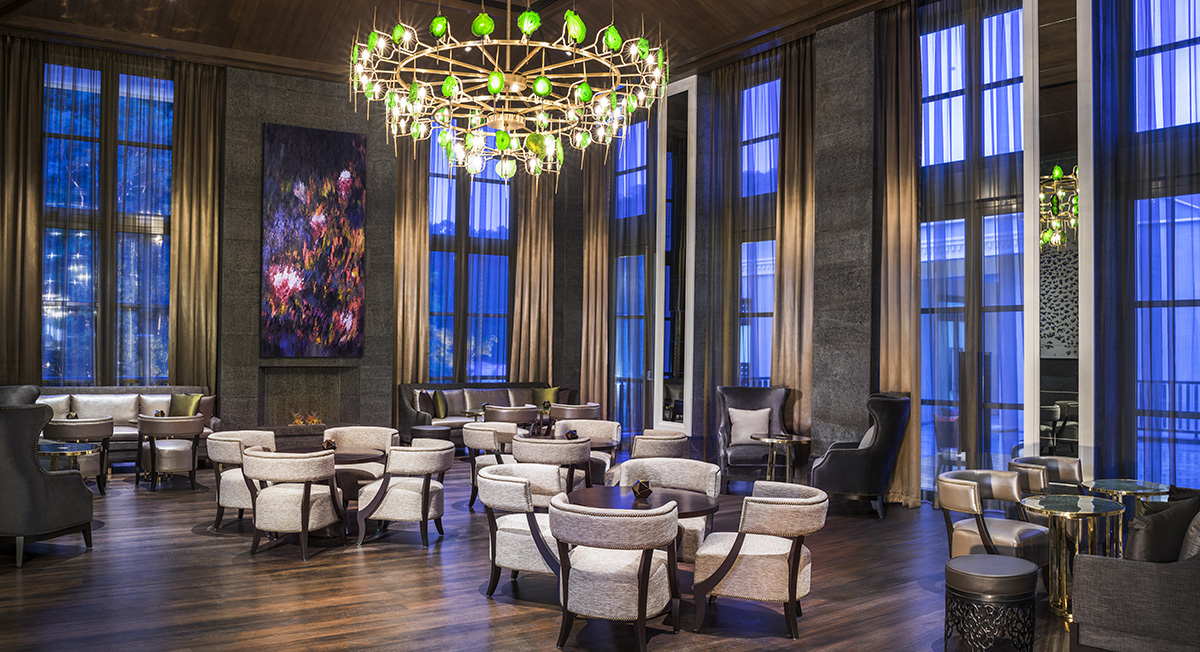 蒸馏酒酒吧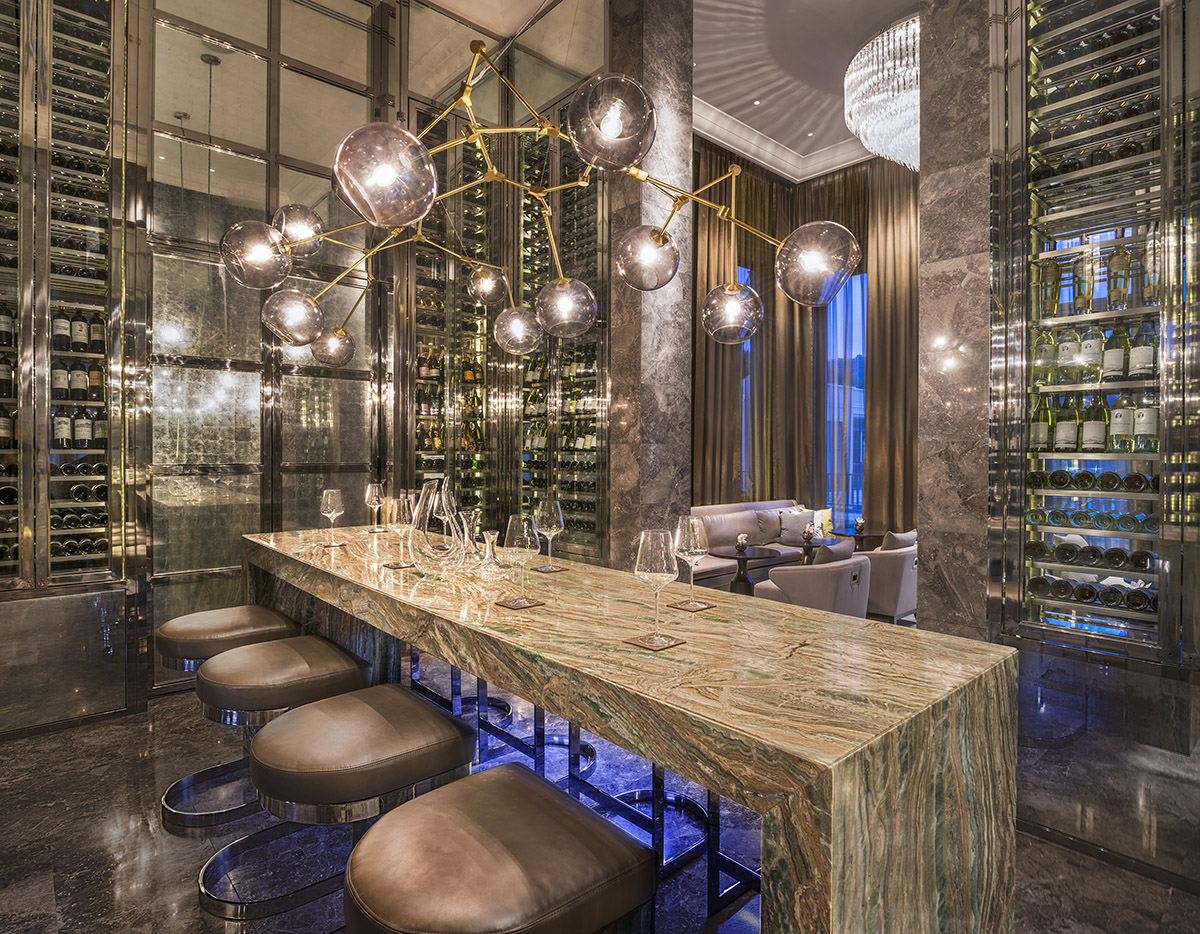 浴室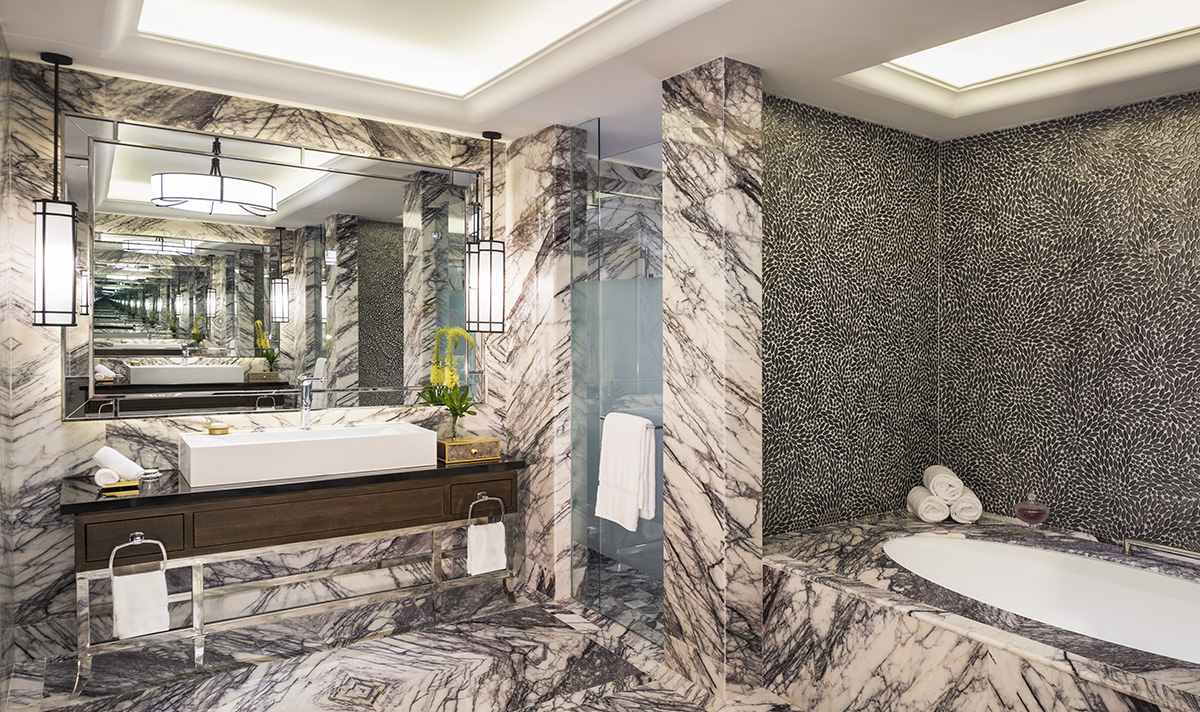 客房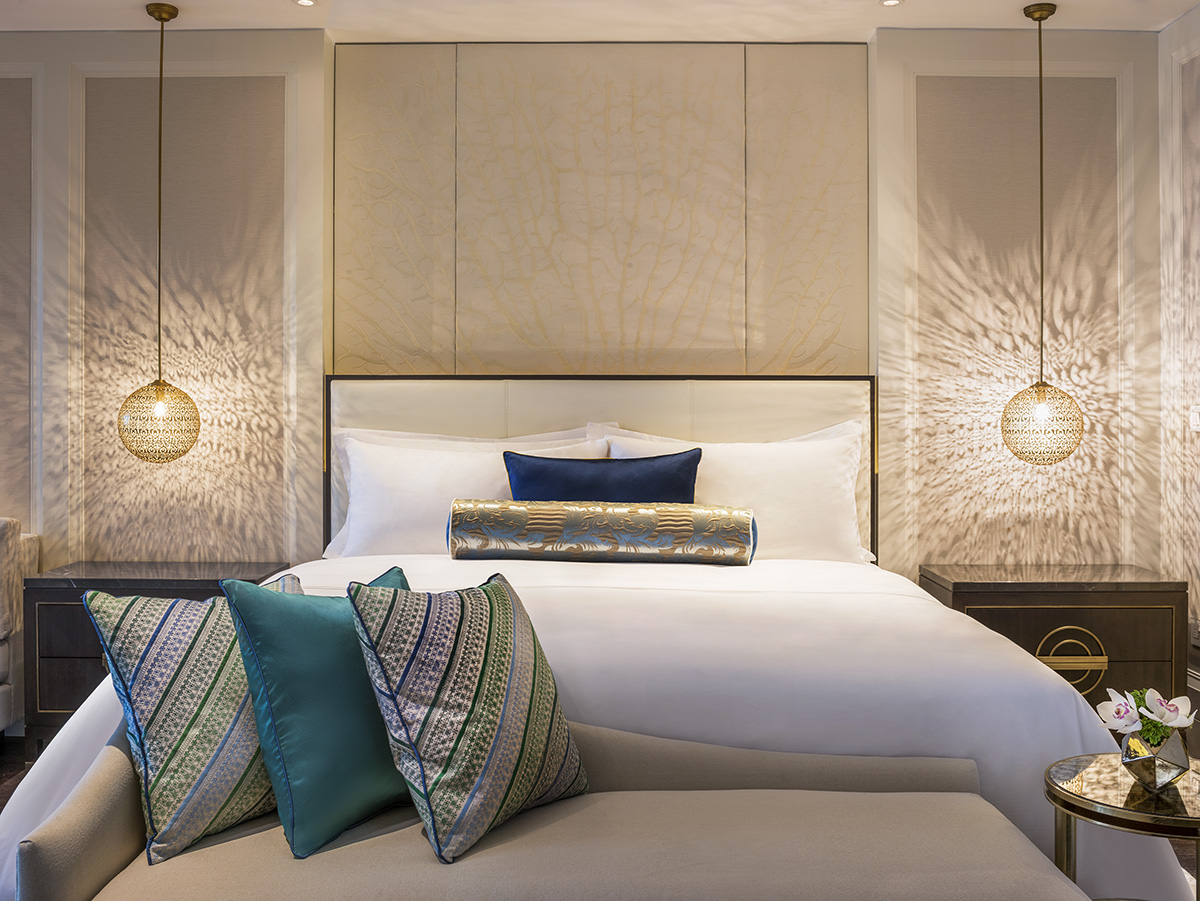 客房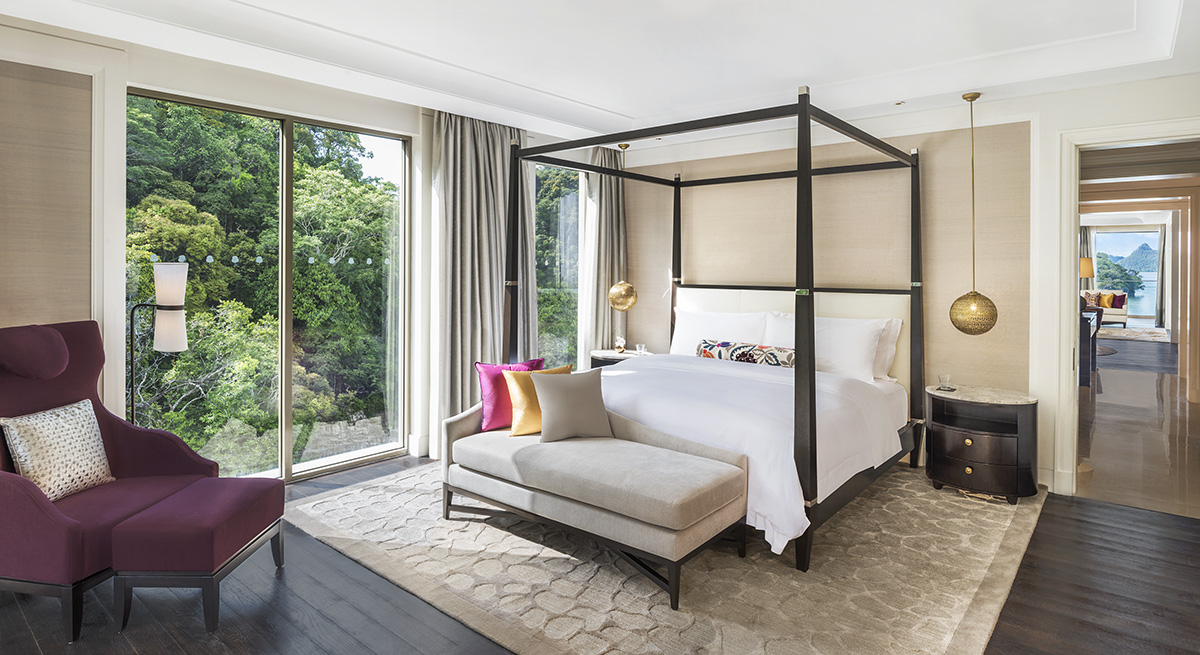 客房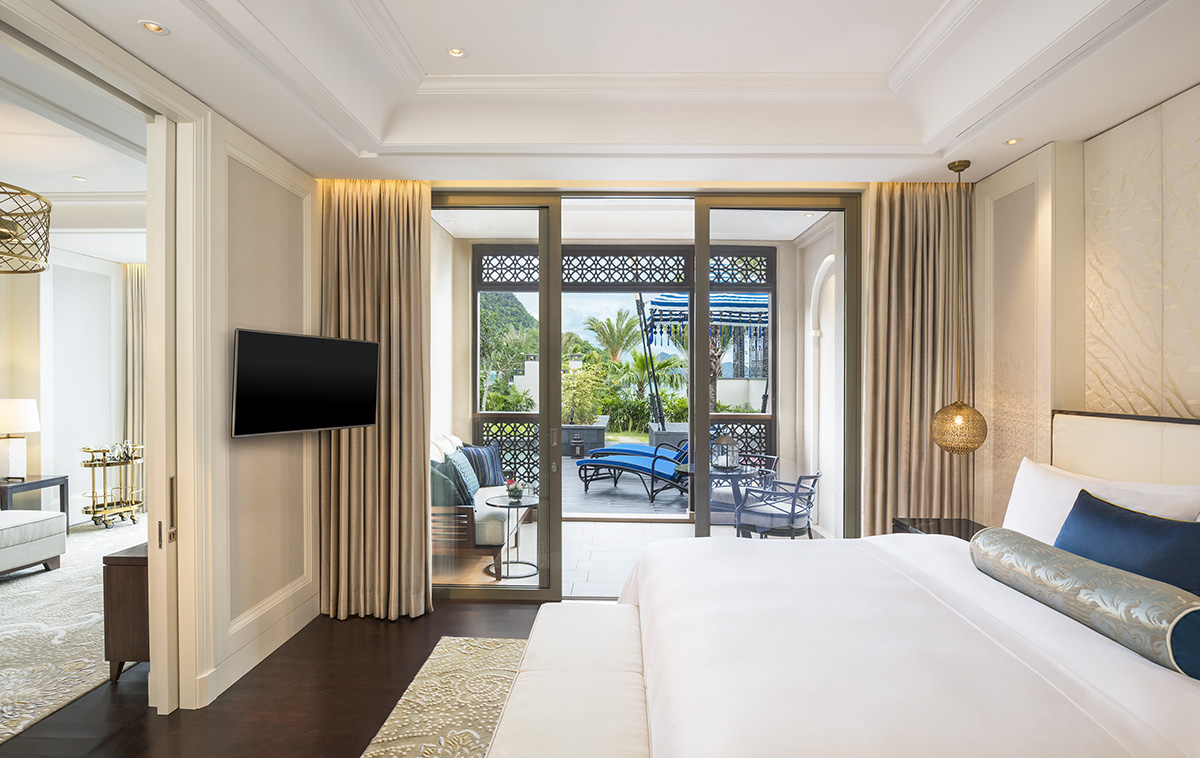 套房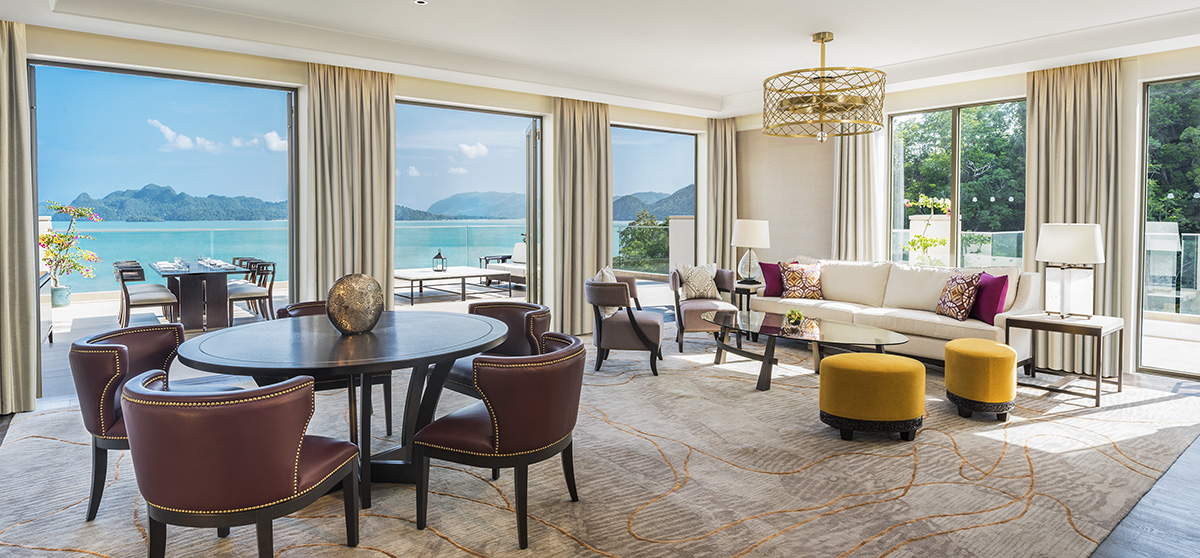 天台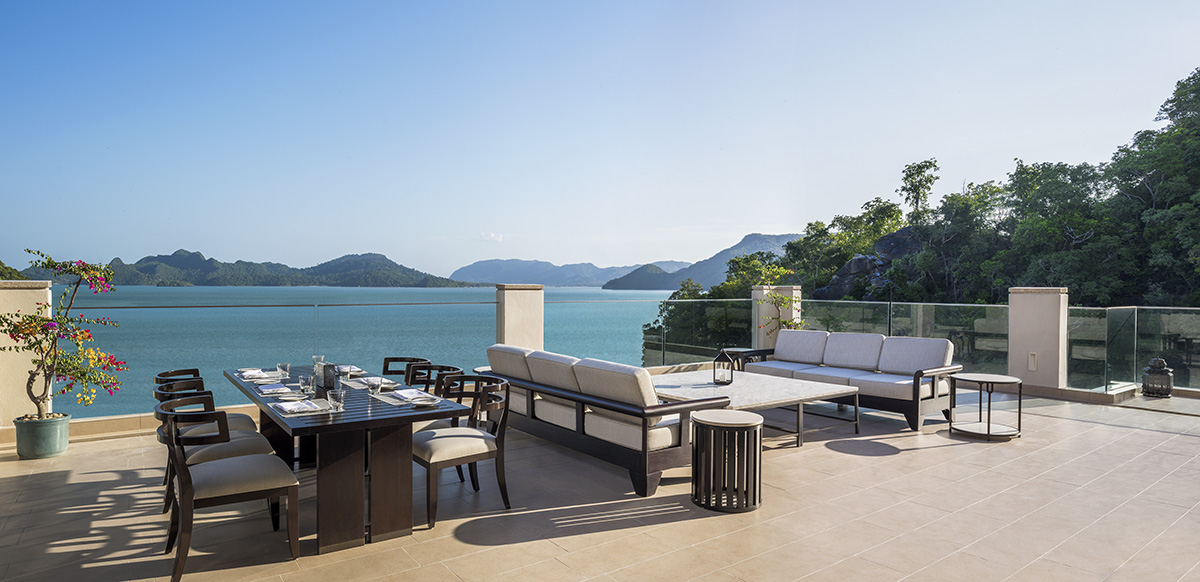 游泳池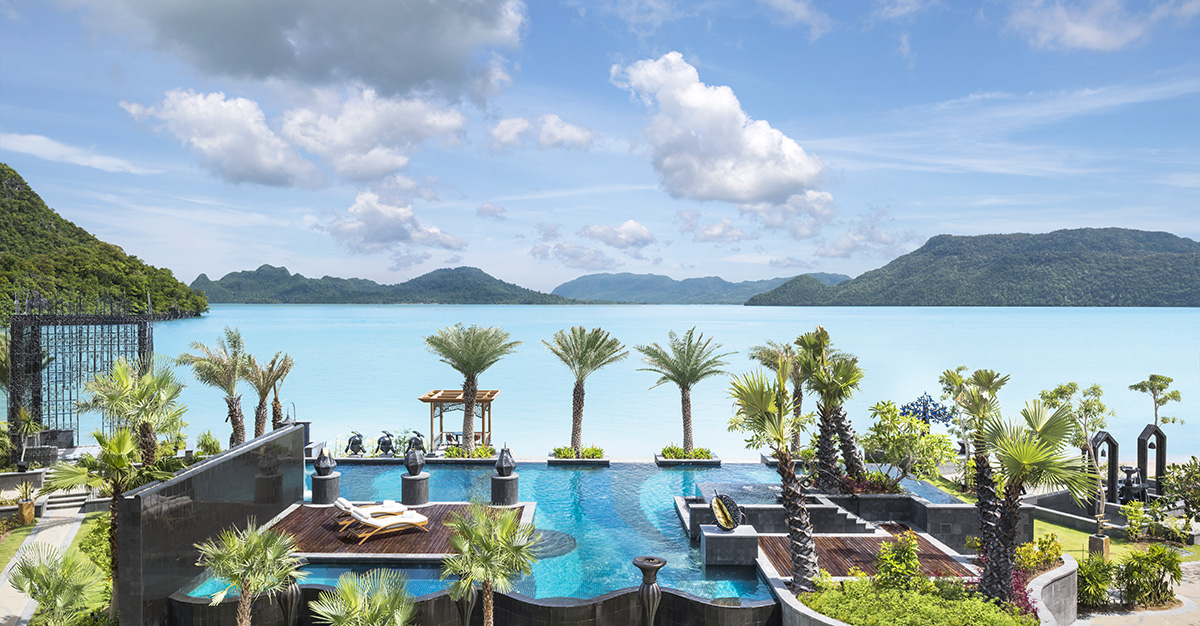 马来西亚兰卡威瑞吉酒店
St. Regis Langkawi,Malaysia
马来西亚兰卡威岛,仿佛造物主随意抛洒在人间的绿宝石,恬静淡泊。也因如此,成为"兵家必争之地":一座座休闲度假村争奇斗艳地绽放,将岛屿妆点成遁世桃源。
兰卡威瑞吉酒店公共区域采用双高体积造"泰山压顶"之势,不由人不wow声连连,但本区域其他线条却精致轻巧,刚与柔碰撞,"方得治道"。大理石、彩绘镶板及青铜主色等丰富元素烘衬出丰裕有余的室内设计空间。室内整体配色方案自然要"就地取材",从环绕度假村的海洋及岛屿植被中斩获灵感。大堂吧的地毯及配饰依附海洋蓝和金丝雀黄"招摇过市",其他各处也不甘落后,纷纷出手,上足了昂扬又轻巧的颜色。
大部分客房内的床都面朝大海,用意显而易见:当目光锁定窗外水色时,一刹那,仿佛那波光里的艳影,就荡漾在心头。坐垫的华丽面料以航海蓝和热带花卉着色。精美细致的蜡染地毯以纯手工装饰并雕刻,仿佛一缕缕兰卡威岛屿传统工艺风轻拂,沁人心脾。客房内部"面孔"略有差异,较正式且庄重的房间就好比"大门不出,二门不入"的大家闺秀,端端正正守在主大厦内。而那稍显轻巧的房间则率性得多,要么拥住瀉湖区,要么立于海面上。不论哪种房型,"肩宽体阔"的户外露台都是标配,得以在此左拥右抱周遭美色,一派逍遥!
活力"大宅"
橘园特色餐厅延续"阔气大宅"范儿,一摆一设融入橘园作风,以此模糊了室外和室内的界限。虽则身处建筑风格中规中矩、一板一眼的酒店主楼地盘儿,但它却不盲目效仿而能自辟蹊经,型格十足。这里,设计师"故技重施",刻画出高大空间和大幅面积,好让如涓涓细流的惬意优雅有足够空间恣肆流淌。屋顶异乎寻常地高,衬得清浅新鲜的凃面儿格外抢眼,也恍惚使人觉得这"大宅"精致宏伟得不真实,仿佛蒙着一层戏剧性的外罩儿。简单涂装的大背景,搭配深色系亚洲风格的家俬,却谁也不冷落谁,和谐一体。大胆不惧的主色将活力注入餐厅,催生出满满的正能量。展示厨房的烤炉上方,一幅马赛克镶嵌作品以其强大的魔性气场,使观者无不驻足,目中无旁,内心波澜难抑。
室内"丛林"
酒吧向来不走寻常路,兰卡威瑞吉酒店酒吧未能免俗。明显有别于酒店其他各处,瑞吉酒吧深受户外丛林景致所左右,呈现出层次丰富、狂放不拘的氛围。深色木料的天花及墙壁、硅化木桌子、火山石墙板和软装饰无不师法室外丰茂绿植色彩,似乎整座岛屿都在室内活色生香起来。头顶上方,三米宽的翡翠绿玛瑙水晶枝形吊灯艳惊四座,其他所有深色调装饰霎时黯然失色,唯有天花中央一抹光华顾盼生辉。
The Client's vision was for a grand Mansion house that offered a unique alternative to the more traditional laid back resorts that can be found on the island. Although a relaxed environment was still key, the focus was on a more glamorous setting reminiscent of the European Rivieras with fresh and light interiors and grand open spaces.
Well-applied Colours
Where possible we have employed double-height volumes in the Public Areas to give that "wow" factor whilst keeping other lines refined and simple. Opulent interiors have been created through the use of rich finishes such as marbles, painted panelling & bronze accents. The overall interiors are fresh and light with colour schemes that have been influenced by the sea and the island vegetation that surrounds the resort with punches of ocean blue and canary yellow adorning the cushions and accessories in the Lobby Lounge.
Inside the majority of the guestrooms the beds are orientated towards the sea helping to focus the guest's attention on the proximity of the water and again the scheme of nautical blues and tropical flower hues can be found in the beautiful fabrics chosen for the cushions. Beautifully detailed rugs influenced by Batik have been hand-tufted and hand-carved in the styling of the island's traditional craft. Within the guestrooms, a slight difference in styling is offered, with more formal and grand rooms located inside the main Mansion building and more relaxed rooms outside located in the lagoon areas and above the sea, all with extensive external balconies so guests can make the most of their beautiful surroundings.
Energetic Mansion
Continuing with the Mansion House style an Orangery inspired setting was incorporated into the concept for the L'Orangerie Signature Restaurant to allow for the exterior to blur with the interior volumes within the more formal architectural footprint of the hotel's main building. Once again high volumes and large areas feature to allow an easy elegant flow through the spaces whilst light, fresh painted finishes are enhanced by oversized roof heights providing a dramatic sense of refined grandeur. The backdrop of simple architectural finishes is enhanced by dark contrasting Asian style furniture whilst bold accent colours bring energy to the room. Above the oven in the display kitchen, a stunning feature mosaic provides an intricate focal point and brings a touch of glamour to the space.
In-house Jungle
The St Regis Bar in contrast to the rest of the hotel offers the guests a richer and sultrier atmosphere and was heavily influenced by the views into the jungle outside. Dark timbers to the ceiling and walls, petrified wood tables, volcanic stone wall panels and soft furnishings that echo the colours of the vegetation outside help bring the island into the hotel. Overhead a striking three metre wide chandelier of emerald green agate crystal acts as a lavish centrepiece and brings a pop of colour to the darker palette.