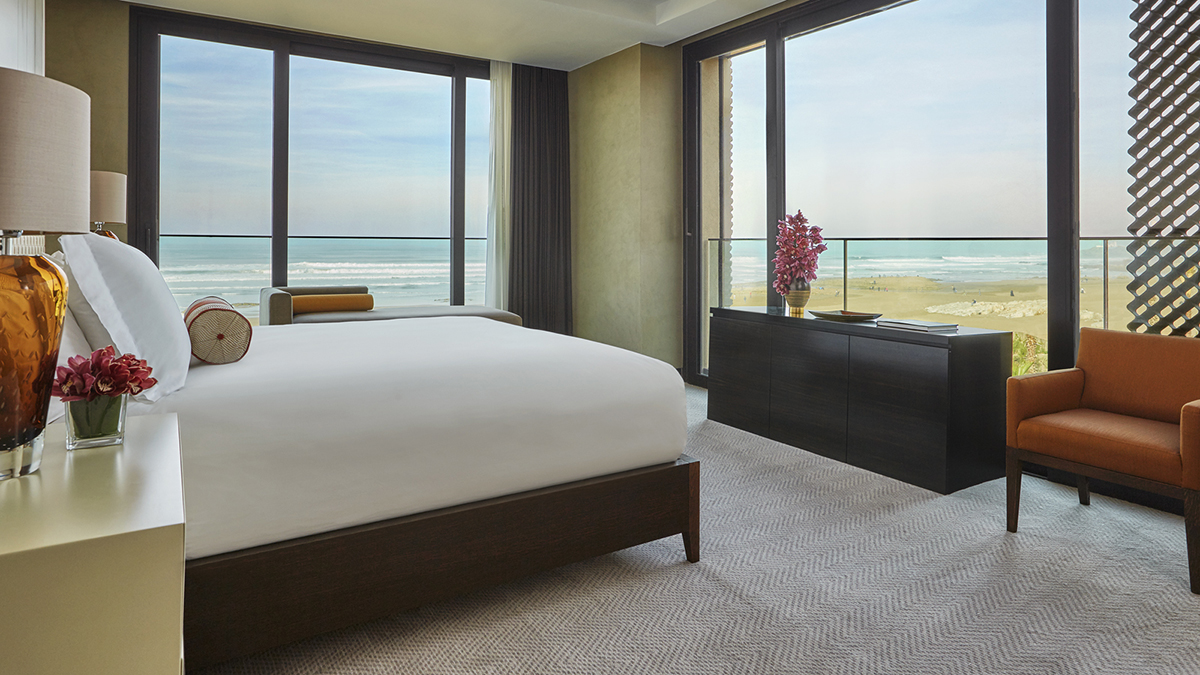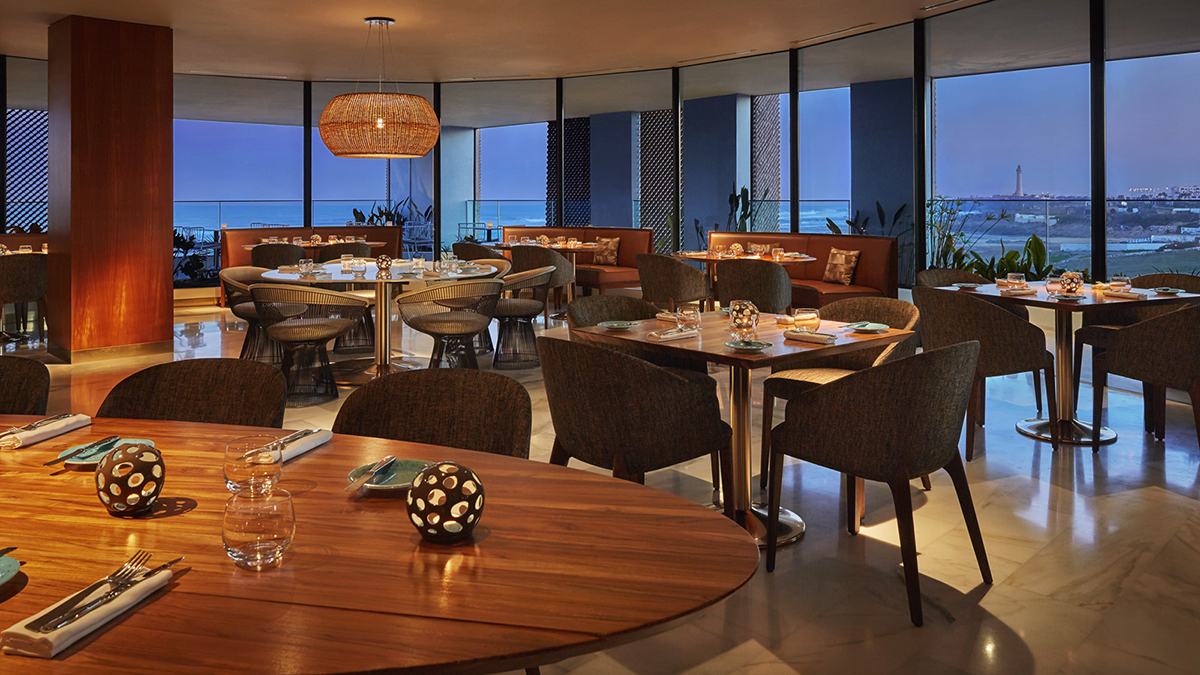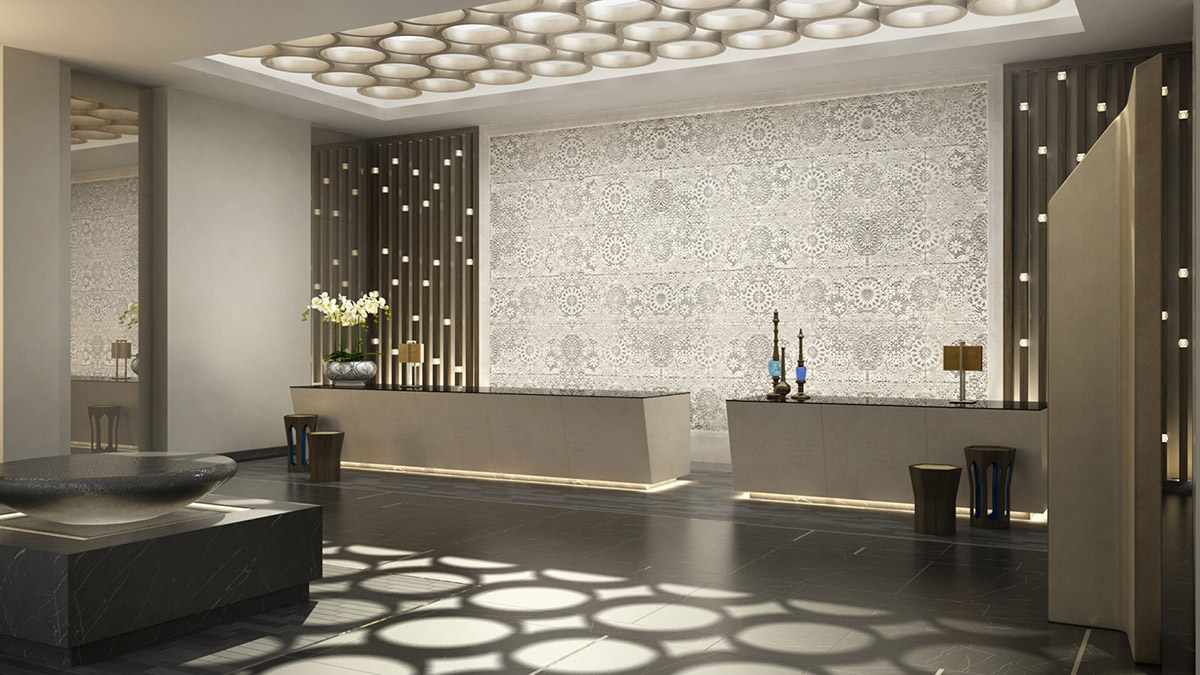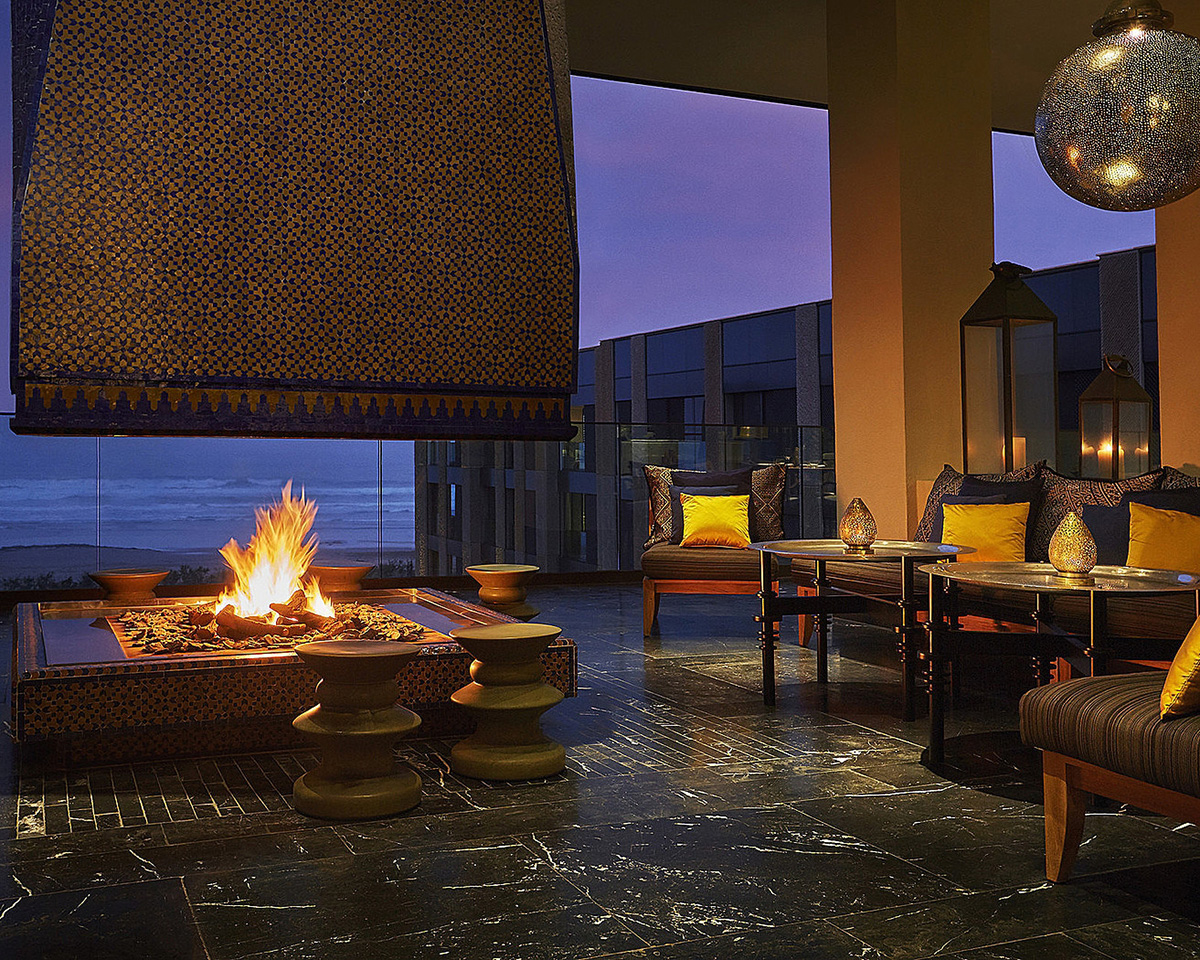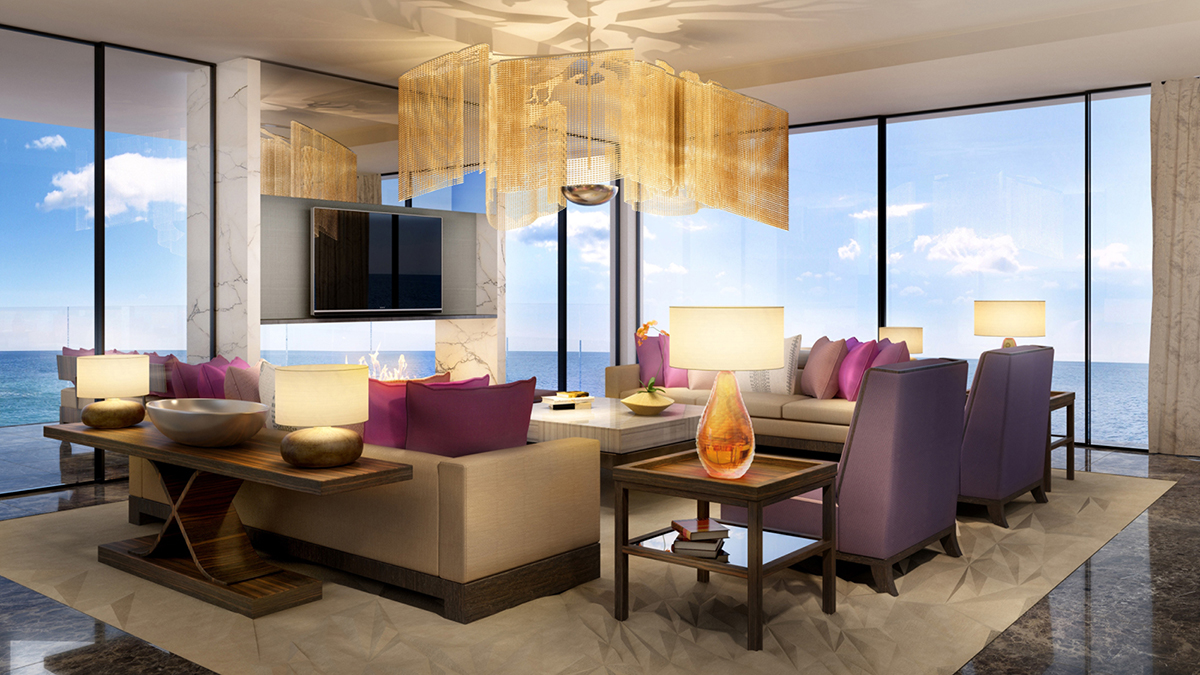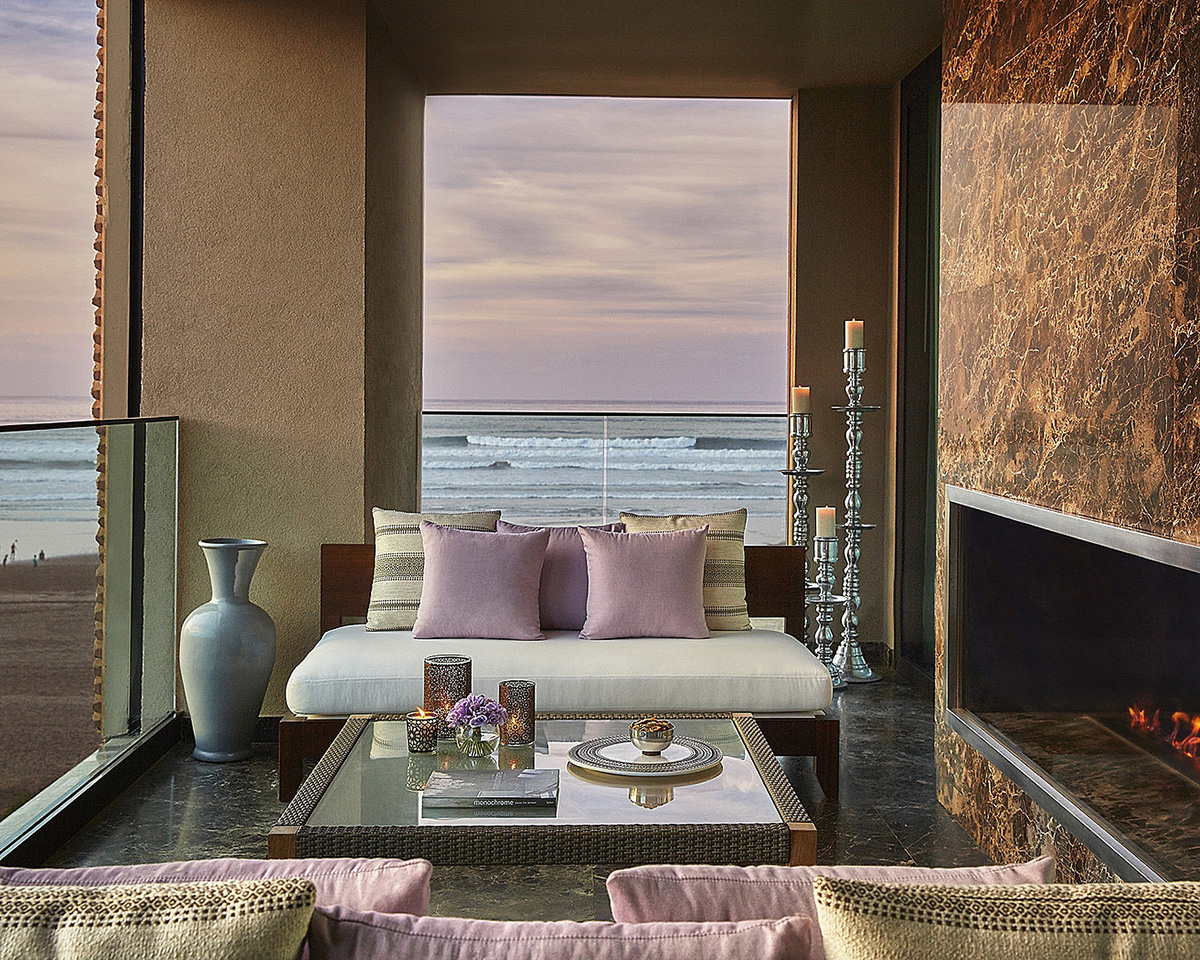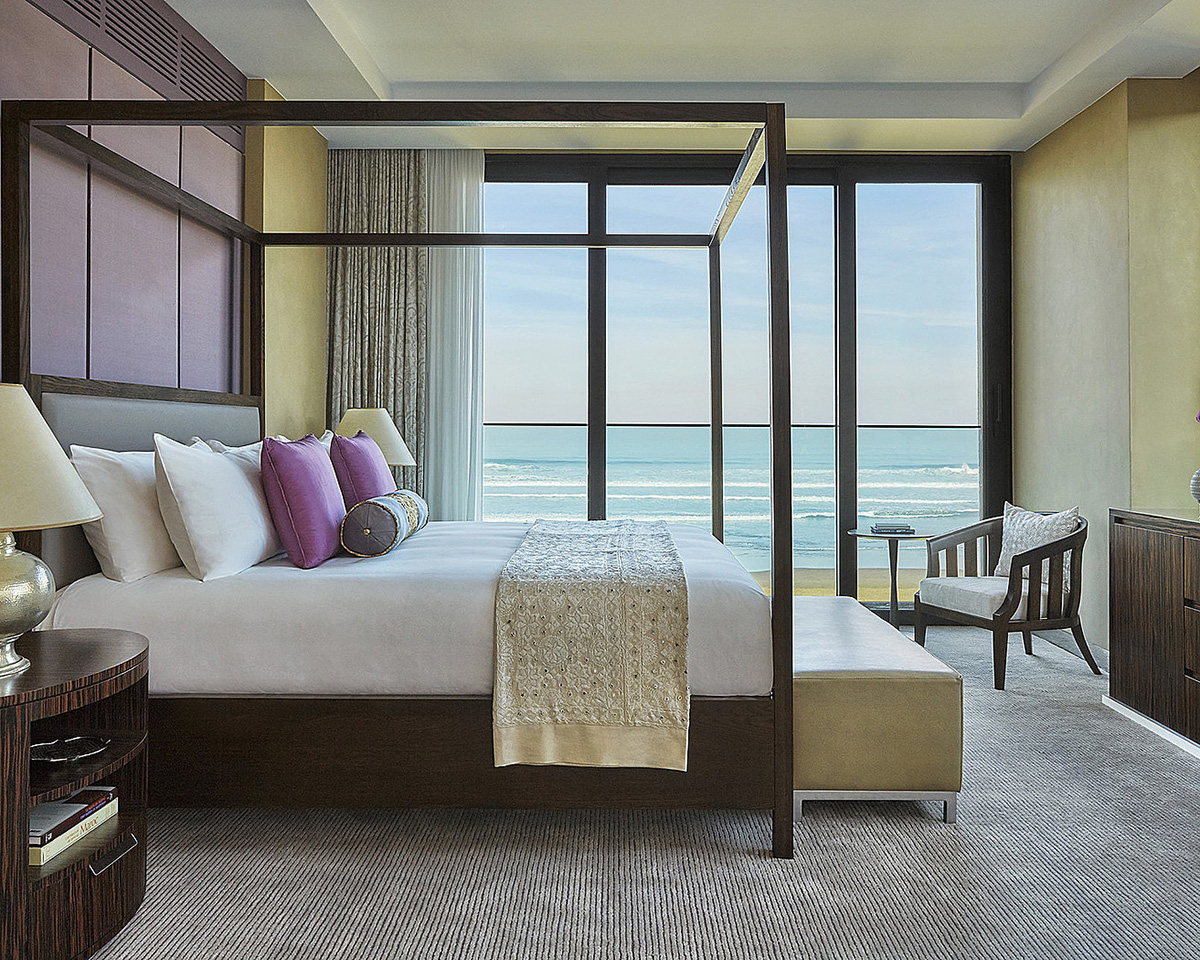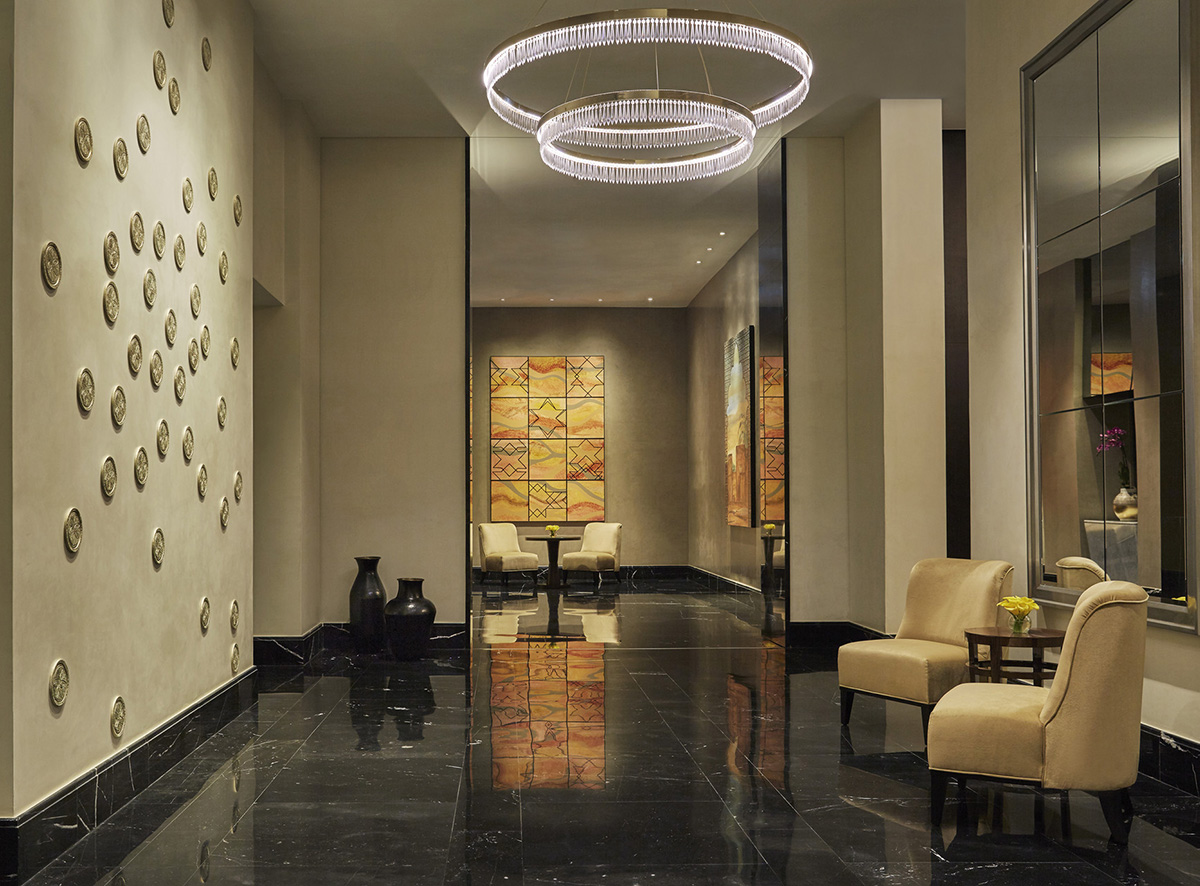 摩洛哥卡萨布兰卡四季酒店
Four Seasons Hotel Casablanca
卡萨布兰卡四季酒店纵横五层建筑,面朝浩瀚大西洋,舒享海浪的迷人气息与微风的轻柔抚触,奢华隐密。大堂一语道出待客理念。入口但见一扇美丽的古铜色摩洛哥式大门在满目皆是的一众手工艺品中大放异彩。它周身饰满传统几何图案,刻有欢迎词文,曾经尽心侍奉过一幢宏大的摩洛哥住宅,如今褪去"军功章",铅华洗尽,成了欢迎与友好的象征。
"复制"摩洛哥
酒店拥有186间客房,所有房间超级宽敞,多数私人露台充盈着海边清新的空气,有几分"空山新雨后"的轻灵。设计师采用现代风格混搭摩洛哥元素的室内设计手法,从推门而入的刹那,客房里的温暖与当代感便如影随形。穿孔床头挂灯地毯等元素塑造出层层叠叠的视觉感;茶廊采用的明暗对比手法方兴未艾,又继续在客房浴室内发酵:丰富木材纹理的洗手池面呈古董棕色,却又加入浅色天然石成分,明暗之间,虚虚实实;深邃浸入式浴缸嵌入大理石台,奢华舒适。
侍宠不骄
宽敞的茶廊清明透亮,禅语暗伏,静谧内敛,似乎连色调都能够安抚情绪。座位区摆放不设防,一邻一座的陌生人可以一见如故,谈兴正浓。茶廊凸显对比理念:明与暗图案与纹理,生生将摩洛哥式奢华的当代感引出"巢穴",大白天下。精雕细镂的石膏墙细节刻画逼真,值得玩味良久。宽大的贝多因风格长凳座椅满满当当铺上绣花土耳其毡和丝绸坐垫,便是对乏累身心的任性宠溺,坐定抬眼,看人影憧憧,心下宁和。不时可见体量不菲的定制手工黄铜饰物悬挂各处,借着露台窗户旁的巨大壁挂穿孔黄铜照明盘造势,更是"气焰嚣张"。露台的开放壁炉由本地手切瓷砖砌成,"满腔热火"招徕人们围聚这里小坐,谈天说地。大西洋的海浪低鸣着,嬉闹喧哗,远处,夕阳西下,残照如轮。
当代风格的法国餐厅Bleu设有独特的椭圆形开放式厨房及露台座位。从波纹型落地窗和设有玻璃栏杆的室外露台向外远眺,可尽赏大西洋蔚蓝风情,倾听海浪呼吸。餐厅内的木质圆柱和宴席长凳与白色大理石地板相得益彰,营造出慢享普罗旺斯地道美食的最佳氛围。
Four Seasons Hotel Casablanca resides in a grand fivestorey building, an abode of luxury and secrecy, embraced by the gentle waves and refreshing breeze from the Atlantic. The security lobby reflects the reception scheme and concept. The discovery of a beautiful antique brass Moroccan door in the artisan quarters provides the focal point in the entrance lobby. Decorated with traditional geometric patterns and inscribed with welcoming script this door which once hung on a grand Moroccan residence is a symbol of welcome and hospitality.
The approach to the reception allows views through the Tea Lounge and the terrace beyond. The spacious reception area is elegant and uncluttered. Behind the shagreen textured reception desk a bespoke relief plaster wall is a subtle celebration of Moroccan pattern and craftsmanship. The area is dressed with clusters of locally sourced antique burnished brass planters. At night the gentle fountain made from rare green Moroccan marble is illuminated with the soft light from the tea glasses hand blown by the artisans of Morocco's one remaining glass blowing workshop.
Morocco's "Double"
The hotel has 186 rooms and suites, which are all unusually spacious and designed in modern style deco with a Moroccan element mix. Most private terraces of the roomssuites are rich with sea air and when the mountain is freshly rained, there's nothing more uplifting. The rooms are layered with perforated pendant bedside lanterns and layon rugs. The play of light & dark continues into the bathroom with a rich timber vanity with antique brown top and light natural stone. Brassware is by Grohe and porcelain fittings are by Jacob Delafon & Kohler with a deep steeping tub set within a marble deck. This creates a warm but contemporary feel.
Luxury at a Moderate Pace
An oasis of tranquillity with calming colours, materials and natural light the expansive tea lounge provides intimate seating areas in which to relax and dine. Building on the central concept of contrasting light & dark and pattern & texture the tea lounge has a fresh contemporary sense of Moroccan luxury. Carved plaster walls provide an authentically detailed backdrop. Expansive Bedouin style bench seating generously dressed with embroidered Fez and silk cushions provide indulgent locations to sit and people watch. Immense bespoke handtooled brass pendants punctuate the areas and are complimented by the huge pierced brass illuminated discs wallmounted near the terrace windows. Clad in locally sourced handcut ceramic tiles the open fireplace on the terrace provides a welcoming gathering place to enjoy the sunsets over the crashing waves of the Atlantic Ocean.
The contemporarystyle French restaurant Bleu has a unique elliptical open kitchen and balcony seats. Overlooking the corrugated floor to ceiling windows from the outdoor terrace with glass railings, the guests have unlimited sea view of the Atlantic Ocean. In the restaurant, the wooden columns and banquet benches provide a perfect complement to the white marble floors, creating the atmosphere most suited for authentic Provence delicacy.