酒吧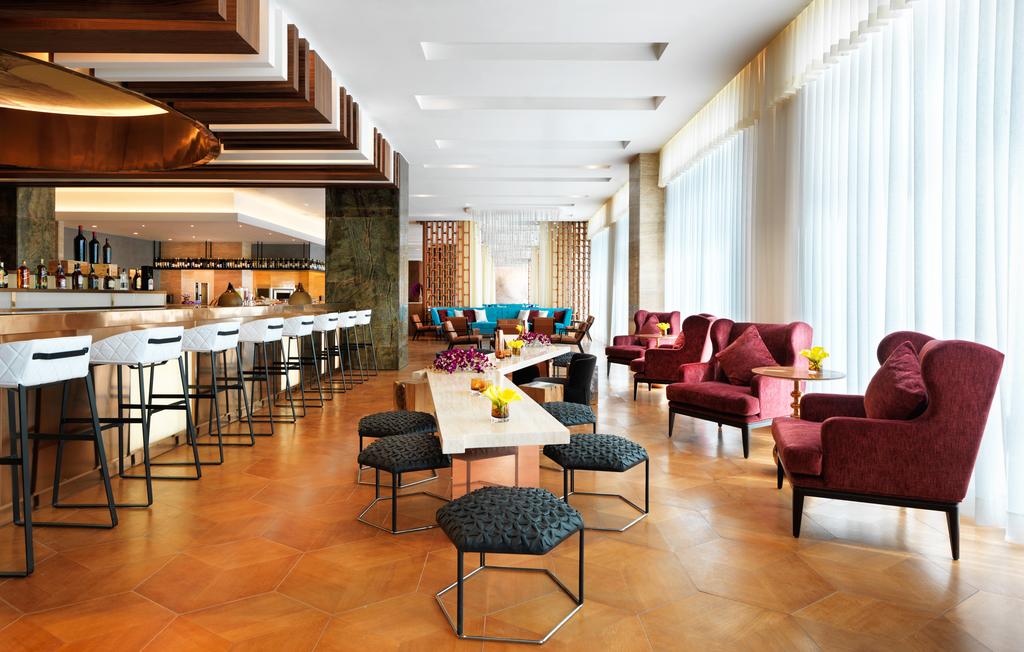 餐厅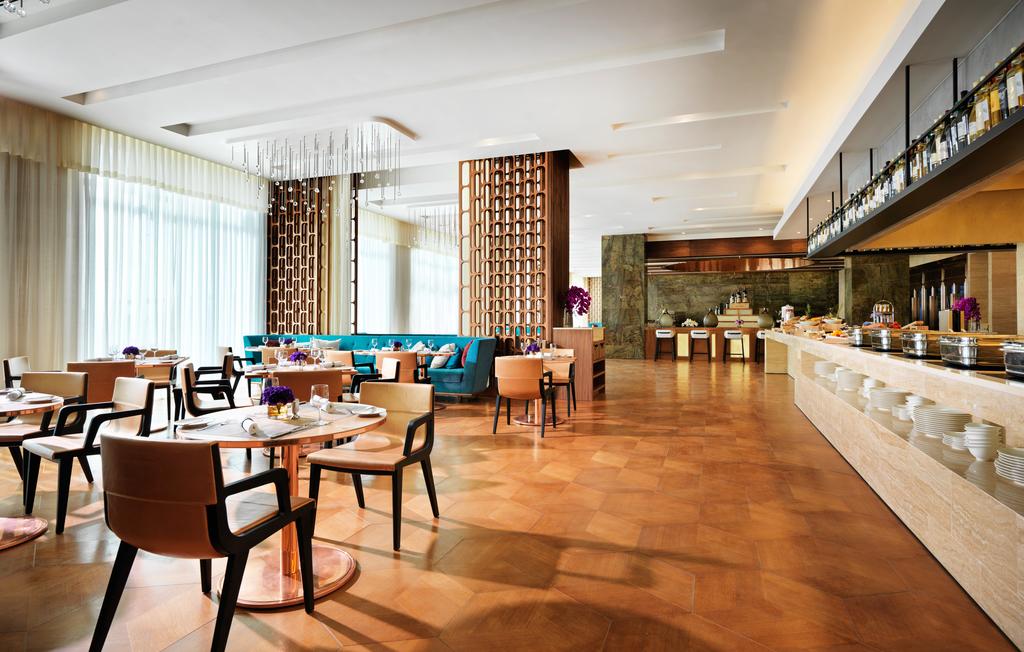 套房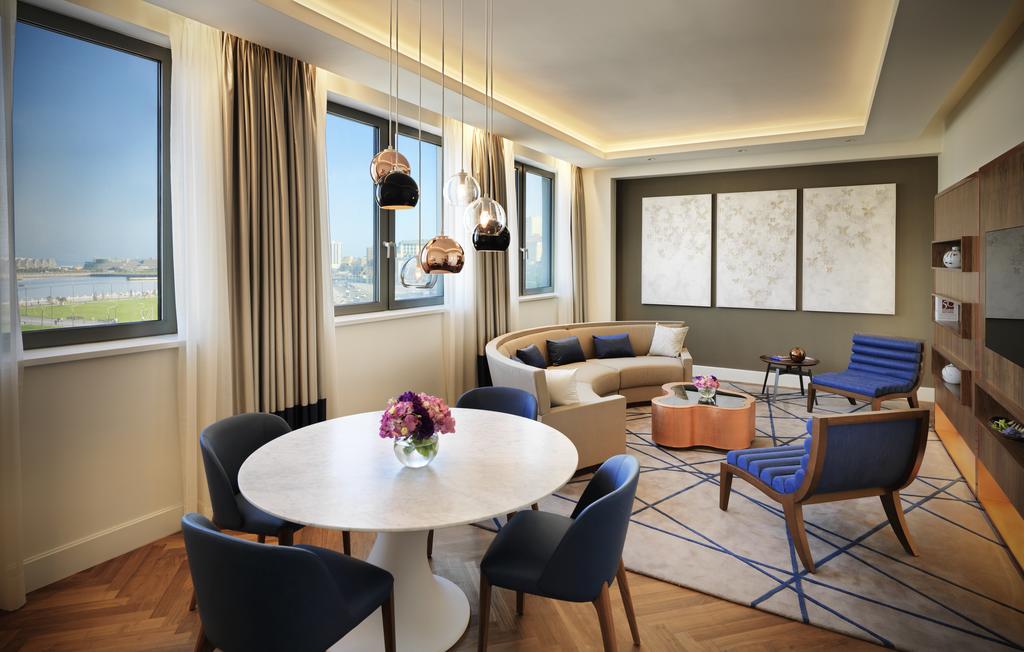 客房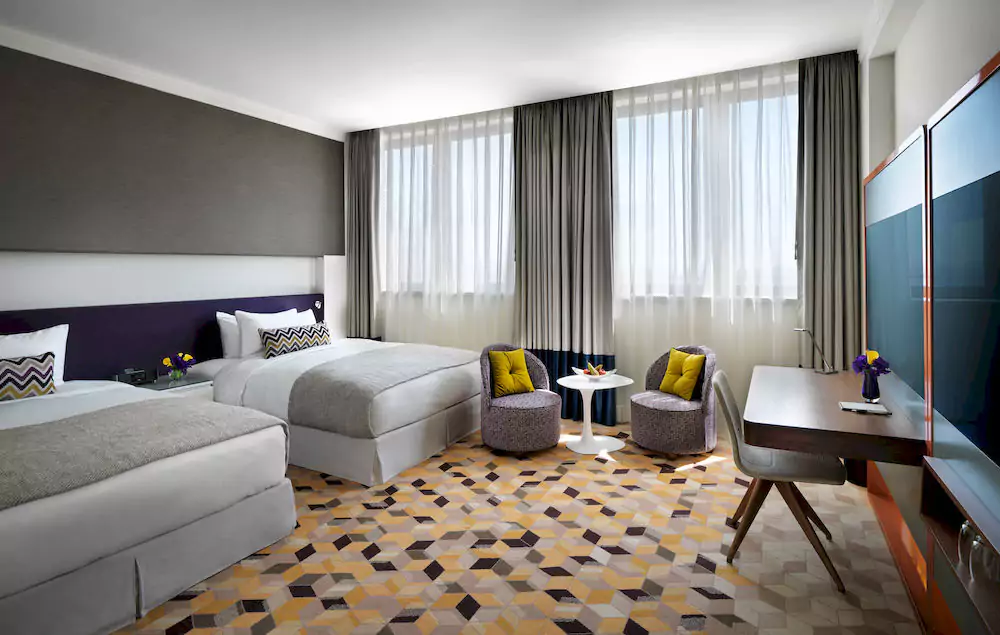 客房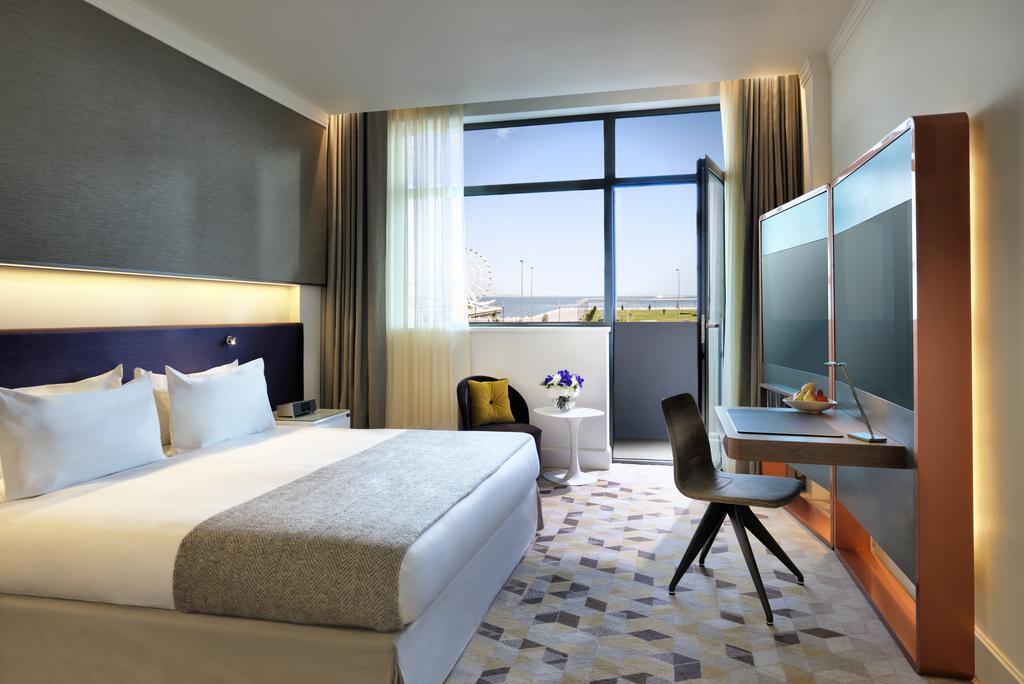 外观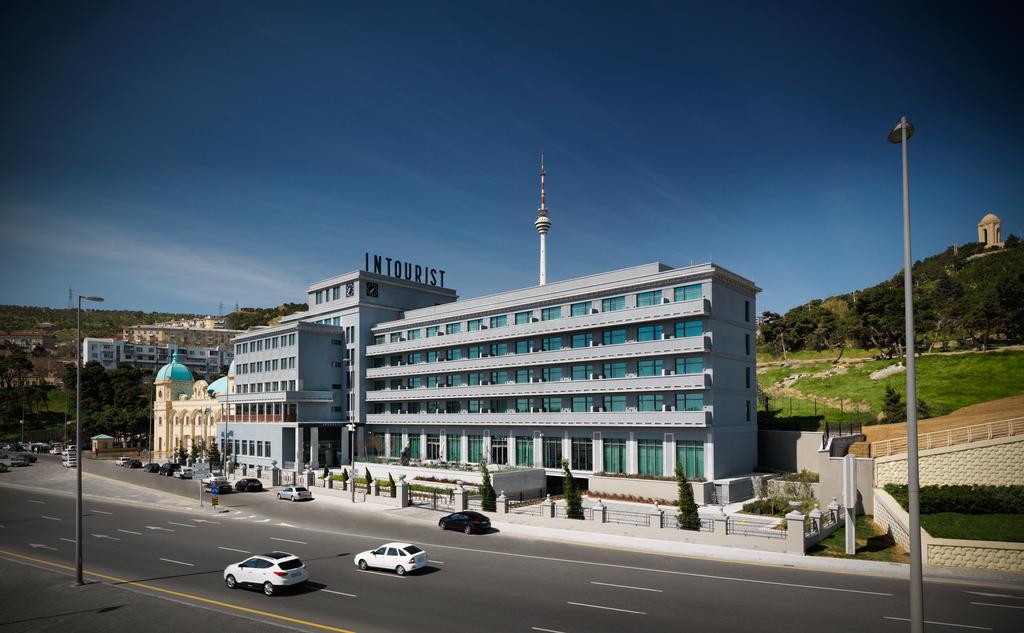 阿塞拜疆巴库因图丽斯酒店
Intourist Hotel Baku
巴库因图丽斯酒店无论从规模还是品质都堪称精品,伦敦MKV Design打造出独一无二的愉悦氛围,她既可以是一处可爱的家庭欢聚地,亦能摇身一变作为私人会所。
探索的开始
酒店一层经过精心策划以满足宾客在私密空间内的一切需要:放松工作社交亦或用餐。大堂入口处呈流线型构造,自然地将客流引至下一个区域,这一路并不乏味枯燥:角落里时而出现的有趣物件儿,拐弯时惊鸿一瞥的窗外风景,都令人不得不叹服设计师对酒店每一个角落的精雕细琢。三张接待台被充满金属质感的银色高光泽漆包裹全身,优雅端坐于设计师选择的木质落地窗格前,充分彰显20世纪中叶的设计风格。这些木质窗格与等高的落地纱帘,连同瀑布般悬垂而下的华丽水晶吊灯一起,形成强大的向心力将整个空间的视觉焦点凝聚于此,并带领客人前往下一处不同的场所。
精简而多样
客房风格现代简约,暗藏灯的柔光恣意洒满房间的每个角落;水晶浮雕墙纸装饰的墙面在暖色调的光线下更显魅力。所有套房都可远眺里海景色,大花白大理石铺设而就的宽大浴室为宾客平添奢华感受。
通往大堂吧的走廊被赋予了额外的功能扩大了一倍的走廊更近似于一间图书室,各类书籍整齐排列于玻璃书架上,阳光溜进来,慵懒地照射在位于走道两旁的阅读房。这里,优雅的弧形沙发与铜质屏风上的细工浮雕相互呼应,地毯的设计则充分体现了细节上的几何美感。
古老的传承
酒吧的光线透过白色云石灯打到黑胡桃木质天花上,墙上的古董黄铜装饰忽隐忽现。MKV精心设计了这些"穿过"云石的吊灯,从大堂吧一直延伸到酒吧,富于艺术气息的同时又巧妙无比地掩盖了空调的行踪。题材为航海木筏的艺术装置就安装在灯箱围绕的中央画布上,做成类似舷窗的框架挂在吧台之上,似要描绘出一只也许曾经在阿塞拜疆这个航海国家起航过的古老船只。木质地板由M.C.Escher风格的六角形面板组成,一张巨大无比的之字形桌台横跨了整个酒吧空间。
餐厅是整个酒店空间序列中最后的公共场所,它由一间狭长的房间与几处结构立柱构成。通过给立柱包裹镜面,使用纱帘和回纹型屏风,MKV已经克服了建筑自身潜在的空间难题。更巧妙的设计是,其中一些屏风可以自由滑动来关闭部分餐厅或者营造出氛围更加私密的场所。
Baku, the capital of Azerbaijan, is the fastestgrowing city in Eastern Europe. Two Autograph Collectoin hotels under the Marriott brand has been opened recently in the city, which clearly shows its ambition of becoming a worldclass metropolis.
The Beginning of the Experience
The ground floor spaces have been carefully planned to provide a series of different opportunities for guests to relax, work, socialise and dine, all within a relatively small footprint. The spaces flow naturally from the entrance lobby, leading guests into the next area with intriguing glimpses and carefully composed views. Three elegant reception desks finished in silver metallic high gloss lacquer sit in front of decorative timber screens styled by MKV to suggest a mid20th Century design. These screens, coupled with full height sheers, recur through the ground floor and together with a magnificent cascade of ceiling pendants that swirls through the public areas like an unfurling sail, hold the spaces together and lead the guest on through each experience.
Streamlined but Vary
Guestrooms are modern and streamlined. Hidden lighting washes the room in soft light; a feature wall with crystal embossed wallpaper adds a further touch of glamour. All the suites overlook the Caspian Sea and benefit from particularly generous wet rooms clad in Arabescato marble.
The corridor leading to the lounge is given additional purpose by doubling as a library with booklined glass shelves allowing light through into the cosy reading room on each side. Here, elegant curved sofas echo the fretwork patina of the screens while the design of the rug picks up on the geometry of much of the detailing.
Inheriting from the Past
The antiqued brass of the bar glimmers under shafts of lighting slicing through dark walnut timber and white lacquer boxes suspended from the ceiling in a crafted design by MKV which "cuts through" the marble wall from the lounge, serving to obscure the A/C at the same time. The hint of a seagoing raft is apparent in these boxes, an idea picked up in a printed canvas, set into a portholeshaped frame over the bar, which depicts an ancient ship as might once have set sail from the seafaring nation of Azerbaijan. The timber flooring is composed of hexagonal panels in M.C. Escher fashion and a striking zigzag table traverses the bar space.
The restaurant is the final space in the sequence of public areas a long room with several structural columns. MKV has overcome the potential hardness of the space by cladding the columns with mirror and decorating them with sheers and fretwork screens, several of which can slide together to close off part of the restaurant and create an intimate evening destination.
商务合作:
咨询电话:010-64706107
邮箱:info@hotelelitemag.com
Business cooperation:
Tel:010-64706107
Email:info@hotelelitemag.com