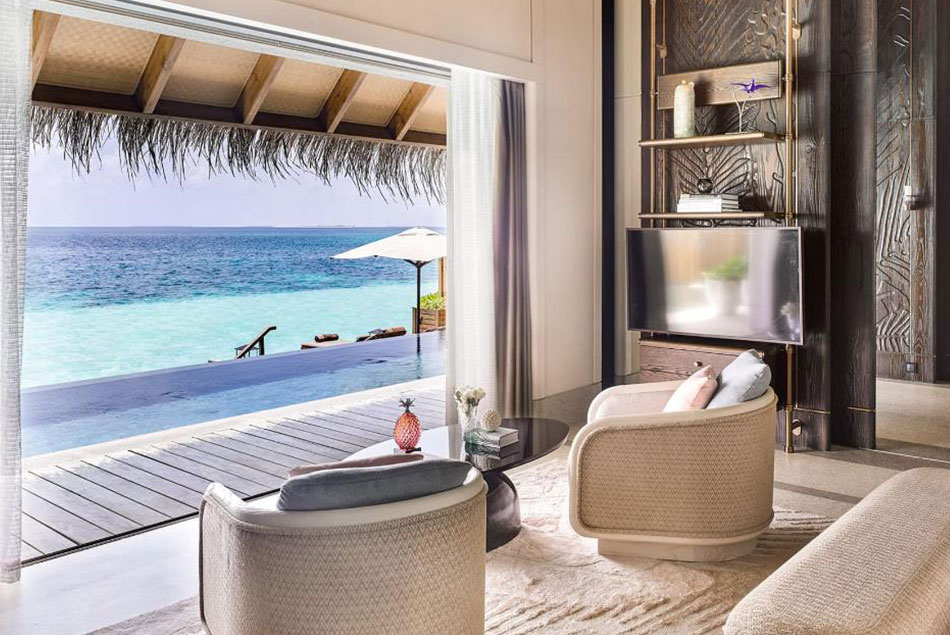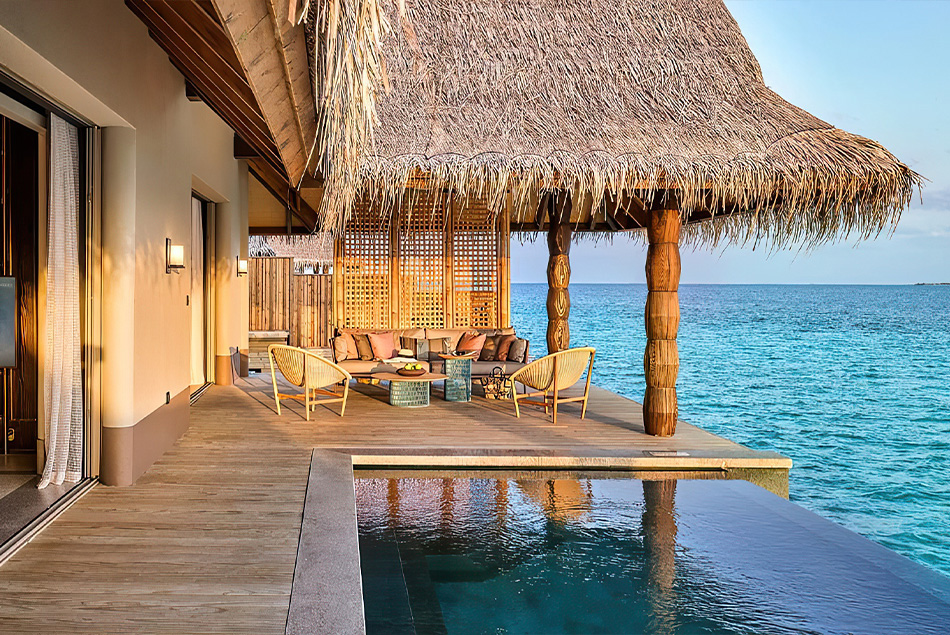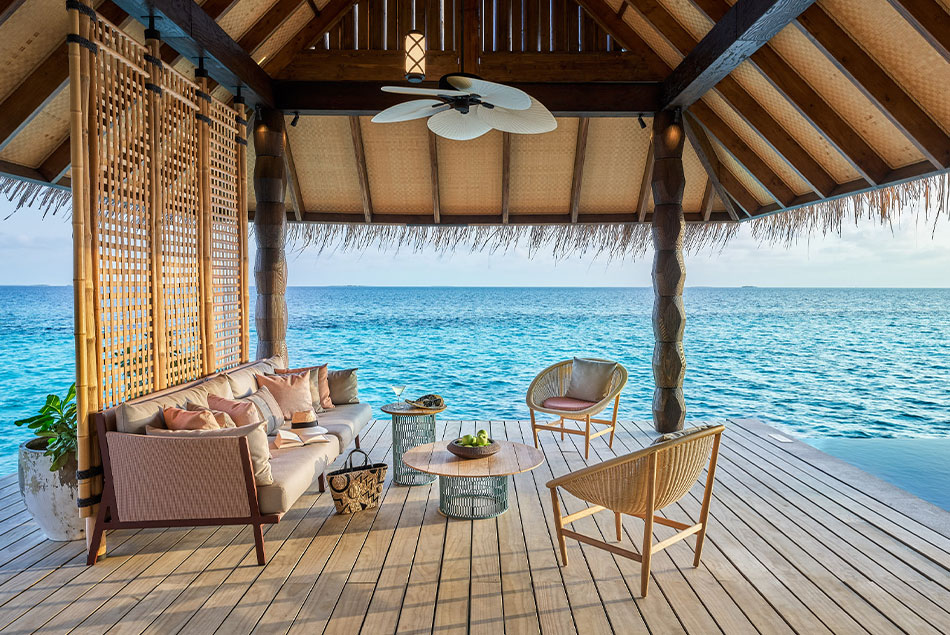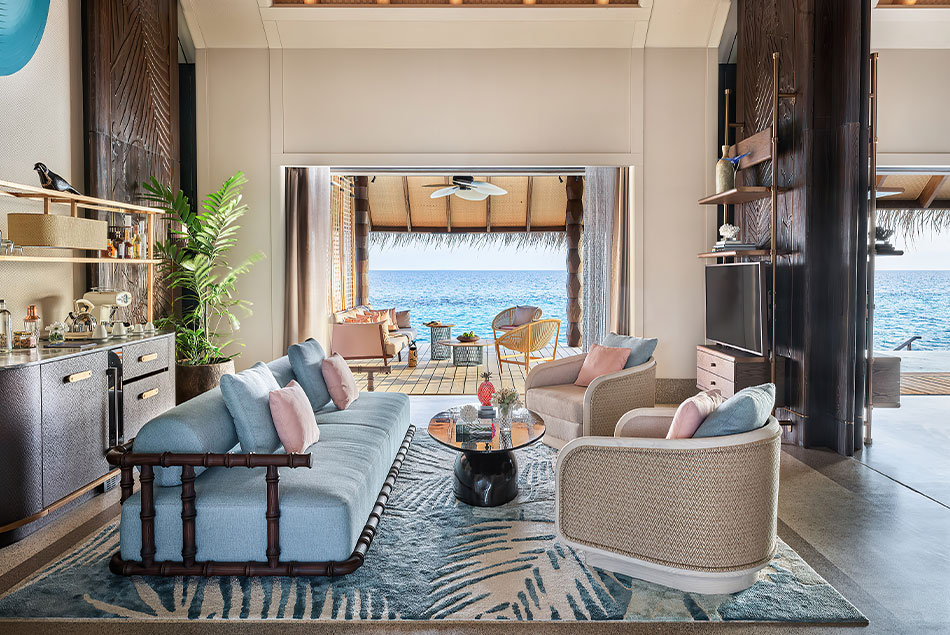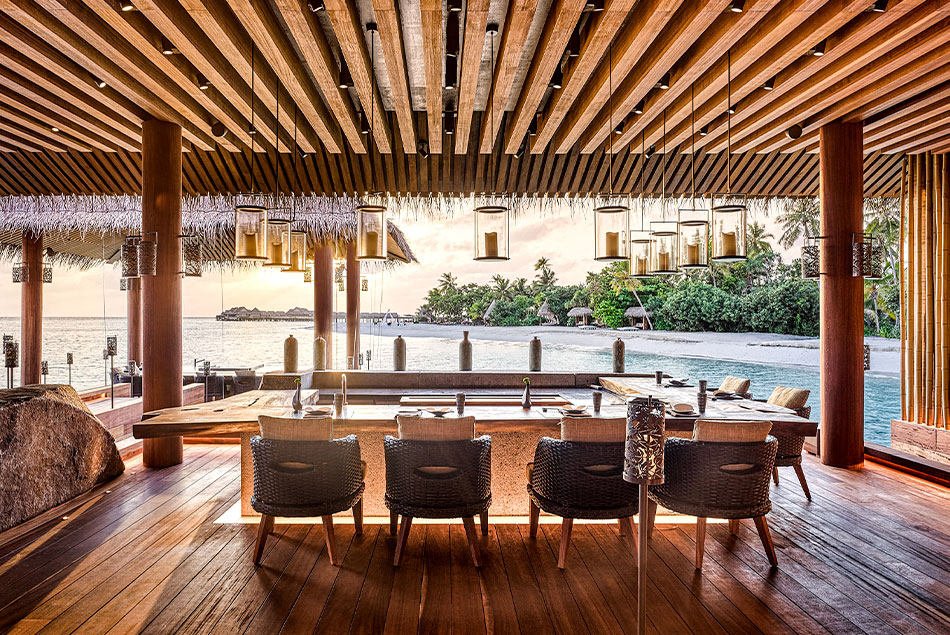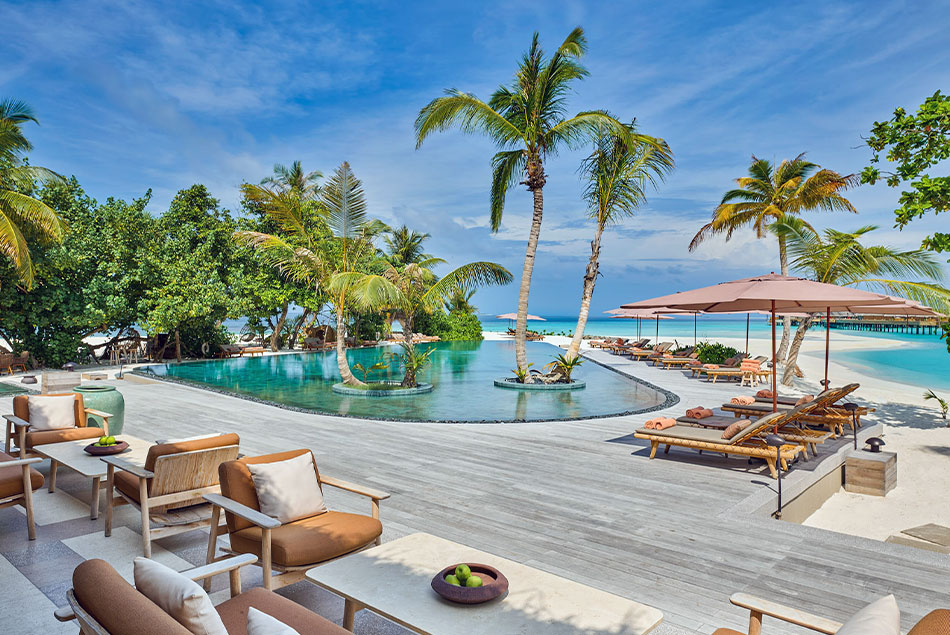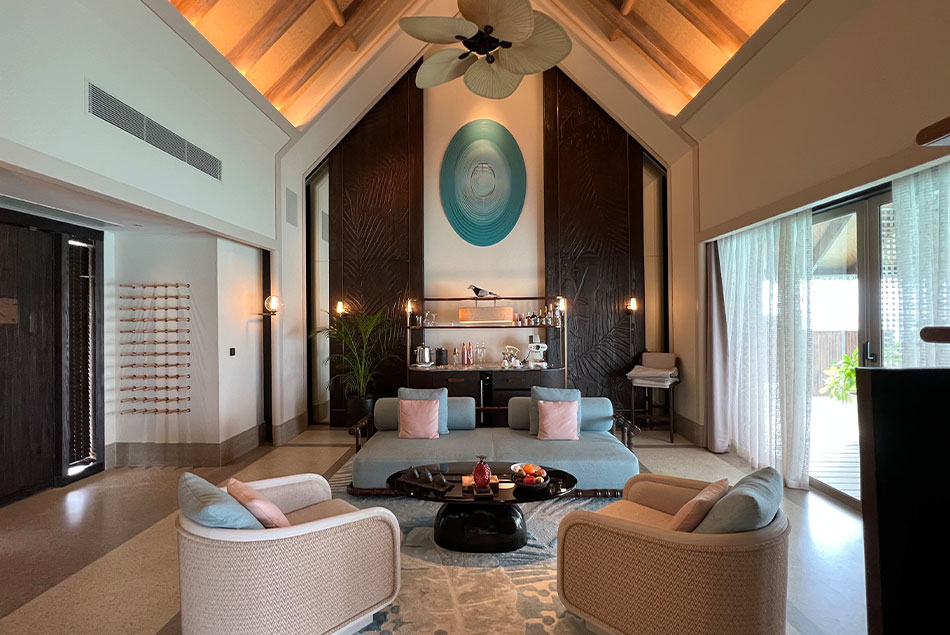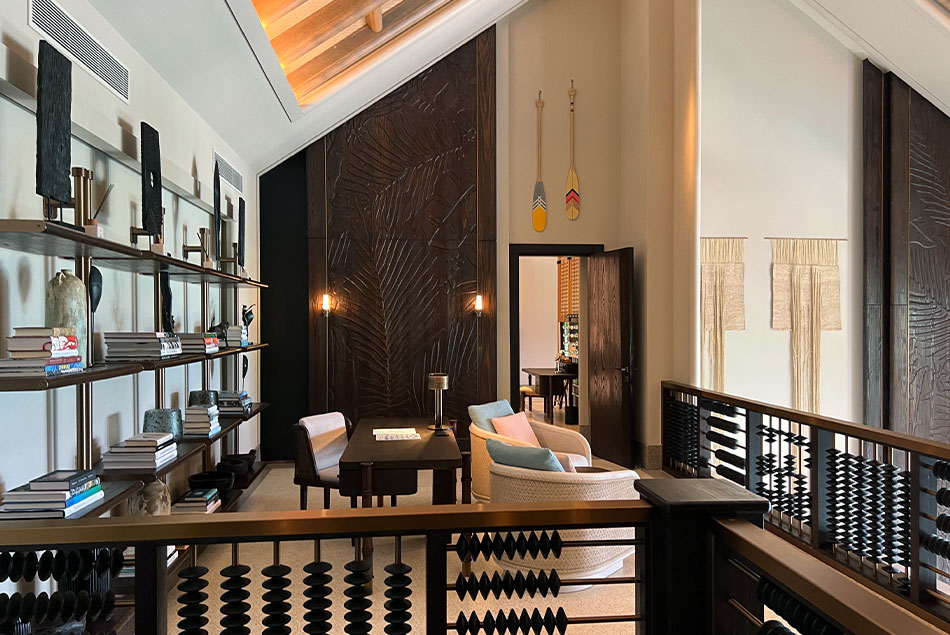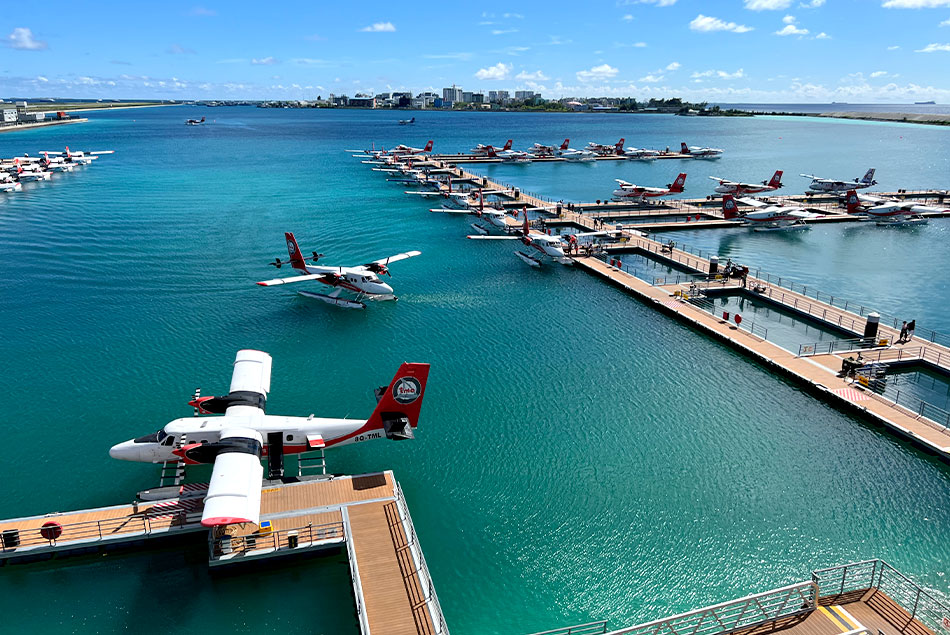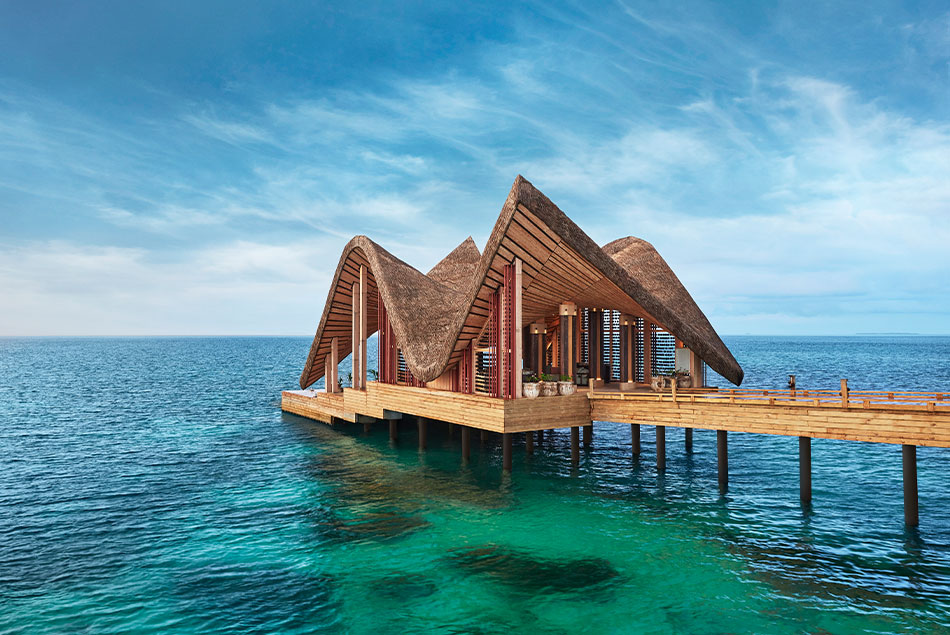 马尔代夫娇丽度假村
JOALI Maldives
马尔代夫娇丽度假村的海上别墅,用惊艳二字形容毫不过分。
这是顶级热带海岛屋,建筑设计景观设计和室内设计混合完成的精彩作品,每个别墅都配有私人泳池和无边的大海视野。
高贵而现代的风格,自然选材后的精致工艺,向欧洲大牌名家订制顶级环保用品......这几项超级组合,是娇丽的真心追求和独特优势,也是这朵鲜花无比娇艳的所在。
为了显示高贵,设计师跳脱常规尺度,让房间里的天花呈弧线上升,直到8米以上的高度,这种高大空间,足以惊到刚进房间的每一位客人。
室内分为起居室卧室和卫生间三个区域,分区明确,隔断都采用推拉门,高大而对称的阵列,充满了强烈的仪式感和上升气势。
这是一种令人产生敬仰感的尊贵美学。
娇丽品牌创始人阿加特女士Esin Güral Argat似乎深谙其道,"非常规空间"带给客人的视觉享受是深入人心的。没有人拒绝美的诱惑,也就没有人拒绝娇丽的魅力。
拉开落地大窗,面朝大海,私家泳池工整地镶嵌在屋外的露台上,一侧是海草顶的凉蓬,蓬下一把漂亮的现代蛋形大藤椅很像意大利产品,大沙发是具备耐水耐酸自洁功能的纳米技术面料,坐在这里可以望海发呆。泳池另一侧则有几步台阶,如果不是有个网子挡着,走下去即可入海。
入住的第一晚云层较多,晚霞只把海平面上空的几朵云边抹红,云缝中突然射出的光芒把露台别墅和水池瞬间染成一片金色,令人无比惊喜。
The Overwater Villas at JOALI Maldives can be simply described as stunning. These are toptier tropical island houses, beautifully crafted through a blend of architectural, landscape, and interior design. Each villa is equipped with a private infinity pool and offers breathtaking views of the ocean.
The noble and modern style, exquisite craftsmanship using carefully selected natural materials, and the finest ecofriendly products custommade by renowned European designers... These extraordinary combinations embody the genuine pursuit and unique advantage of JOALI, making it a truly radiant gem.
To showcase its magnificence, the designer deviated from conventional dimensions, allowing the ceiling to curve upwards, reaching heights of over 8 meters. These tall spaces are enough to astonish every guest who enters the room.
The interior is divided into three areas: the living room, bedroom, and bathroom, with clear zoning and sliding doors acting as partitions. The grand and symmetrical layout exudes a strong sense of ceremony and elevation. It is a noble aesthetic that evokes admiration.
Esin Güral Argat, the founder of JOALI, deeply understands the magic of "Unconventional Spaces" and the lasting visual delight it brings to guests. Nobody can resist the allure of beauty; therefore, nobody can resist the charm of JOALI.
Opening the floortoceiling windows, facing the vast ocean, a private pool sits neatly embedded on the terrace. On one side, there is a thatchedroof gazebo with sea grass, beneath which lies a beautiful modern eggshaped chair reminiscent of Italian craftsmanship. The large sofa is made of nanotechnology fabric that is waterresistant, acidresistant, and selfcleaning, allowing one to sit and gaze at the sea in contemplation. On the other side of the pool, a few steps lead down, offering direct access to the sea.
During our first night stay, the sky was filled with clouds, and the evening sunset only painted the edges of a few clouds with a touch of red. However, rays of light suddenly burst through the gaps, transforming the terrace, the villa, and the pool into a radiant golden hue, bringing tremendous delight.
商务合作:
咨询电话:010-64706107
邮箱:info@hotelelitemag.com
Business cooperation:
Tel:010-64706107
Email:info@hotelelitemag.com