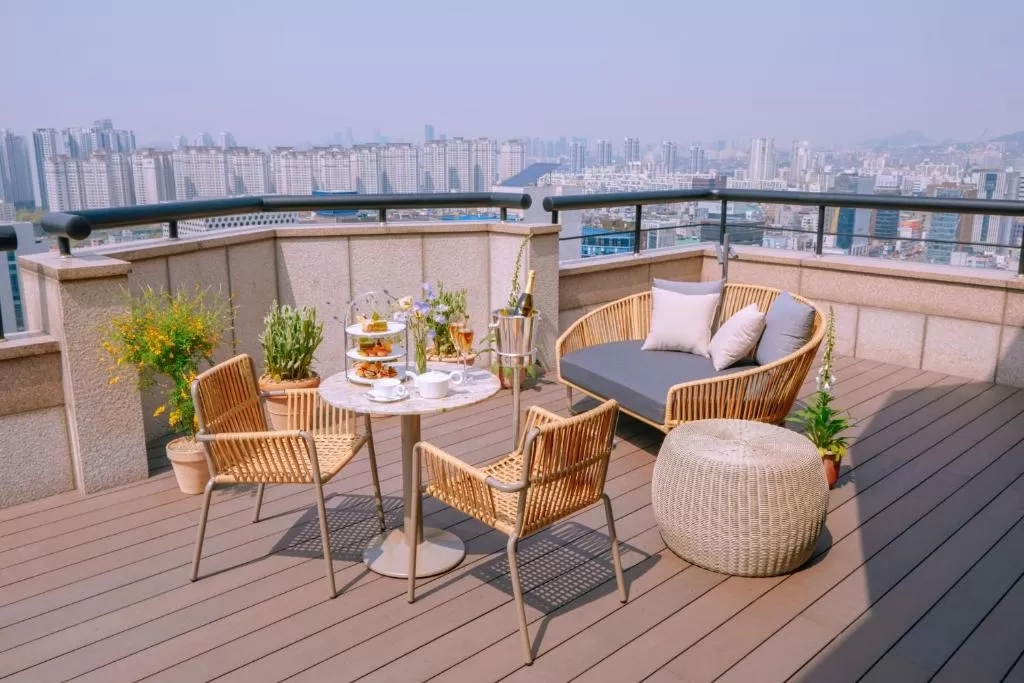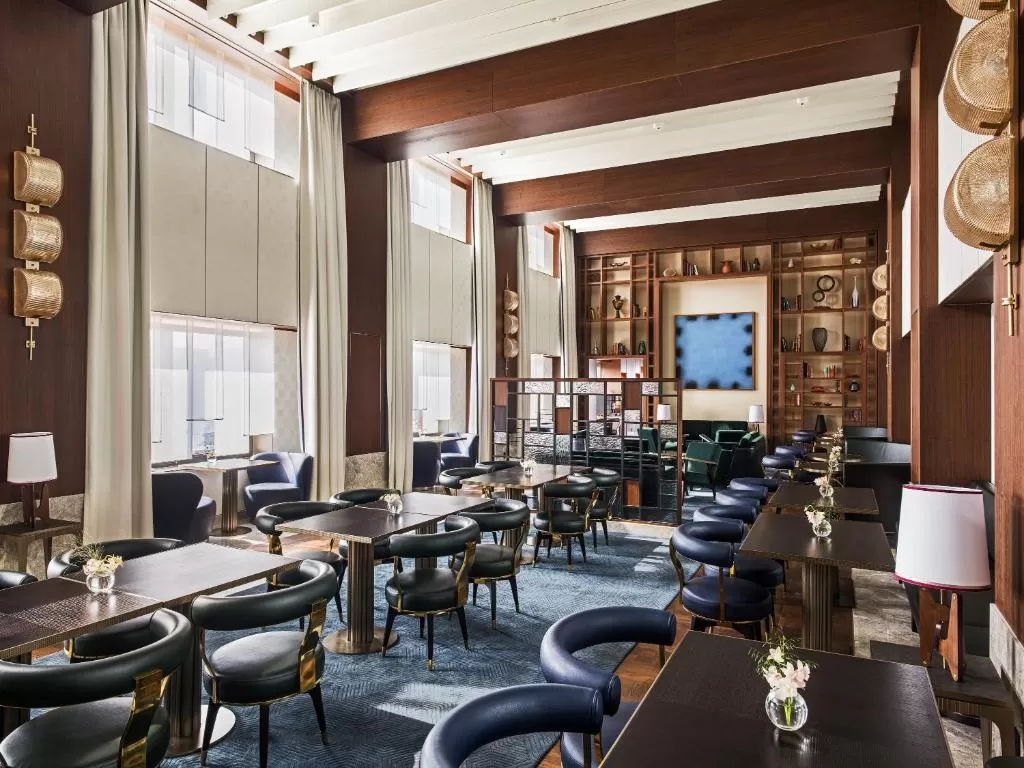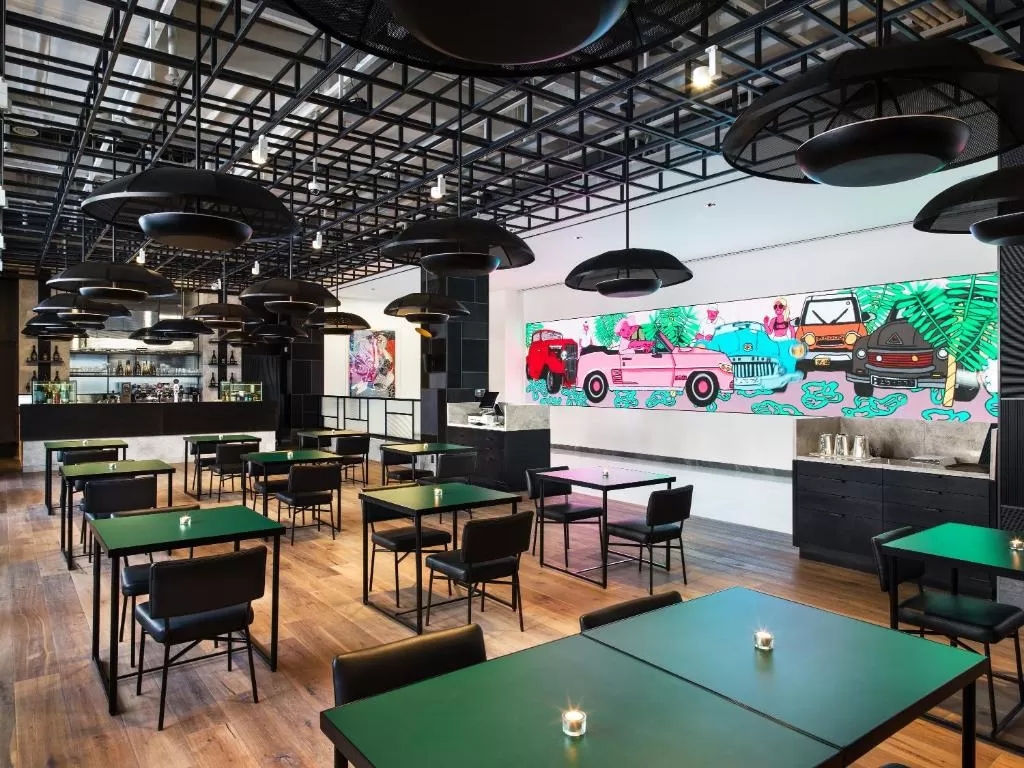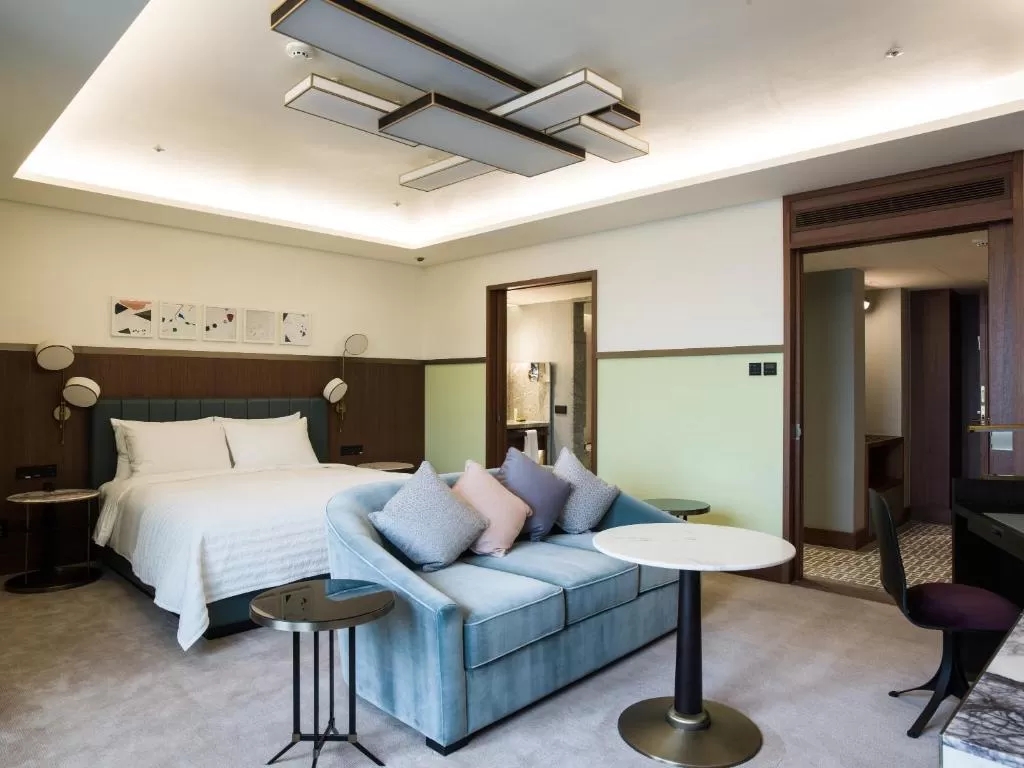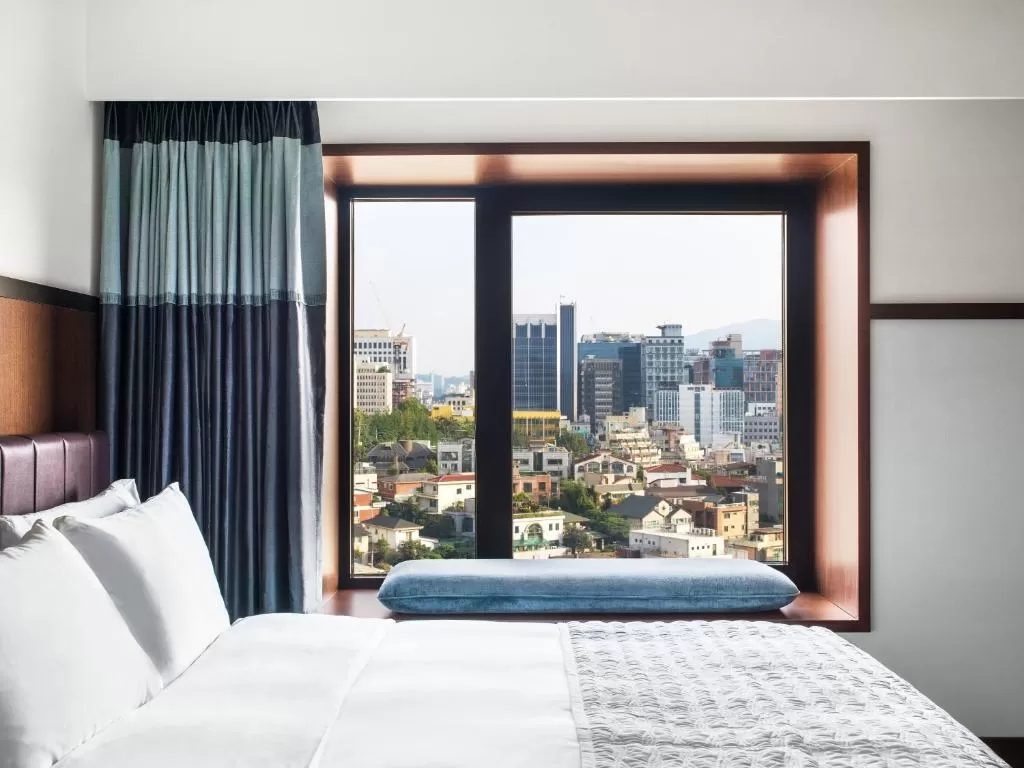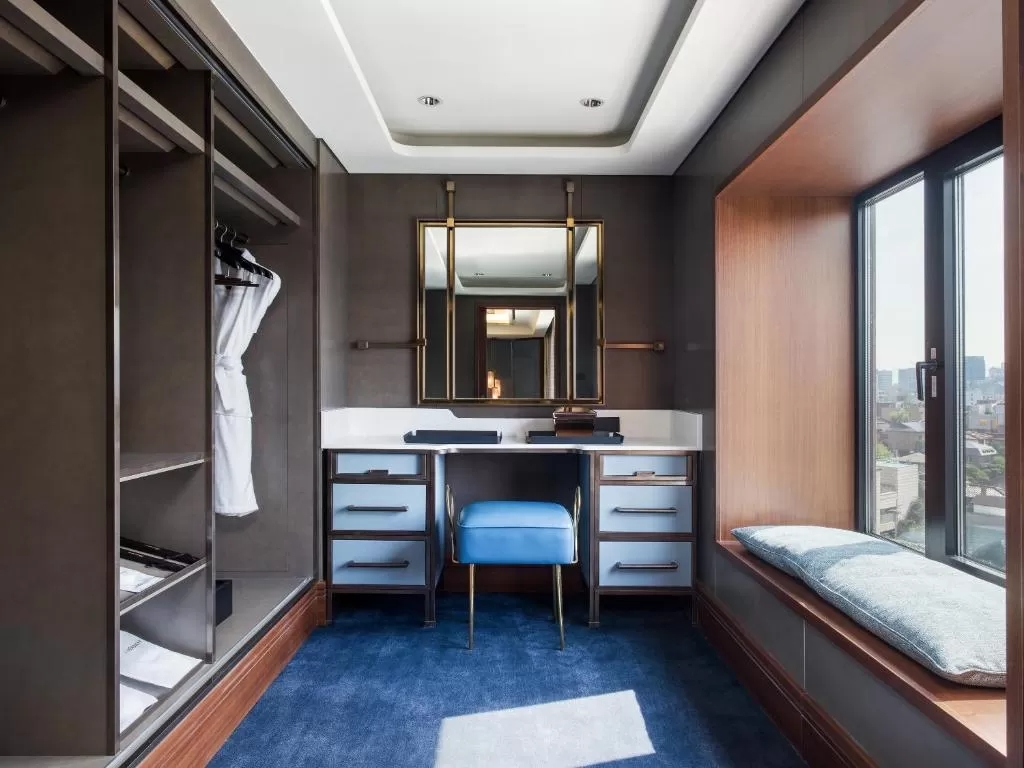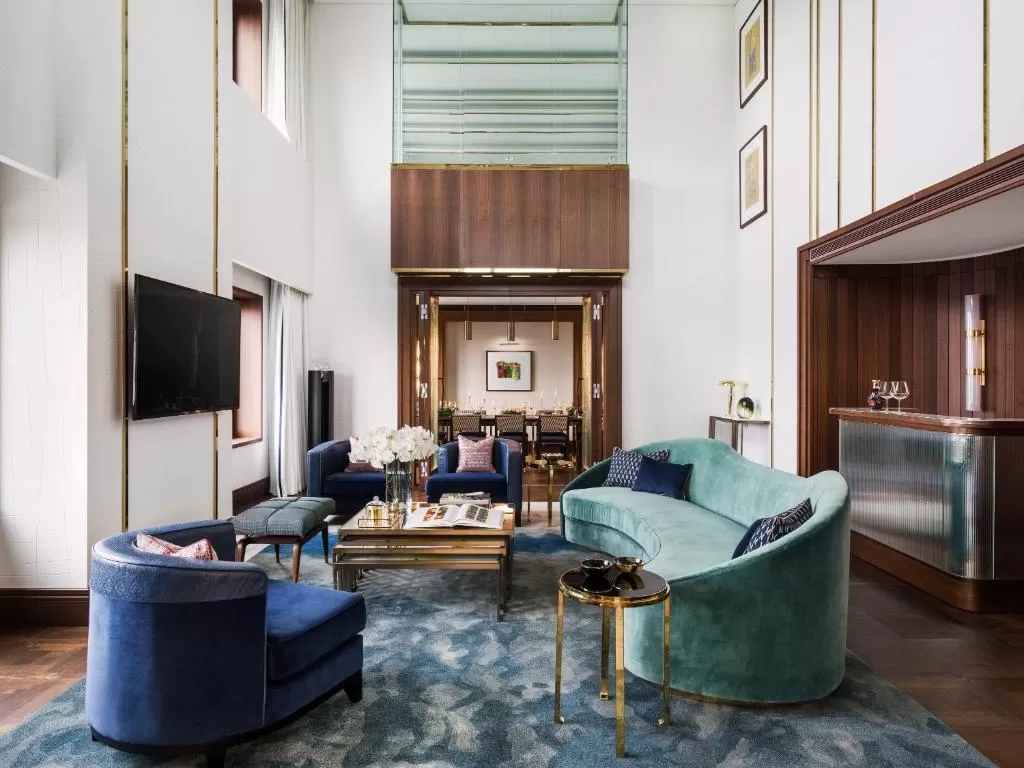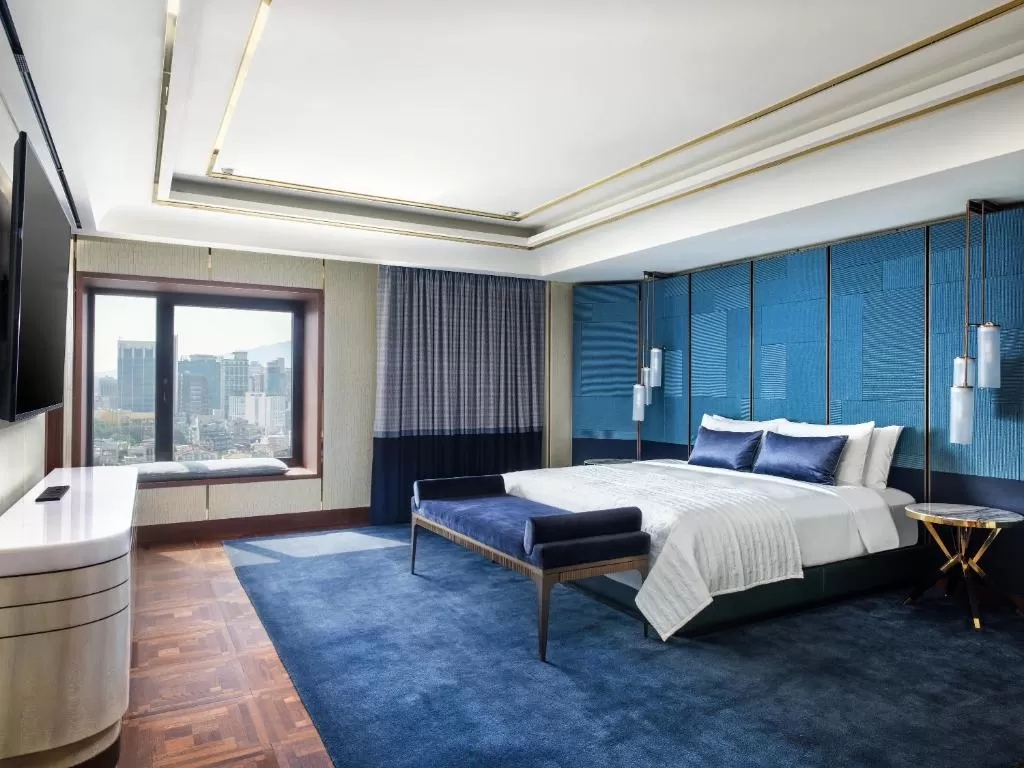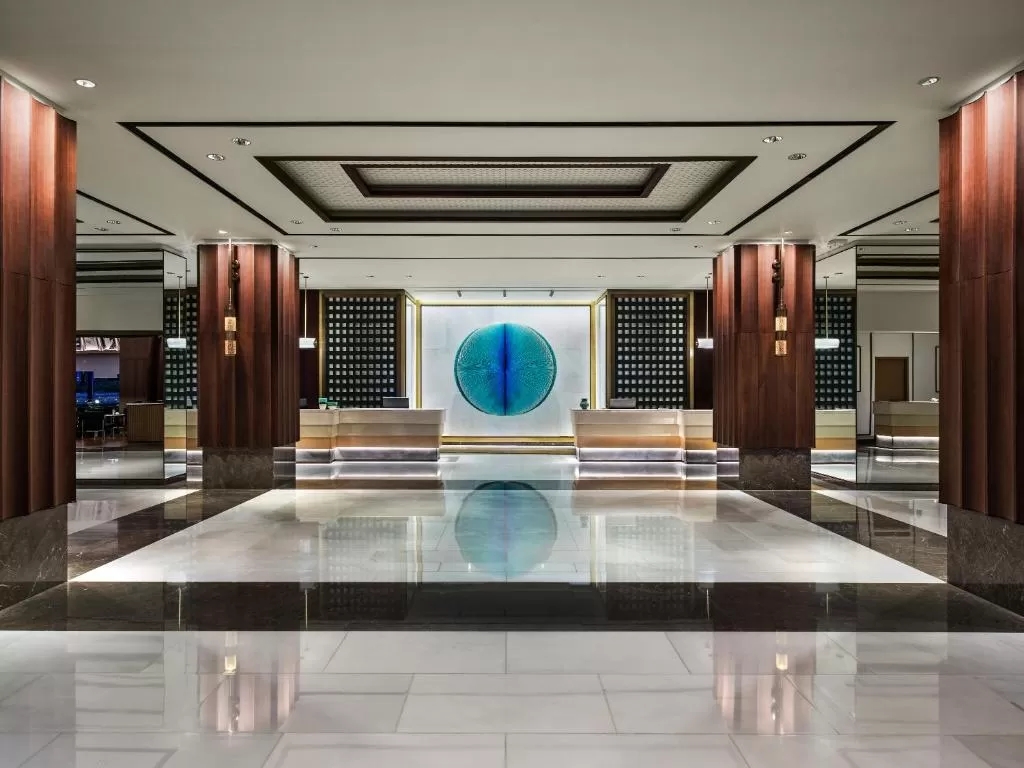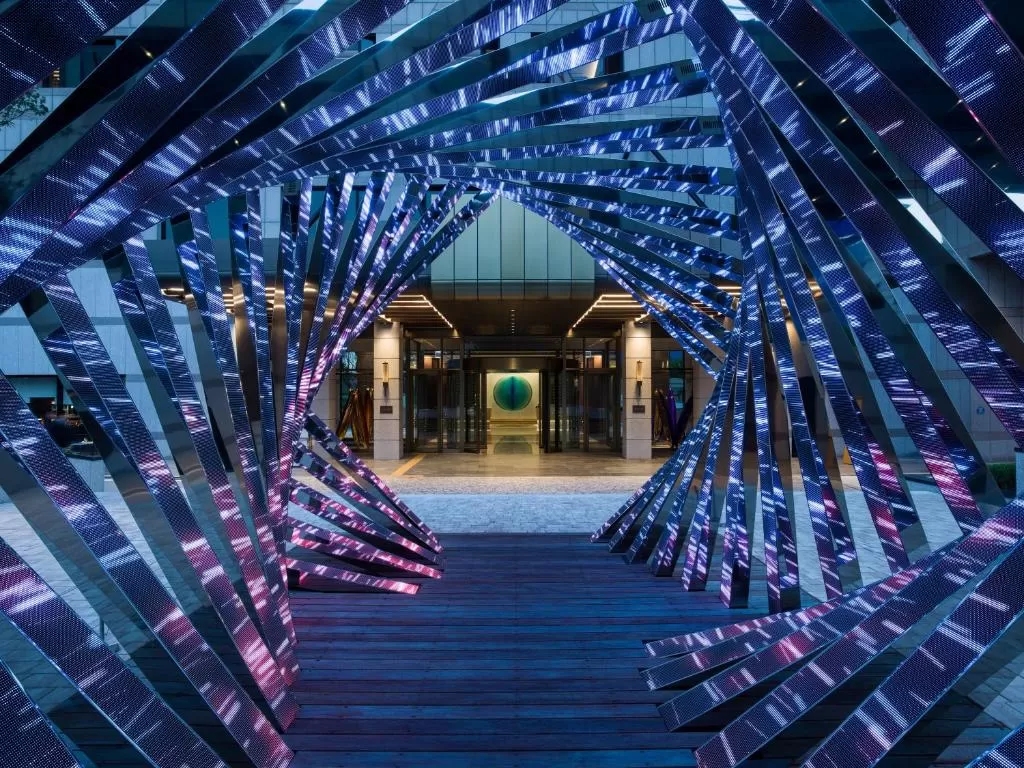 首尔艾美酒店
Le Méridien Seoul
遍寻文艺复古风
在韩国首尔著名的有着2000年历史的繁荣创意街区江南区,座落着这样一家现代迷人设备完美的酒店,它拥有低调的法国血统,以独特的阶梯状外观造型和文艺复古的内饰风格引人瞩目,这就是我们在首尔所拜会的另一家酒店⸺首尔艾美酒店(Le Meridien Seoul),虽然仅逗留短短两日,但也能细品出她的复古氛围与独特魅力。
伦敦大师的神来之笔
伦敦著名的设计师大卫・柯林斯(David Collins)将其世界级的专业技术应用于首尔艾美酒店的室内设计。经过数百万美元的改造,艾美酒店于2017年9月改头换面重新迎宾。
"我们不想要任何太明显的东西,所以更多地关注于中世纪建筑理论,使用图案和对称的主题,与韩国工艺美术的微妙暗示交织在一起," 大卫・柯林斯工作室设计总监刘易斯・泰勒(Lewis Taylor)说。"我们希望每个空间的不同个性能够和谐地工作,所以这些设计元素以一种微妙的几乎潜意识的方式被融合在一起。"
基于此种理念,设计师将传统的酒店大堂重新演绎为以咖啡文化为基础的社交聚会场所,不同于其他五星级酒店刻意营造出的幽暗灯光氛围,艾美酒店的大堂空间异常地宽敞明亮,现代化的设计灵感融合了中世纪的精致与充满活力的欧洲魅力,营造出令人放松的和煦氛围;针对韩国的工艺美术传统,设计师在整个酒店的公共区域和私人空间均采用格子图案装饰,这与韩国传统建筑的汉字纸窗有着异曲同工之妙。正如泰勒所说:"让酒店大堂不再仅仅是客人登记入住的地方。"
除了精致高挑的大堂区,一楼还有M当代艺术中心,是江南区中心一处精彩的文化目的地和休闲空间。据公关人员介绍,酒店全年都有艺术作品展览,旨在激发客人的无限灵感,探寻都市文化奥秘。我们入住的时候正好赶上梵高的作品展出,不仅是酒店客人,更有许多当地的年轻人前来观展;而酒店多处区域的不同艺术作品装饰使得我们的参观有逛博物馆之感。
50年代巴黎风客房
首尔艾美酒店共设有336间别致的客房,其中包括109间俱乐部客房和29间可进入俱乐部酒廊的套房。客房的设计尊崇50年代巴黎风,采用令人视觉放松的绿色蓝色和淡紫色调软装,卫浴间的五金装饰更是采用vintage风格的黄铜制作,处处体现典雅精致的中世纪欧洲风格,令人爱不释手。
其中给我印象最深刻地是酒店的总统套房,在公关人员的带领下,通过宽敞精美的玄关进入,一个圆形大厅立即映入眼帘,赶上首尔的一家时尚类媒体正租用套房拍摄人物照片,我们也小小地体验了一回酒店套房的多用性,不只是可以用来休憩,还可作为时尚背景出现在杂志或多媒体的报道中。
总统套房的卧室更加融合了法国的优雅和魅力,以及韩国美学宁静的绿色,薰衣草和蓝色配以深色拼花地板,丰满的天鹅绒内饰和豪华的面料,丝绸和皮革。套房共由六间客房组成,每一间都气质独特别具风情。套房客人还拥有 12层酒店行政酒廊的独享使用权,和煦的阳光弥漫在这宽敞空间的每一角落,使其尽显温馨精美,给人一种宾至如归之感。
Chef's Palette的饕餮惊喜
酒店的全日制餐厅"厨师的调色板"(Chef's Palette)不仅设有功能完备的自助餐台,更提供全天候的餐饮菜单及供应季节性菜品。设计上以网格状的细节和反映韩国工艺美术的华丽天花板脱颖而出;私密的用餐空间采用木材裂纹釉面白瓷砖及蓝粉皮革面料的玻璃板,抵消了黄铜深沉的色调,营造出复古的怀旧氛围。
在酒店醒来的翌日清晨正好赶上首尔的一场春雪,这对错过北京下雪的我们实在是一次意料之外的惊喜。来到"厨师的调色板"享用早餐,不仅有种类繁多的精选国际自助餐食,还可在室外露台呼吸清新空气,欣赏冬日花园带来的视觉享受。首尔艾美酒店给高端旅行者和当地居民带来了一种更现代的外观和生活方式,一种灵活流动的空间,而不仅仅是简单的设计语言。
The Search of a Retro Style
In the famous 2,000yearold prosperous and creative Gangnam district of Seoul, South Korea, housed this modern and charming hotel of French descent, attractive for its unique steplike appearance and retro interior style, and this is another hotel we visited in Seoul Le Méridien Seoul.Although we only stayed for just two days, we can still savor the retro atmosphere and unique charm inside.
Fanscinating Touch of David Collins
London's famous designer, David Collins, applied his worldclass expertise to the interior design of Le Méridien Seoul. After a multimillion dollar renovation, Le Méridien changed its face in September 2017 to welcome its guests once again.
"We don't want anything that is too obvious, so we focus more on medieval architectural theories, using patterns and symmetrical themes, intertwined with the subtle hints of Korean arts and crafts," Lewis Taylor, David Collins Studio Design Director, said. "We want different personalities in each space to work in harmony, so these design elements are fused together in a subtle, almost subconscious way."
Based on this concept, the designer reinterprets the traditional hotel lobby as a social gathering place based on coffee culture. Unlike other fivestar hotels' deliberately created dark lighting atmosphere, Le Méridien's lobby space is unusually spacious and bright. The modern design inspiration combines the exquisiteness of the Middle Ages with the vibrant European charm to create a relaxed and harmonious atmosphere. For the Korean arts and crafts tradition, the designer uses plaid patterns throughout the hotel's public and private spaces. This is similar to the Chinese paper window of traditional Korean architecture. As Taylor said: "Let the hotel lobby be no longer just a place for guests to check in."
In addition to the exquisitely high lobby area, the M Contemporary art center on the first floor is a wonderful cultural destination and leisure space in the heart of Gangnam. Introduced by the hotel's PR, the hotel has an exhibition of works of art throughout the year, aiming to inspire the guests and explore the mysteries of urban culture. When we stayed here, we just caught up with Van Gogh's show. Not only the hotel guests, but also many local young people came to see the exhibition. The decoration of different works of art in many areas of the hotel almost turned our visits into museums tours.
Parisian Style of the 1950s
Le Méridien Seoul has 336 chic rooms, including 109 club rooms and 29 suites with access to the Club Lounge. Le Méridien's rooms are designed to pay homage to the Parisian style of the 1950s, with visually relaxing green, blue and lavender accents for the interior design, and the hardware of the bathroom is made of vintage style brass, reflecting the eleganc of the Middle Ages European style, highly addictive.
One of the most impressive of the hotel rooms was the Presidential Suite. Under the guidance of the hotel staff, through a spacious and beautiful entrance, a rotunda immediately came into view and we just caught up with a photo shoot by a local fashion media in Seoul that has rent the suite for this purpose. We have experienced the versatility of a hotel suite, not only can it be for leisure, but also as a fashion background in magazines or multimedia reportage.
The Presidential Suite's bedroom exudes French elegance and charm, as well as Korean aesthetic, such as parquet floorswith calm green, lavender, blue and dark colors, plump velve interiors and luxurious fabrics, silk and leather. The suite consists of six rooms, each of which is unique and special. Suite guests also have exclusive access to the Le Méridien Executive Lounge on the 12th floor. The gentle sunshine pervades every corner of this spacious space, making it warm and beautiful, giving a sense of home.
A Surprise from Chef's Palete's
The hotel's allday dining restaurant, Chef's Palette, features not only a fully functional buffet, but also an allday dining menu and seasonal dishes. The intimate dining space is designed with gridlike details and gorgeous ceilings reflecting Korean arts and crafts, wood, cracked glazed white tiles and bluepowdered leather glass panels to counteract the deep shades of brass and create a retro, nostalgic atmosphere.
On the early morning the next day, we caught up with a spring snow in Seoul. It was an unexpected surprise for us, who have missed the snow in Beijing. Coming to the "Chef's Palette" for breakfast, not only do we have a wide selection of international buffets, but we can also breathe fresh air on the outdoor terrace and enjoy the visual delight of the winter garden.
Le Méridien Seoul brings a more modern look and lifestyl to highend travelers and local residents; it is a flexible and fluid space, not just a simple design language.