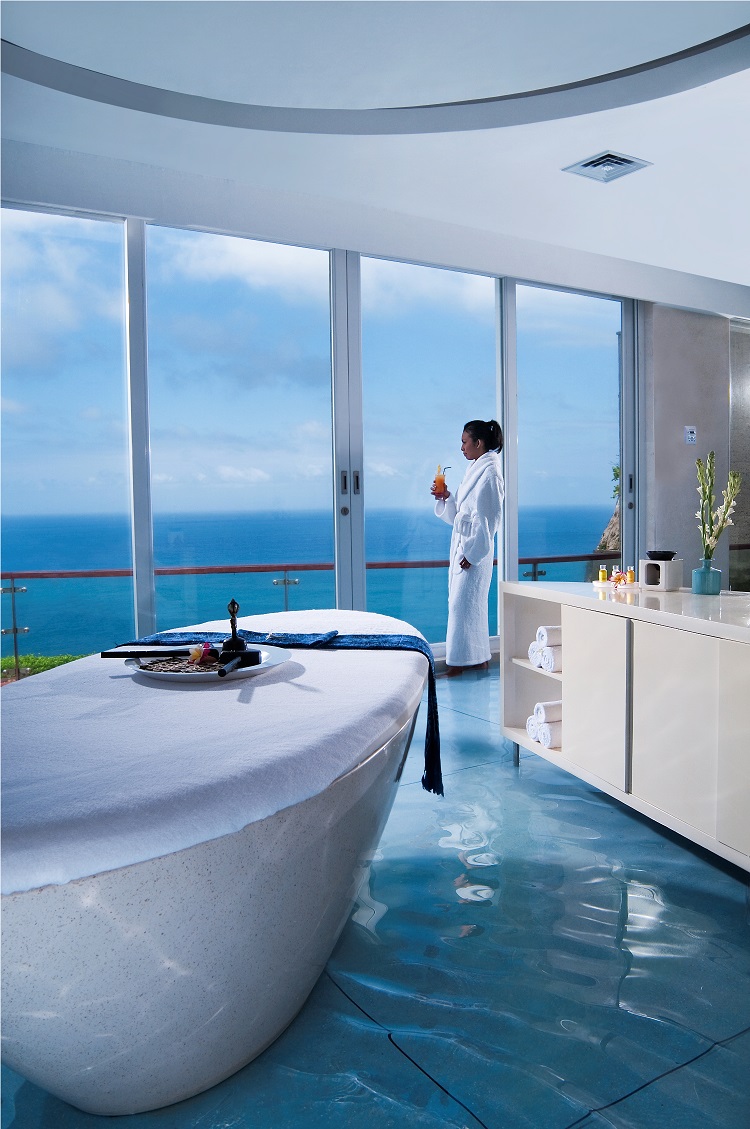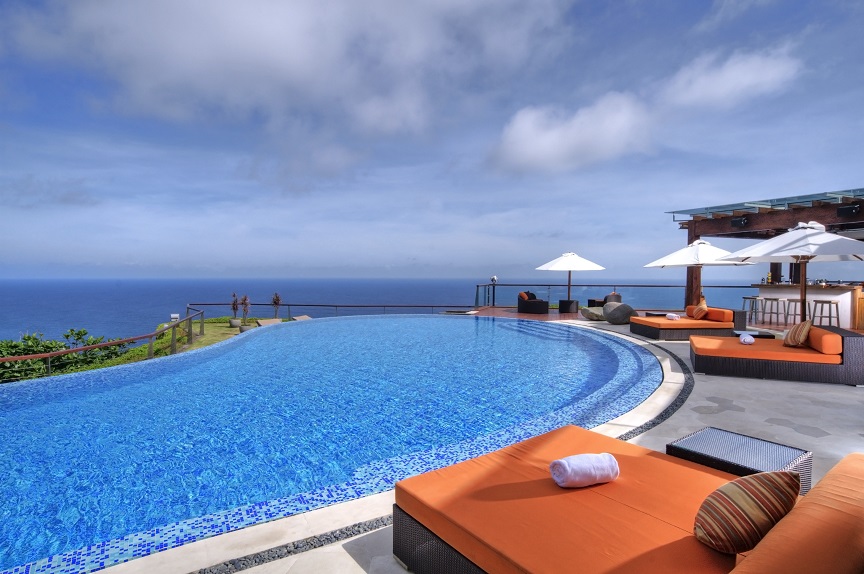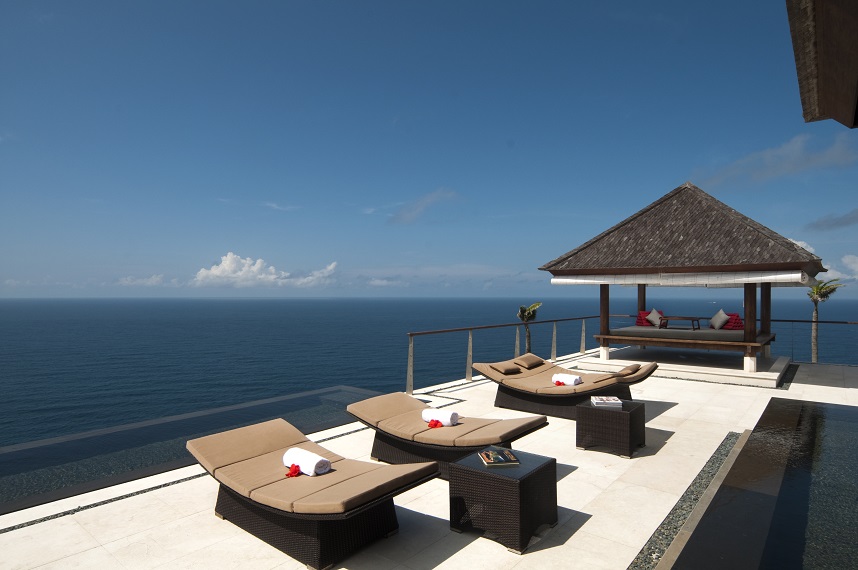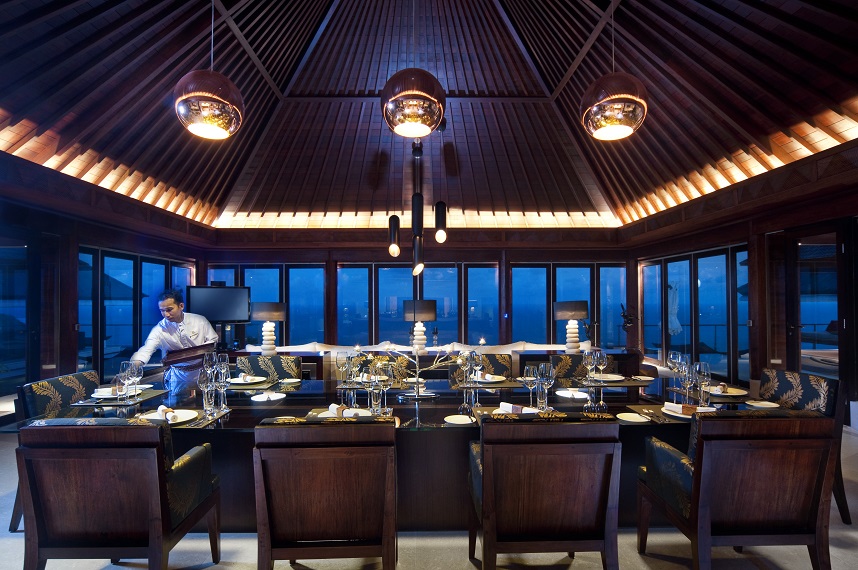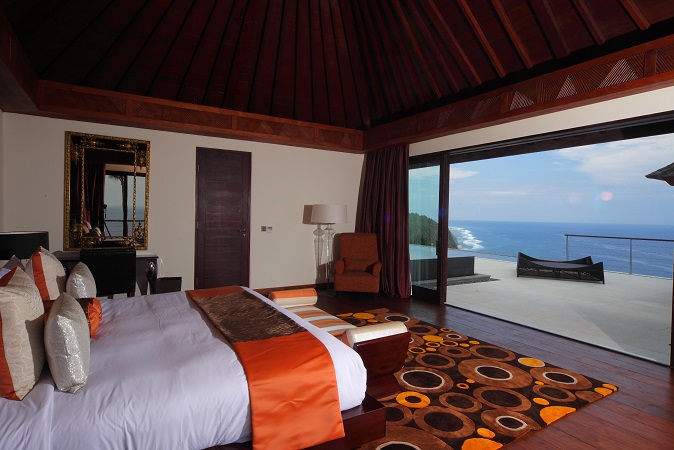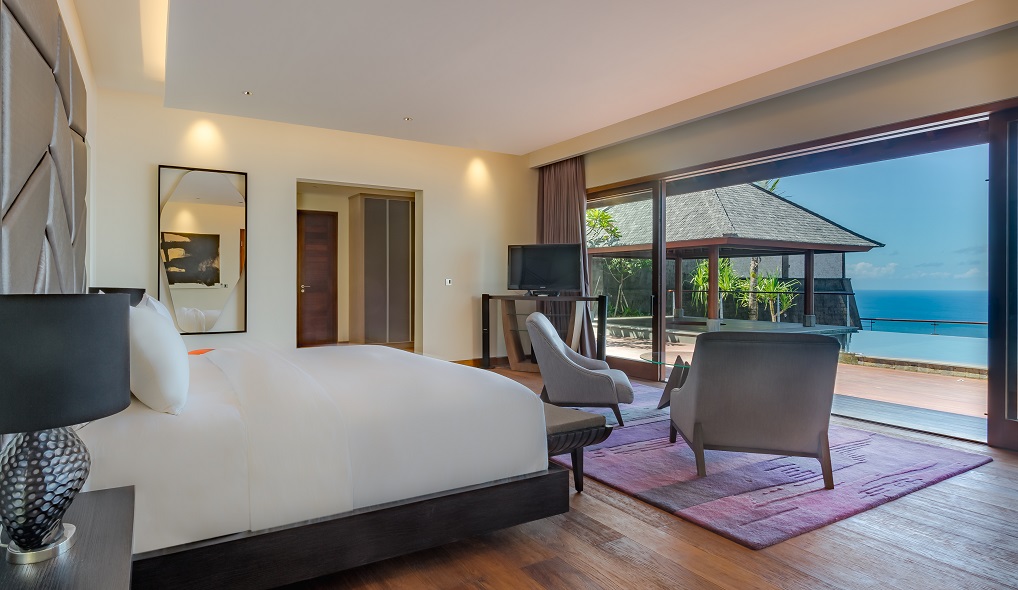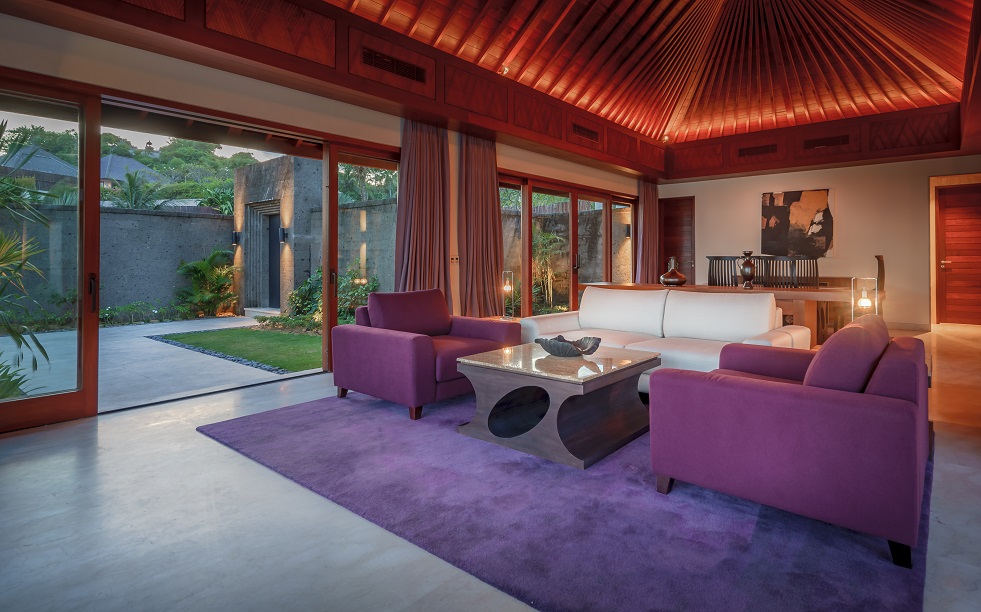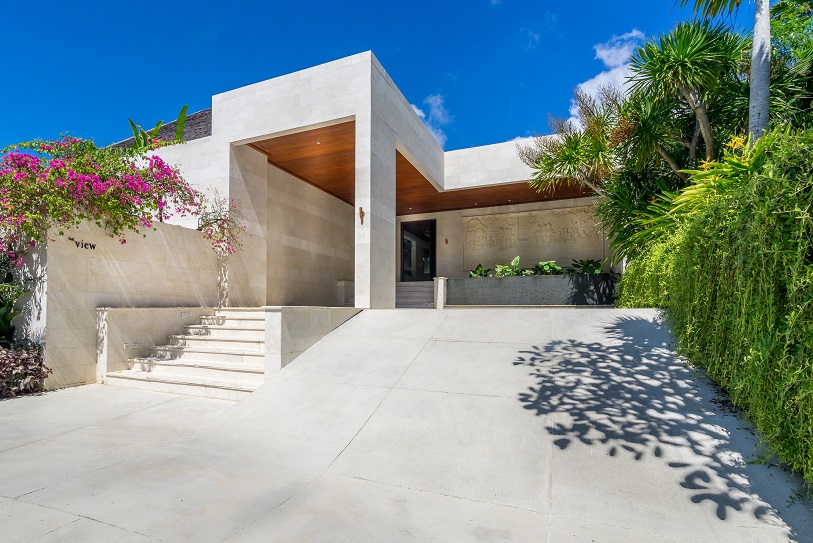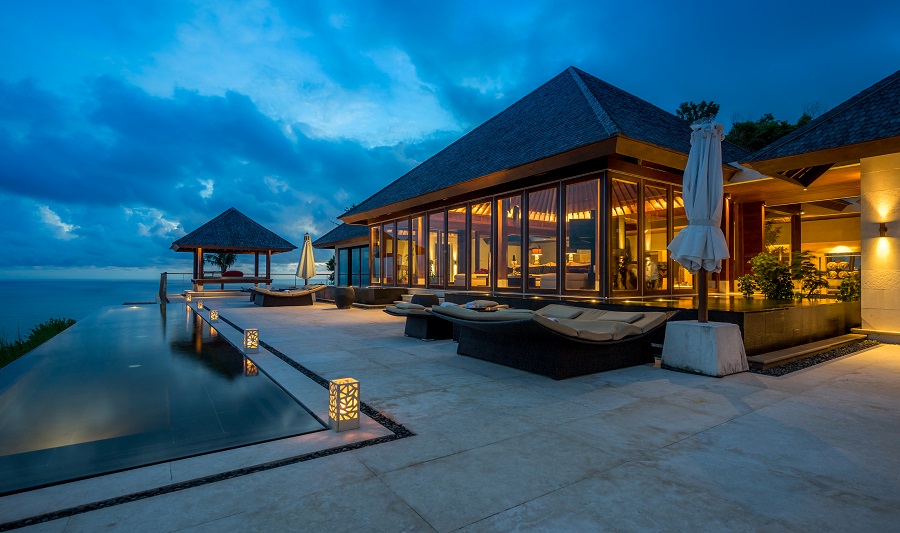 印尼巴厘岛艾吉酒店
The Edge Bali Indonesia
巴厘岛艾吉酒店情人崖边的娇艳之花
Bali,印尼巴厘岛,在印尼语中Bali是kembali的简写,表示"回来"的意思,意思是巴厘岛是个来了就走不了的地方。艾吉酒店(The Edge Bali)是位于巴厘岛南端最美悬崖情人崖乌鲁瓦图的顶级别墅酒店,可谓占据了巴厘岛的最佳海景地理位置。整个酒店和餐厅都依山而建,很多明星的婚礼都在这里举办。开阔的印度洋,蓝得沁人心脾,然而这么热的天,却感觉不到燥热,印度洋的风吹得人在某一瞬还有些凉意。原来,这就是来自印度洋的风,没有海啸的记忆里,吹的异常温柔。
传说有一对相爱的青年男女受到父母的阻挠,在乌鲁瓦图殉情。美丽的传说悬崖断壁的奇景湛蓝的海水,我们只有感叹大自然的鬼斧神工,雕琢出如此美丽的景色。这里环境幽静,视野开阔,极目远眺,壮阔印度洋尽收眼底。"边缘"这个名字可能也是取自巴厘岛陆地尽头的意思吧。
艾吉酒店的24小时私人管家服务也是他们的特色之一。私人管家都是受过专业培训的巴厘岛本地人,他们会负责你在酒店内以及酒店外的所有行程,24小时随叫随到。
酒店目前共有14间别墅,分为4种类型,The villa单卧室度假别墅,以天然石材的泳池为特色,配有大型户外甲板平台用餐区和小歇亭。房间内可以欣赏到印度洋海景。
The mood双卧室度假别墅,配有娱乐设备宽敞舒适的起居室,典雅的餐厅,天然石材的泳池小歇亭和甲板露台。双卧室海景别墅,可以看到绝美的海景。提供私人泳池和宽敞的甲板。室内装修风格典雅奢华,拥有用餐区和起居空间。双卧室都能拥有泳池景观淋浴设施和浴缸,并提供高质量的洗护用品。
The View大型豪华别墅,酒店最大最豪华的度假别墅位于酒店的中心。配有五间卧室,能够眺望印度洋,私人的餐厅两座天然石材的私人泳池和两个小歇亭。房间内配有最新科技的娱乐设备,包括苹果电视。配有私人酒窖雪茄休息室儿童游乐室以及8张影院式躺椅和一块超大屏幕的私人家庭电影院。
艾吉酒店拥有巴厘岛最有名的泳池吧(THE CLIFF BAR)和半开放式海景餐厅,从山崖边延伸出去悬在海上,一到下午就坐满了慕名而来的客人。透明玻璃做的地板,站在上面犹如悬空,脚下壮美的悬崖景色可一览无余,下面就是波涛汹涌的印度洋,在一望无际的蓝色大海和崎岖如画的悬崖峭壁之间眺望着无边海岸令人叹为观止的景色,分外浪漫迷人。几乎与大海连成一线的泳池,橙色的躺椅尤其醒目,从自然宁静的色彩中跳跃出来。在泳池边享受下午茶,浪漫无比。或者做一个180度私享印度洋美景的巴厘岛式SPA,卸下全部的压力和疲惫。
The Edge Bali, Flower By The Lover's Cliff
This is Bali in Indonesia. In Indonesian, Bali is shorthand for kembali, meaning both "come back" and that Bali is a place you can't leave once you visited. The Edge Bali is the premier villa hotel located at the most beautiful cliff Uluwatu, in the southernmost part of Bali, occupying the best location in Bali.
The whole hotel and restaurant are built on the mountain, and a lot of the celebrity weddings are held here. Indian Ocean is open and expansive. One feels no heat on a hot day like this. Such is the cool breeze from the Indian Ocean, gentle and tender.
Legend has it that long time ago, a young man and a woman committed suicide together in Uluwatu for their frustrated love that is not approved by their parents. Beautiful legend, the wonder of the cliffs, blue sea, we can only marvel at such God created magnificence, surrounded by the panoramic view of the Indian Ocean. The name, "The Edge", may also mean "the end of the land of Bali".
The Edge Bali's 24hour private butler service is also one of their characteristics. The private stewards are professionally trained local Balinese who will be 24 hours on call and responsible for all your trips within and outside the hotel.
The hotel currently has 14 villas, divided into four types: the villa, the onebedroom holiday villa, features natural stone plunge pool, large outdoor terrace, dining area and private bale. The rooms have view of the Indian Ocean.
The mood, the twobedroom resort villa features entertainment facilities, spacious and comfortable living room, elegant restaurant, natural stone plunge pool, private bale, and deck terrace. Twobedroom sea view villa has beautiful sea view. It offers a private pool and spacious deck terrace. The interior is elegant and luxurious with a dining area and a living space. Both bedrooms have pool views, shower facilities and a bathtub, and high quality toiletries.
The View luxury villa, is the largest and most luxurious holiday villa located in the centre of the hotel. It has five bedrooms, a view of the Indian Ocean, a private dining room, two natural stone private pools and two small bales. The rooms are equipped with stateoftheart entertainment equipment, including Apple TV. There is also a private wine cellar, a cigar lounge, a children's playroom and 8 cinemas chairs and a private home cinema with a large screen.
The Edge Bali has the most famous swimming pool in Bali, THE CLIFF BAR and a semiopen sea view restaurant, which is perched on the edge of the cliffs stretching out to the sea and packed with guests every afternoon. The floor is made of transparent glass, so one can appreciate the turbulent Indian Ocean and magnificent cliff scenery just by looking down. The nearby swimming pool is dotted with orange loungers. The afternoon tea at the pool is especially an incomparably romantic experience. Or treat yourself to a Balistyle SPA, enjoy 180 degree view of private Indian Ocean and remove all pressure and fatigue